11th July is the third annual Prime Day, with hundreds of thousands of deals going live exclusively for Prime members around the world. New this year, members can enjoy 30 hours of deal shopping starting at 6pm on Monday, 10th July – and new deals as often as every five minutes.
I'm not going to lie. The first thing I did after Christmas when I saw £79 disappearing from my account, was to cancel and request a refund for Amazon Prime. Money is always tight, but after Christmas and New Year, it's even more so.
So take a look and see if you want to sign up for Amazon Prime.
Prime Day 
Prime members can enjoy 30 hours of deal shopping this year – with deals starting on 10th July at 6pm
Nearly 40% of Lightning Deals worldwide will come from small businesses and entrepreneurs on Prime Day
To participate in Prime Day, customers new to Prime can sign up for an annual membership for just £59 through 3rd July, offering a £20 saving
Event Information
Prime Day has expanded to 13 countries this year. Amazon is bringing new and existing members in the U.S., UK, Spain, Mexico, Japan, Italy, India, Germany, France, China, Canada, Belgium and Austria what they are calling the best deals of the year. Members will find millions of items in stock including deals from thousands of small businesses and entrepreneurs. As the company gears up for Prime Day, Amazon offers an inside look to show our global preparations.
To participate in Prime Day, customers in the UK new to Prime can sign up here for a year of Prime for just £59 from now through 3rd July, a £20 saving on the first year's annual membership fee.
"Our members love Prime Day and we were thrilled by the response over the last two years. It is inspiring us to make it even better this year for Prime members," said Greg Greeley, Vice President Amazon Prime.
New for Prime Day this Year
30 Hours to Shop  Prime Day starts at 6pm on Monday, 10th July giving Prime members 30 hours to shop!
Watch-a-Deal Track and shop deals while at home or on-the-go with deal alerts on the Amazon App. Learn more at www.amazon.co.uk/watched
Lightning Deals are watchable 24 hours ahead, for a limited time, with limited quantities. New Lightning Deals will launch as often as every 5 minutes. You'll see a timer on each deal as well as a status bar showing availability until the deal is claimed. Add the product to your cart and checkout within 15 minutes to ensure you snag the deal. Find these limited-time deals through the "Upcoming" link on amazon.co.uk/deals.
Amazon Prime Deals
Every day leading up to Prime Day on 11th July members will find all kinds of exclusive promotions and deals:
Amazon Music Unlimited – Prime members who haven't yet tried Amazon Music Unlimited can get 4 months of the full catalogue on-demand service with access to 40 million songs, for just £0.99.
Amazon Video – Prime members will have the chance to win £100,000 in cash just by streaming Amazon Video on their TV via Fire TV, Fire TV Stick or the App on one of the many supported Smart TVs and game consoles running from 7-11th July.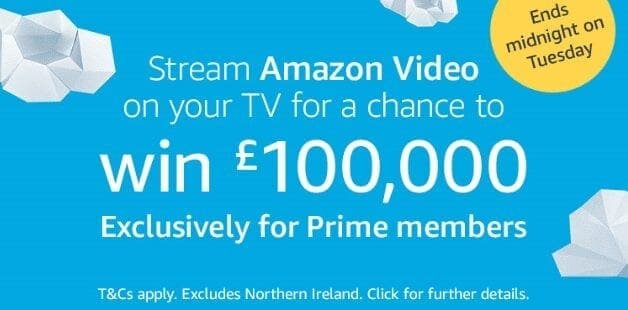 Kindle Unlimited – Prime members can save up to 40% on a Kindle Unlimited membership. Enjoy unlimited reading from over one million titles on any device.
Everyday Essentials – Prime members can save up to 25% off on selected food/ household items in Prime Pantry from 3rd July – 6th August.