2019 Coachella Lineup
Twitter was abuzz with news that Ariana Grande is the youngest artist to ever headline Coachella this week.
Billboard reported that Coachella Valley Music and Arts Festival announced their epic 2019 lineup on Wednesday (Jan. 2), with headliners Childish Gambino, Tame Impala and Ariana Grande.
What I would give to fly out to Coachella one year.
However seeing as the tickets are $529 each (cheapest ones have sold out) together with a plane ticket + accommodation. I think we will have to be content with watching best of clips on YouTube and pictures on social! I am still checking out the $3,600 VIP and Teepee package just in case I win the lottery this year.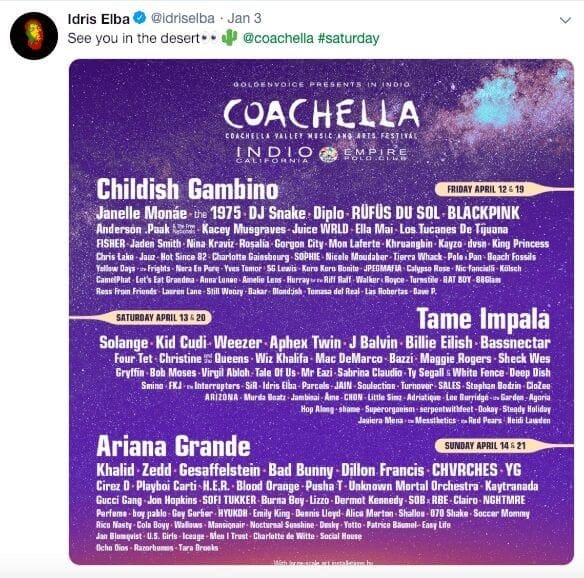 Ariana is grateful

Ariana 4th female artist to headline
Following the great artists Bjork, Lady Gaga and Beyonce who played in 2018 and 2017, Ariana is the fourth female artist to play at Coachella. We think 2019 is going to be a magical year for Ariana Grande.
bjork
Lady Gaga
Beyoncé
Coachella in Pictures
One day!
If you liked this, you might want to read…