EuroMillions UK Lottery win
Check your lottery tickets as someone in the UK woke up this morning a multi-millionaire! The richest ever EuroMillions winner the UK has ever seen.
Euro–lotto fever grabbed the attention of the nation as people bought tickets for Tuesday night's EuroMillions lottery draw. Someone had to win as the lotto draw could not roll over again.
EuroMillions winning numbers:
The winner matched all five main numbers – 07, 10, 15, 44, 49 – and the two lucky stars – 03, 12 – in Tuesday's draw.
I woke up to an email from The National Lottery 'News about your ticket'. You couldn't log on in the early hours of this morning as the site was updating, so I spent the next few hours wondering what I could spend my win on. Since I only won £10.50 I thought I would share some of my bucket list ideas with you. Let me know what you would have spent yours on too!
EuroMillions Prize Breakdown
Check your winning numbers using the prize breakdown below (taken from the National Lottery website):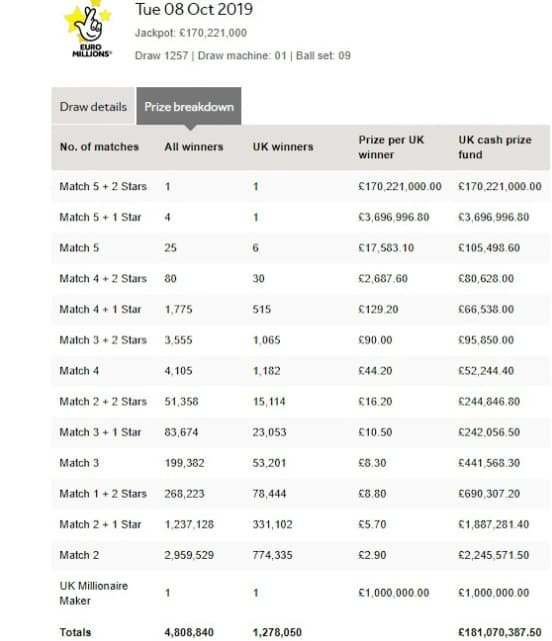 How would you spend your £170,000,000 win?
Spending the last few weeks dreaming about what I would do with my 170,000,00 win has been really fun! Obviously disappointed I didn't win the jackpot. However, for anyone else out there wondering what to spend their money on.
Top 3 Lottery win bucket-list items:
Street photography in New York
I couldn't think of a city I would be happier in taking photos all day! I have never visited New York, but my top thing to do – after relaxing on a beach – would be to find other people to take photos with.
Salsa in Cuba!
Missing the sun. I have always wanted to visit Cuba. It's on my bucket list of places to go. As soon as that lottery win hits my account, you will know that I will be soaking up the sun and dancing away in Cuba.
Look after loved ones
In my mind, I have always promised myself that 10% of my winnings would go to charity. I am not trying to win Miss World here. I have always been a supporter of charities having volunteered for a number of charities over the years.
Also, I would look after loved ones, family and friends. I have often thought about how I could give away so much money and remain anonymous. So I would have to think about doing all of this in stealth mode.