#PeoplesVoteMarch
Over 700,000 people turned up to the People's Vote March for the future! The figures first forecasted that 100,000 would attend today. However people travelled from all over the UK to demand a final referendum before we go through with Brexit.
The atmosphere was absolutely amazing. The photos from the day showed just how many people had come to capital to support this campaign.
Some pics from the day: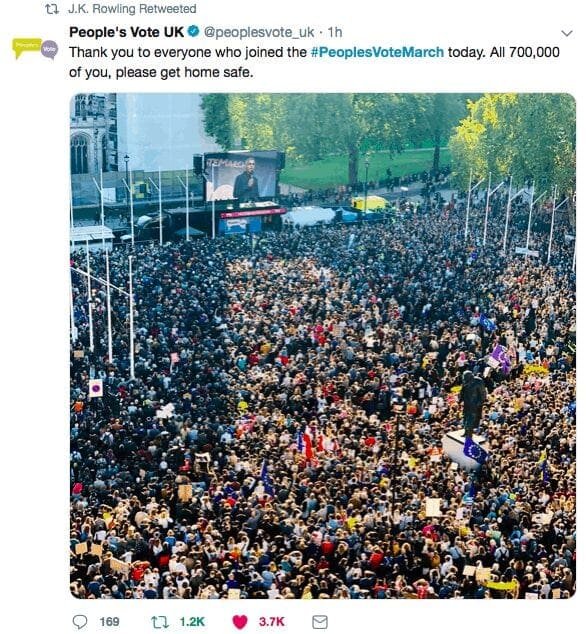 A personal favourite…

In conclusion:
Exact figures have not been confirmed but the final figure reported stood at 700,000 people marching today. People came in coaches from all over the UK. Many for whom it was their first ever march. I noticed detractors who on Instagram stories by Unilad took to attacking people on the ground. Numerous comments saying that a people vote has been cast and to leave the situation alone. The march today did not represent the vast majority of people in the UK. However, I think the take from today is that there are still many people who feel unhappy and powerless to stop Brexit from becoming a fixed reality for us all.
Margaret Thatcher once said that 'The Lady is not for turning". However can The People's Vote now 'away May'!?? (Like what I did there?). We will have to wait and see.
Let us know your views below…just be kind to each other now 🙂