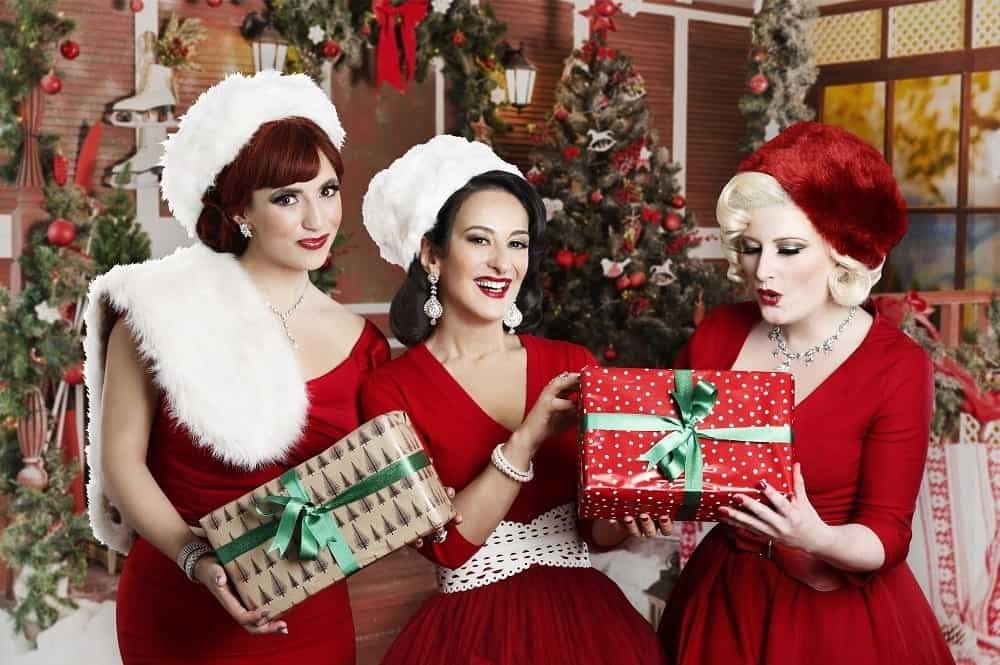 We caught up with Marcella Puppini from The Puppini Sisters and chatted all things Christmas!
The Puppini Sisters are just one of a plethora of amazing artists performing at The Greenwich Winter Time Festival.
Broke Girl in the City was recently invited to the opening night of The Greenwich Winter Time Festival (review to follow I promise!)
So let's chat Christmas with the lovely The Puppini Sisters:
Do you like winter? What's your favourite thing about it?
Snow!! I'm crazy about it. I grew up in Bologna, where it gets really hot in summer and really, really cold in winter.
When I was a kid we often got snowed in, which was the best thing that any kid could hope for: no school, and a whole side of a hill to slide down with our massive dog.
Sounds like a Christmas movie? Yup, it was just like one.
When do you start getting excited about Christmas Day?
Second week of December. Until then I'm usually in denial and think it's still summer. Then the smell of chestnuts will hit me, or I'll start noticing the decorations, and I'll get that gorgeous feeling of expectation of a day filled with love and laughter (we all like each other in my family!!).
What are your favourite Christmas movies?
It's a Wonderful Life, of course. I also really love the 1950s animation of The Snow Queen. And the 1950s version of Scrooge.
Generally Christmas is my time to binge on 40s and 50s classics, whereas the rest of the year I'm more inclined towards zombies and thrillers.
What's your typical Christmas Day?
My extended family and I sit down for a lavish 6-course meal that lasts for hours, and the laughter and chatter is deafening. Afterwards we still hang out for hours, eat some more dessert, sing some songs, and carry on laughing.
What do you eat for Christmas dinner? Who cooks?
Usually my mum hosts Christmas Eve, with crustaceans, octopus, salted herring and Russian salad, but on Christmas day my aunt cooks the traditional dish of homemade tortellini in meat broth, followed by Victorian-style jellied capon with capers and pickles, and a whole roasted leg of pork served with fruit candied in sugar and mustard, roasted vegetables and Russian salad – plus three different kind of dessert including Mont Blanc (made by my mum), Bavarian cream with pineapple and a chocolate and walnut cake.
I'm salivating just writing this!…
Do you have any Christmas traditions?
Ever since I was a child, my sister and I have been performing the same maudlin song we learned in primary school about Mary and Joseph being tired and cold.
We're usually sent into the garden, or have to come in from a dark room, and the family expects over-the-top theatricals – to which they usually respond with hysterical laughter
What are your favourite Christmas songs?
I really love the traditional Carols, like The Boar's Head, or Once in Royal David's City
What has been your best Christmas present?
I don't remember a favourite present, but I remember loving the way my dad used to disguised big presents when we were little. It was so exciting!
Do you prefer a real or fake Christmas tree?
I do love the smell of a real tree, but I think this year I'm going to have a fake one.
This year, do you think you'd be on the naughty or nice list?
Depends who's asking!
What are your favourite treats at Christmas?
It may sounds disgusting, but salty herring and Russian salad are the things I look forward to the most.
Do you prefer giving or receiving presents?
Definitely giving.
Where would be your dream place to spend Christmas?
In a chalet on the Italian alps, where we used to go skiing every year when I was a kid.
Are you good at wrapping presents?
Useless (don't worry – so am I!)