If you are looking for a Bonfire Night display in London, then look no further. Many displays went ahead at the weekend, but unfortunately due to bad weather a number were cancelled. However, many are taking place on Bonfire Night this Tuesday. Depending on where you are in London, you can choose from any of them going on in and around the city. You will need to pay for tickets but there are some which are completely FREE!
Tuesday 5th November:
Southwark Park, South London
Southwark Park fireworks display is free for local residents but advance tickets are required. A full winter fireworks experience will be on offer with drinks and snacks too.
Gates open at 5 pm, last entry 6.30 pm
Adult tickets £8.50 (non-residents)
Wimbledon Park Bonfire & Fireworks twins with Morden Park bonfire event, which took place at the weekend. Flame OZ and Halo will be performing a warm up act before the main fireworks display.
Tickets need to be bought in advance rather than being able to buy them at the park. A child-friendly fireworks display will be first, with the second set to music starting later. Giving you time to race back home.
Funfair, street food & bar from 5-10pm
Bonfire 6:30pm and 8:30 pm
Adult tickets £8.50
Thursday 7th November: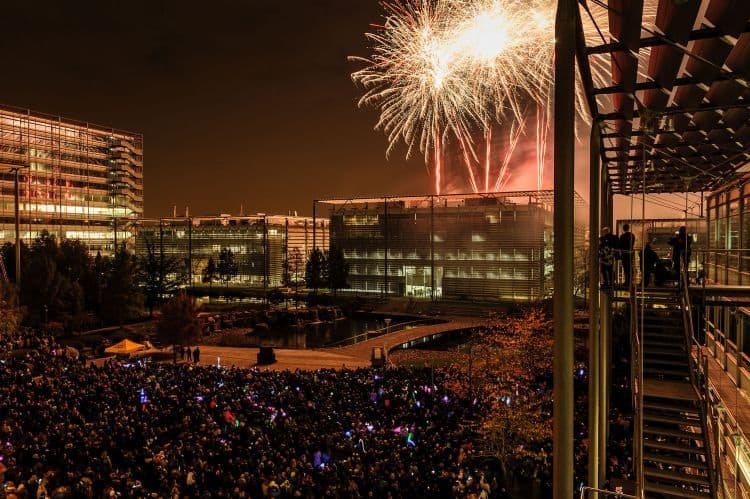 Chiswick Park, West London
Chiswick Park will be hosting their firework display from 7pm, with everything opening at 5pm. It's one of the few free firework displays on offer in London on Bonfire night.
Shooting Star Children's Hospices will be hosting the Fire Walk at 6pm. If you have always wanted to brave walking across burning embers then sign up for £25 (cheaper than Tony Robbins) – proceeds will go to charity.
Opens 6 pm
Bonfire display is FREE
Tickets cost £25 for the Fire Walk
Saturday 9th November
Highgate Fireworks Festival, North London
Highgate Fireworks Festival this Saturday will host a family-friendly display from 4pm-6.30pm (fireworks at 6pm) and a musical fireworks display wfrom 7pm-9.30pm (fireworks at 9pm).
I am really liking the sound of this one. Entertainment includes a glitter bar, disco hosted by a top DJ, bumper cars and a ferris wheel. Food includes the liked of Cheeky Burger, Born & Raised Pizza and Matilda's Waffles. No ticket sales on the gate, so make sure you book before you go.
Family-friendly display starts 4 pm with fireworks 6 pm
Musical fireworks display 7 pm with fireworks 9 pm
Tickets £15 – proceeds go to charities Grief Encounter & Noah's Ark
Barnes Sports Club, West London
Gates open at 5:30pm with the bonfire at 7pm, then fireworks starting at 7:45pm. What I am liking about this event is the hot mulled wine, BBQ burgers and hot dogs and a large bar area. A late-night disco carries on with music from DJ Disco Danger after the fireworks for people who don't want to call it a night.
Gates open 5:30pm
Bonfire 7pm with Fireworks 7:45 pm
Sunday 10 November:
Wembley Park, North London
Wembley Park fireworks is one of the few remaining completely free Bonfire Night events in London. Celebrating both Bonfire Night and Diwali, the Light Up the Night festival promises fireworks, rides and a community stage. The Lantern Parade will display illuminated butterflies, a Fire Bird inspired by Hindu, Buddhist and Jain Culture, as well as giant puppets designed by artist Tony Mason.
Fireworks will start from Engineers Way at 7pm, facing Wembley Stadium. Street food and music will be on offer at Boxpark Wembley. With Dohl dummers and dancers at London Designer outlet.
Celebrations 5-10pm
Lantern parade starts 6pm
Fireworks from 7pm at Engineers Way