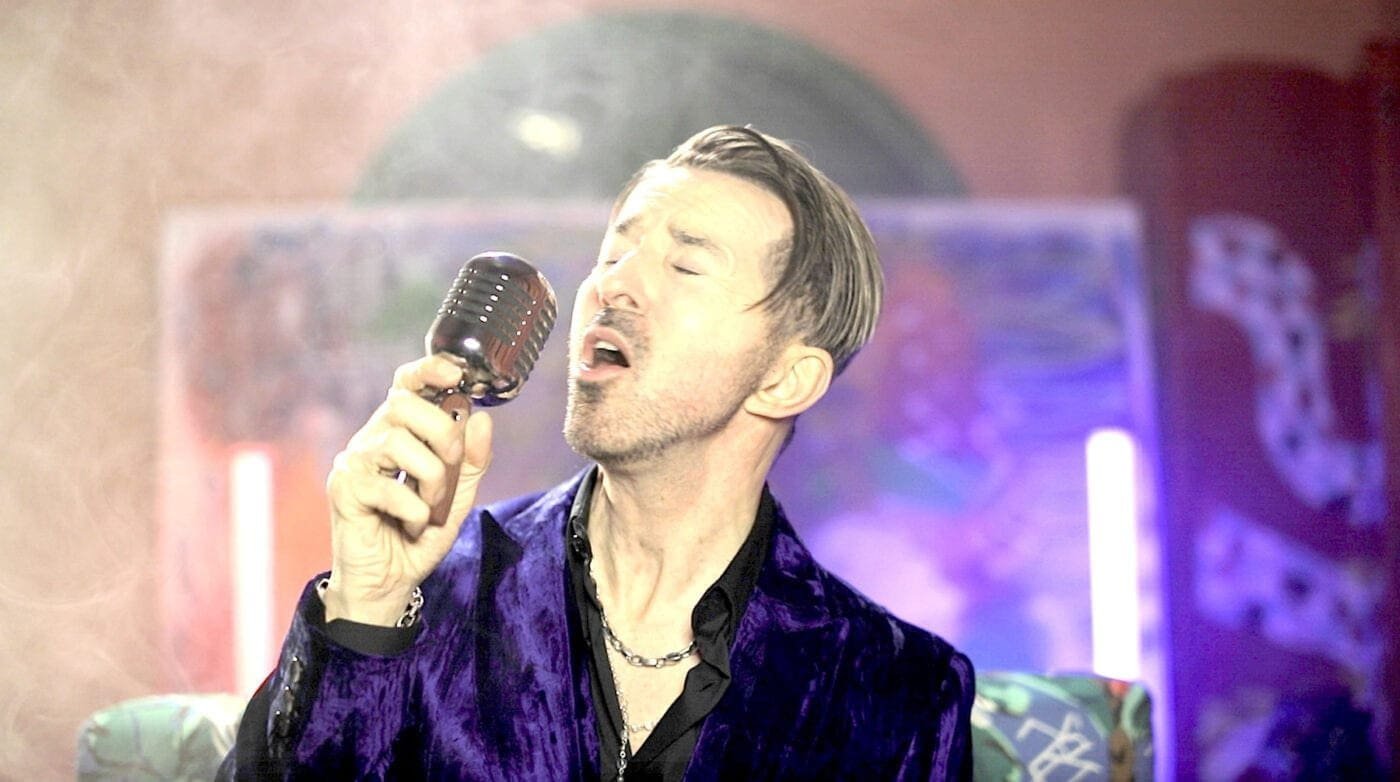 Interview with singer Limahl
Winning the hearts of millions of fans in the 80s as the lead singer of the British band Kajagoogoo. Limahl wowed us with his debut smash-hit single 'Too Shy', which was followed by two more Top 20 hits, Ooh To Be Ah & Hang On Now, all of which he co-wrote. Embarking on a solo career, Limahl then became remembered for his incredible hit Neverending Story.
Limahl releases his first solo music in 8 years entitled 'Still In Love' on 5th June via Christopher Music/Tunecore. To celebrate, Limahl agreed to an interview where we discuss his music career, his new single, as well as his incredible life and his love for music.
Limahl's brand new solo single 'Still In Love'
'Still In Love' is co-written & co-produced by Limah and German composer Miro Markus. The single celebrates Limahl's 40 years in the music business. It is incredibly beautiful and poignant. Limahl.com/still-in-love.
Too Shy
"Too Shy" is a song written and recorded by the English band Kajagoogoo, released in 1983. The song was an immediate hit.
NeverEnding Story
Limahl struck out on his own after leaving Kajagoogoo. Soon he re-emerged in the charts again with his first solo single Only For Love.
That was quickly followed by the Giorgio Moroder–produced worldwide smash Neverending Story theme song from the 1984 hit film. I must have played this on repeat a few times the night before this interview. It evokes so many memories for people. If you haven't already, you MUST watch the film.
Interview with Limahl
I loved talking to Limhal about his new single, incredible music career and finding out a little more about him. I chatted with him on Zoom and found the kindest and most considerate guy who welcomed talking about music, a love for him. I hope you enjoy the interview as much as I did.
Can you tell me a bit more about your own personal journey? Your career as a pop artist then and now.
My journey started in Wigan. I was the enthusiastic music nerd at school, ignoring maths and everything else to try and listen to my little radio at the back of the class. I got sent into detention a few times for that.
I was obsessed with music. That's what pretty much started it all. I can't explain why.
I would save up all my money, working all day gardening or delivering bread and newspaper rounds, and then go down to the record shop. I was so excited to buy a single that was on the charts. It was like a trophy. I owned something that is culturally important. I became the self-appointed DJ at the Youth Club twice a week in Pemberton, Wigan, where I grew up. Everyone knew that Chris was the guy that brought the records. I thought this would be cool. I could be a DJ or a presenter or something.
My Dad was a bully and a bit of a drinker, so, at 16, I ran away. I ran from Wigan to Bolton, from Bolton to Manchester and from Manchester, I eventually ended up in London. I never lost my interest in music.
How it all started. I went into a pub in South London with a friend, and there was a trio on stage. There was no one in, only 6 people. The compère said if anyone wanted to get up and sing, come up and see me. My friend Paul nudged me to go up because he knew I liked to sing. So I went up on stage, and the keyboard player asked me what I wanted to do. The first song that came into my head was Yesterday by The Beatles. I had a standing ovation from the six people. It was a thrilling moment and a turning point. All I could think about that night was maybe I could sing. My mate Paul said why don't you pursue it? So I started taking singing lessons.
After this, I met a friend called Eira, who introduced me to her theatre agent. My first job was in Panto at the Grand Theatre in Swansea. I was in Aladdin. Just a chorus boy, but it was a big thing for me because it was exciting to travel. I was going to Swansea, and I had never been to Wales. And also I was getting paid to sing. I was only in the chorus of a Panto, but it seemed like a really big thing. From that, I auditioned for a part in a tour of Joseph and the Amazing Dreamcoat and from there, I went on to do a show called Godspell by the same writer as Wicked, Evan Swartz.
This is where the blonde hair started because, in the show, we had 6 guys and 6 girls. The girls all had different looks; one had red hair, and a brunette had wavy hair and straight hair. All the guys had the same hair, brown and mousy. I went to Director Chris Dunnum and said we all look exactly the same, the guys. So I would like to go to the hairdresser and fancy going blonde. He gave me his blessing, so I went to a dodgy salon and, thankfully, didn't come out with orange hair. We joked that this has happened to both of us. One thing led to another. I was in a few bands, then met Art Nouveau, who became Kajajgoogoo, and the rest, as they say…
Just to add, Limahl's hair has always looked fabulous.
How did you get into the music business? What do you feel is different about the music business now?
It was hard to get a record deal in 1981-2, but you at least had lots of record companies you could approach.
Nowadays, the music business is controlled by three conglomerates; global organisations Sony, Universal and Warner. So you have fewer people you can approach. They have full control.
The wonderful thing in contrast, is that every musician and performer can reach an audience through the new technology, which is where I am. If I had gone to my old company EMI which has been swallowed up by Warner, I think they would have slammed the door in my face.
With social media and streaming, I can go straight to my own audience, and that's a massive advantage. It makes it hugely more competitive – that's the difference.
Have you had an extremely successful career in the band Kajagoogoo and as a solo artist? What are your favourite memories? What's been the highlight(s) of your music career?
The highlights have got to be the two biggest hits: Too Shy with Kajagoogoo and Neverending Story on my own. These two songs are what keeps the phone ringing.
Favourite memories include smoking a cigarette with Freddie Mercury at his party after his Wembley show. We were both on EMI Records. After his show at High Street Kensington Roof Gardens, I was taken to his very busy party with the famous exotic pink flamingoes by the ponds. Meeting Freddy Mercury and having a few moments with him.
Meeting Princess Diana was exciting. Going on the set of Coronation Street whilst filming something at Granada TV, and I asked somebody saying, I want to go into the Rovers Return. I have a picture of me meeting Maevis. I love it because this is where he gets into character and very animatedly speaks like Maevis, " I don't really know Derek".
The most important memory was getting that phone call telling us that our single Too Shy had gone into the charts at Number 33 and that we would be appearing on Top of the Pops. The phone call came on Tuesday morning. We were in the country recording the album at Chipping Norton Studios in Oxfordshire. It was brilliant. Musicians were never up at 7 am, but we danced around, and everyone was ringing our parents. It was such a big deal Top of the Pops back then. The thing is it to have that all happen to you at such a young age. At 22/23 years old, it was like all your Christmases rolled into one.
You have just launched Still in Love. You have often sung about being in love. What does this song mean to you, and what is the song about?
The song doesn't beat about the bush and deals with that shitty painful side of love that most of us have experienced.
In the songwriting process, the dark mood came first, and then we fumbled upon this lovely mood of optimism in the chorus, even though it is a lyrical lament. That is the stuff you can't plan for as musicians and songwriters; we are basically digging around looking for these exact moments when interesting harmonics occur between the instruments and vocals. I wrote this with a German musician Miro Markus.
Creatively it means a lot. It is very satisfying when you walk into a room with a blank piece of paper and emerge with a song.
I started talking about Normal People, where first love was beautiful but also painful…before Limahl interjected with…
I wasn't in the headspace of our protagonist when I wrote this. I have been with my partner Steve for 26 fantastic years. I have been there in the past when I was younger. It is important for every young human being to go through it because it makes you better prepared for when Mr or Mrs Right comes along. You have to kiss a lot of frogs. When you have been hurt, you take your time the next time and are careful. It is part of growing up. When you are in it, it's very hard.
It is a wonderful feeling when you get through. When you start beginning to like yourself. Then you look back and think, WTF was I doing? I have been there, and I know exactly what I am singing in those lyrics for sure.
What did you think about the NeverEnding Story appearing in the Netflix hit Stanger Things? Did you watch it? Question from Daniel Glennon.
Limahl's music re-appeared recently in 3 major US television shows 1. Kajagoogoo 'Too Shy' was in the Netflix 'Black Mirror' episode Bandersnatch and 2. In AMC's hit anthology American Horror Story: 1984 and 3. No 1 solo hit 'Neverending Story' was in Netflix's 'Stranger Things'. Spotify monthly streams of the song went up from 300,000 to 1.5m. (iTunes and other streaming sites were similar).
I haven't seen it. I want to, but I am three seasons behind. I am currently watching Hollywood; it's about making it in Hollywood. It has lots of gay stories, so it's nice for the gays.
My nephew WhatsApped me, calling me Uncle C, saying my song is in Stranger Things. That was the first I heard of it. I love it, of course. They need to use me in Season 4 as an actor. Seriously I would be there in a shot.
Let's get him on Netflix!
What do you like to do when you're not performing music? What have you been doing when you are not performing or recording music? Simon asked this question.
Limahl was quite surprised by this question as music is obviously his whole life. As he is a musician, I can see he never had a 'Plan B'. He went on to tell me that he travels so much with working, he loves being at home and likes to relax.
Not really. I travel so much with work that I love being at home when I am not working. We cycle, Steve and me, quite a bit. With the lockdown, it was so important to get away. We are members of a gym, but that's gone. I like to relax. There's always a lot of preparation, liaising with the band, and logistics.
Music is at the forefront of his life more than ever. There are periods when it sort of plateaus, like one gig in a month, although it could be anywhere in the world.
The last three years have been incredibly busy, touring across Australia in 2016 and Japan. Then I went to America with ABC and Belinda Carlisle doing that 80s Tour. I also was a guest on X Factor in Denmark just before the lockdown. Everything has been postponed until allegedly 2021. Who knows…?
What advice would you have for other creatives right now? It's a tough time, but is there any life advice you could give to others?
Rome was not built in a day. So one step at a time.
Try to think of it as a journey as much as arriving at the destination.
Work hard. Develop your talents and skills.
Build a team. An opportunity will come along when you are ready for it.
Don't rush into signing. Develop a relationship with a lawyer. Look for music management.
As my blog is also about living in the city. What are your favourite things about living in London?
I lived in London for 30 years but now live in Hertfordshire, and I still consider myself London. The fast train to Euston only takes 15mins.
I love so much about London. I am a member of the V&A museum. Steve and I, of course, enjoy the Royal Parks. I am a big theatre-goer – I have seen everything. The two theatre capitals of the world are New York and London – how cool is that? Fortnum and Masons at Christmas. The Royal Academy, of course, when you walk through that arch, the history is so interesting. I have been to The Museum of London. I love all the architecture and never tire of the river. There is a train from Radlett near where near I live. The Thameslink, which takes 28mins, comes out onto a bridge: Blackfriars station, and you see the Houses of Parliament on one side and the wheel.
Top tip: There are so many things you can do. I used to go on Martin Lewis's website, with codes for free cinema tickets and 241 Vouchers. We all love a bargain and freebies. Sometimes I do internet shopping and deliberately leave the basket open because they then send you a code for 10% or something.
What is your top tip for living your best life?
Life is precious, so live it.
Nothing happens if you stay at home. This is a weird thing to say in the current climate…
Get out there, be positive and think of your cup as half full, not half empty.
Try and save for a rainy day because rainy days do come, and that is part of life's rich tapestry.
Don't be a fool in love. It's painful and a waste of time. If someone doesn't love you, you can't make them walk away.
Keep smiling as it's positive energy and attractive to others
If you think you are going to cycle through a red light, do it very carefully. Think, think, think again…
Limahl talked to me about an accident he had late at night, which was a near-death experience for him on a rent-a-bike. At 10 pm, a double-decker bus at full speed missed him by one second, but that experience shaped his thinking.
What are your ambitions and plans for the future? Is there anything you would still love to do and haven't?
My ambition is to….. ha ha ha staying alive. Limahl sang this to me Bee Gees Style. Very endearing…
Talk about the value of life going up after a near-death experience. When I got to the other side of the road, I thought that was it. Everything is gone. I thought I would have been in the hospital in a bad way. Then I thought, you're dreaming. That would have been it.
Having spoken about the accident moments before. I do think a near-death experience shapes your thinking and how you value life.
I want to continue to enjoy work, life or in the studio and songwriting.
Also, I would love to go into space and see the Earth. I am fascinated by space.