As part of my Money Monday series so far, I have covered credit, financial stress and how to manage your debt.
This week I am going to focus on health. Many of us have been extremely poorly this month with whatever lurgy which is going around. Unfortunately I have asthma too, so a recent spell of illness triggered an asthma attack and a hospital stay.
Not only am I going to show you how you can save hundreds of pounds through buying a pre-payment certificate. I am going to look at how to pay less for over-the-counter items. As well as looking to see if you are eligible for the NHS Low Income Scheme.
How to save money with a NHS pre-payment certificate
Buying a NHS pre-payment certificate is like buying an annual pass. You are paying for all of your medicine all year round, no matter what you need. Potentially, it is something which can save you hundreds of pounds.
You can buy an annual NHS certificate for £104 pounds or a 3-month pass for £29.10. You can pay the full amount in one go or opt to pay in monthly instalments. It's so simple.

---
Cold & flu branded tablets
Many people ask whether buying a supermarkets own tablets, which are often cheaper, are less effective than a brand name. I personally choose to buy the cheapest option, but that doesn't mean to say that's the best option.
As it's cold & flu season, many of us are running out to get dosed up on over-the-counter tablets. It's good to check the back of the boxes to see if they have all of the same ingredients. Also check to see what you actually need to buy. Do you need paracetamol for a fever? Decongestant for a blocked nose? Make sure you buy for your symptoms and if in doubt ask a pharmacist. I have listed out 3 x items from Boots.com to guide you.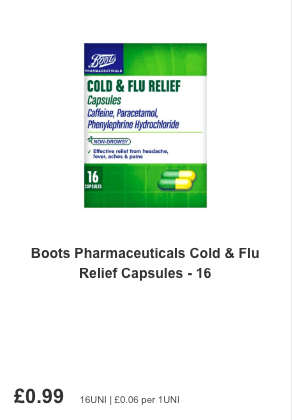 Boots Cold & Flu Relief Active Ingredients: Each capsule contains Caffeine 25 mg, Paracetamol 300 mg, Phenylephrine Hydrochloride 5 mg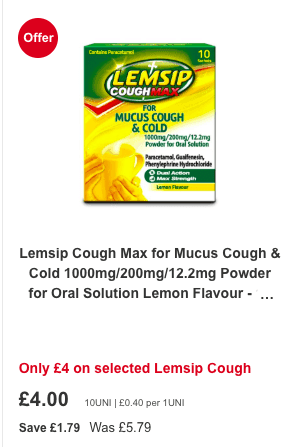 Lemsip Cough Max Active Ingredients: Each sachet contains Paracetamol 1000mg, Phenylephrine hydrochloride 12.2mg, Guaifenesin 200mg
Benylin Cough Max Active Ingredients: Each 5 ml of syrup contains Guaifenesin 100mg.
In an article by The Mirror, Sultan Dajani of the Royal Pharmaceutical Society, said: "One really good tip is to look for the Product License Number or PL Number which means that it's made by the company with exactly the same ingredients, which means they do exactly the same thing. They're normally found on the back or the side of the box."

---
NHS Low Income Scheme
If you have a low income, the NHS Low Income Scheme could help you pay for:
NHS prescription charges
NHS dental treatment charges
the cost of sight tests, glasses and contact lenses
the cost of travelling to receive NHS treatment
NHS wigs and fabric supports (check with your hospital for their arrangements for supplying NHS wigs)
The amount of help you're entitled to depends on your household income and outgoings. Any help you're entitled to is also available to your partner, if you have one.
If you have already paid for treatment, you can apply for a refund at the same time as you apply for the scheme. If you are on a low income, then it is worth checking to see if you can get help with NHS prescription or dental charges.
Feedback wanted
Let us know in the comments below what you would like to see covered as part of our January Money Mondays series.