Judge Craig Mitchell, the star of the inspirational documentary Skid Row Marathon, completes his 74th marathon in London at the age of 62
Los Angeles Superior Court Judge Craig Mitchell, the star of the critically acclaimed and inspirational documentary, Skid Row Marathon, completed the marathon in four hours and 40 minutes at the age of just 62! This was his first-ever London marathon and his third in the past month (woah!), having recently ran in Jerusalem and LA. Since the age of 40, Judge Mitchell has run over 70 marathons.
Skid Row Marathon
Last week Judge Mitchell arrived in London to promote the forthcoming release of his award-winning documentary Skid Row Marathon. Saturday saw the Judge take part in a Q&A with Martin Yelling following a screening at the 02 Cineworld in London.
London Marathon
After completing the London Marathon yesterday, Judge Mitchell said, "The crowds were incredibly supportive, this was easily a top 5 in the 74 marathons that I've completed. it was a flat course, good conditions, extremely well organised. I saw more people running for charity in this marathon than in any other marathon that I've run. Highly impressive".
The judge added that "I've met many wonderful people but the highlight would be meeting the young people from the Running Charity who was previously homeless, living on the street, suffering from substance abuse, hearing their stories and spending time with them motivates me all over again to keep doing what I'm doing".
Judge Mitchell ran the Virgin Money London Marathon on behalf of The Skid Row Running Club, The Big Issue and The Running Charity. Donations can be made here.
Reactions on Twitter
Margaret C – Loved @skidrowmarathon thank-you @myelling @marathontalk for bringing this amazing inspiration to us. And yes I had tears in my eyes
Kriston Abbot – @skidrowmarathon @skidrowrunclub I watched one of the most inspirational films yesterday and was proud to meet Judge Craig Mitchell, what an amazing human being
Skid Row Marathon film release
The film has won an incredible 13 awards from 10 different US film festivals during the 2017-18 season. Skid Row Marathon will be officially released in the UK this summer. The film will be distributed by CinEvents as an exclusive, one night only. On Wednesday 9th May 2018 in over 100 selected multiplex and independent cinemas nationwide. The film will be released in association with The big issue, Runners World, The running charity and Marathon Talk.
Transformative powers of running
CinEvents & Get Shorty created a 10 minutes pre-film exploring the transformative powers of running. The exclusive pre-show will feature interviews with The Running Charity, Gold medalist Jo Parey, BBC Radio 2 presenter Vassos Alexander, broadcaster & coach Martin Yelling and journalist, broadcaster Sophie Raworth.
The founder of Parkrun Paul Sinton-Hewitt CBE, the bestselling author and journalist Bryony Gordon, as well as Emmerdale favourite Tony Audenshaw also feature. The 10mins short focuses on what running means to them, how it has helped and inspired them in their lives.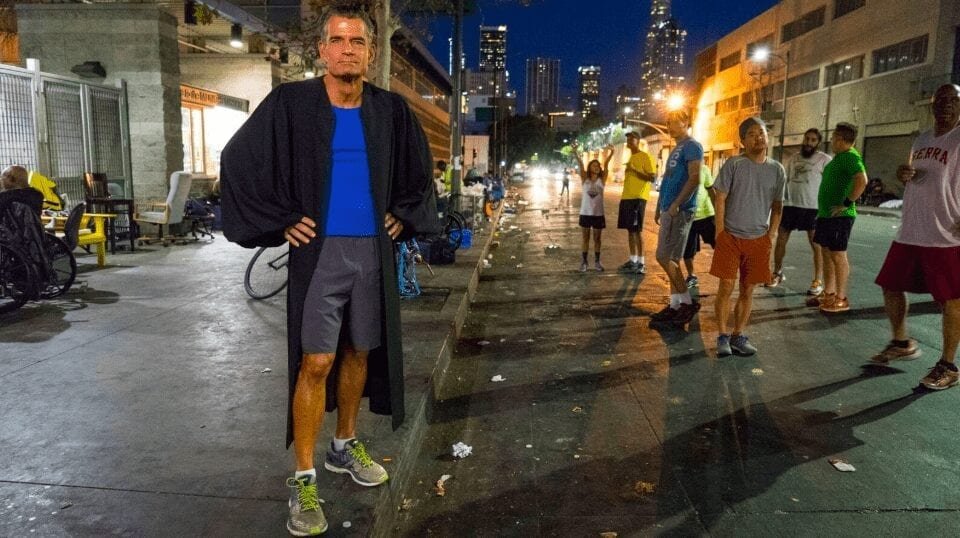 Heartwarming & inspiring story from LA's Skid Row
Skid Row Marathon is the truly heartwarming and inspiring story of an unlikely group of individuals from LA's Skid Row. An area well known for being impoverished and forgotten by society.
The feature-length documentary focuses on the story of Los Angeles Superior Court Judge Craig over a period of 4 years as he coaches a long-distance running club from the Midnight Mission on LA's infamous Skid Row. Marathon training raises their spirits and gives them a sense of purpose and a new lease of life.
If club members refrain from drug abuse, stay off the streets and out of prison, the Judge will take them around the world to run marathons. Directed by Mark Hayes, this moving film documents the runners as they fight the fierce pulls of addiction and homelessness. It's a story about second chances and overcoming obstacles.
With the surge in numbers of rough sleepers in the UK this past year, Skid Row Marathon acknowledges the devastating effects the homeless can have. It showcases what the discipline of running and the power of friendship can do to change lives.
Skid Row Marathon was produced by Gabriele Hayes and Doug and is out in cinemas 9th May 2018.
Skid Row Marathon will be in UK cinemas on 9th May for one day only. Including an exclusive film about the transformative powers of running.