Earth Hour 2019 #Connect2Earth
The World's biggest switch off event takes place, Saturday 30th March as 180 countries "switch off" for Earth Hour.
Tonight, famous landmarks across the UK will switch off their lights along with thousands of iconic global buildings in the world's largest switch off event to protect the planet
Earth Hour, the world's largest switch-off event, will see famous landmarks including the Sydney Opera House, the Great Pyramids and the Empire State Building, along with homes, restaurants and small businesses, switch off their lights from 8:30–9:30 pm GMT tonight.
Millions of people around the world are expected to take part in Earth Hour this year, sending a powerful message to local and global leaders that saving our planet should be at the top of their agendas. By switching off your lights for 60 minutes, this will highlight the impact on our living planet of climate change, pollution, plastics and food production.
Beginning in Samoa at 6.30am GMT and ending 24 hours later in The Cook Islands, this 12th annual event will be celebrated in more than 7,000 cities in over 170 countries. Last year, more than 3,000 landmarks switched off their lights, with highlights this year including:
Sydney Opera House, Australia (GMT+11)
Tokyo Sky Tree, Japan (GMT+9)
Shanghai Tower, China (GMT+8)
India Gate, India (GMT+5:30)
Moscow Kremlin and Red Square, Russia (GMT+3)
Acropolis, Greece (GMT+2)
Pyramids of Egypt, Egypt (GMT+2)
Eiffel Tower, France (GMT+1)
Colosseum, Italy (GMT+1)
Big Ben and the Houses of Parliament, United Kingdom (GMT)
Christ the Redeemer, Brazil (GMT-3)
La Moneda, Chile (GMT-3)
Empire State Building, USA (GMT-4)
El Angel de la Independencia, Mexico (GMT-6)
London supports #Connect2Earth
Last year, in the UK 10 million people took part, along with over 7,000 schools, 400 landmarks and thousands of businesses and organisations. Iconic landmarks including Big Ben and Palace of Westminster, Buckingham Palace, Tower Bridge, Blackpool Tower, The Kelpies, Brighton Pier, Cardiff Castle and many more joined the global switch off.
This year, WWF is encouraging everyone to make a personal pledge to show their support #VoiceForThePlanet. Commitments such as washing at 30 degrees or saying no to single-use plastic, can have an accumulative and huge impact when they're undertaken by millions of people.
Join the event on Facebook and be part of the conversation on Twitter using the hashtags #EarthHourUK, #VoiceForThePlanet and our handle, @wwf_uk.
"By making pledges to help our planet, and by being part of a movement of hundreds of millions more around the globe, we can show we're fighting for our world."
Healthy nature makes our life better by providing us with good food, clean air, and fresh water – but it is all under the threat of climate change and loss of biodiversity. This #EarthHour, join us on 30 March 2019 at 8:30pm local time, to switch off and speak up why nature matters. #Connect2Earth
A new role for Earth Hour
Starting as a symbolic lights out event in Sydney in 2007, WWF's Earth Hour has grown to become the world's largest grassroots movement for the environment. It's been more successful than ever imagined – inspiring individuals, communities, governments, businesses and organizations and reaching more than 180 countries and territories in 2018. While climate change remains a vital issue for our planet, it is still increasingly important to shine the spotlight on the accelerating loss of nature and the threats this poses to us all.
Over the past decade, Earth Hour has helped bring climate action to the top of the political and societal agenda. Now is the time for us to build on this to create a broader movement to protect and restore nature.
Earth Hour 2019 on Saturday 30 March from 8:30 p.m. to 9:30 p.m. in your local time zone is an amazing opportunity for you to start changing the planet for the better!*
Why nature matters!
Nature matters to every one of us. It provides all the things we need to live, from the air we breathe to the water we drink. It provides the foundations for our economic prosperity. And it also plays a crucial role in trying to keep climate change in check. However, people have taken more and more from nature, with human activity polluting waterways, filling the oceans with plastic waste and destroying species and habitats. WWF's Living Planet Report 2018 provides clear-cut evidence of this ever-accelerating loss of nature and how it puts everyone's future at risk.

Our planet is in crisis
We're destroying forests, choking the oceans with plastic, decimating wildlife population sizes, and causing devastating changes to the climate.
Wildlife population sizes have plummeted by 60% in less than 50 years.
One in six species is at risk of extinction because of climate change.
There could be more plastic in the sea than fish by 2050.
We lose an area of forest the size of a football pitch every two seconds
Food is a major driver of wildlife extinction. The food we eat in the UK alone is linked to the extinction of an estimated 33 species at home and abroad
Nature provides our life-support system – from the air we breathe to the water we drink and the food we eat. We cannot survive without it.
About #Connect2Earth
WWF's Earth Hour 2019 with its campaign '#Connect2Earth' aims to build mass awareness on why nature is important and create an unstoppable movement for nature similar to when the world came together to tackle climate change.
WWF has partnered with United Nations Convention on Biological Diversity (CBD) to create connect2earth.org. It is a new platform designed to share ideas and tools to push for action and change.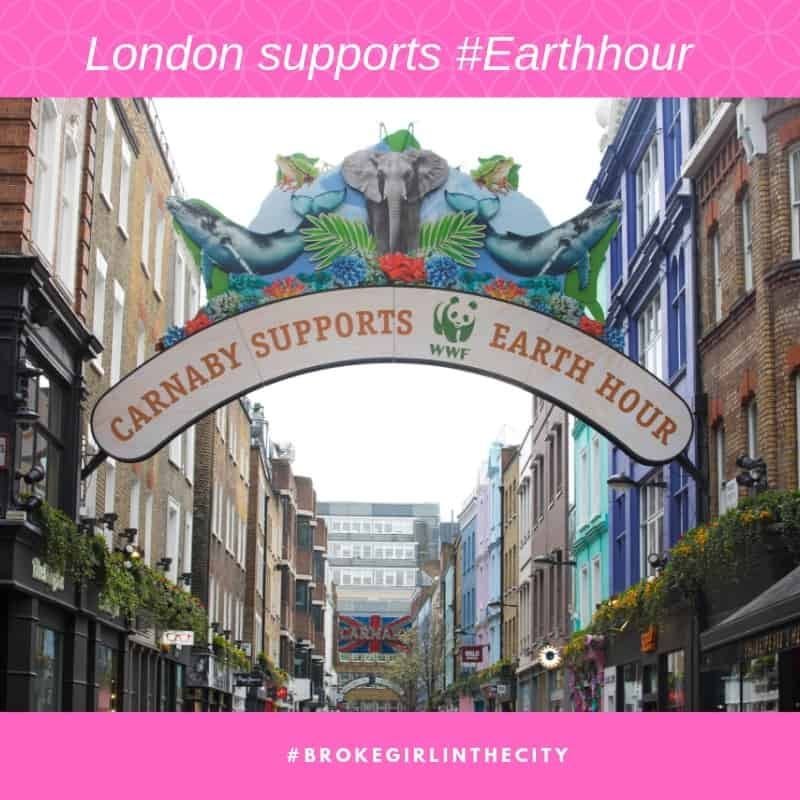 What can you do to help?
There are lots of things you can do to show your support. A number of events are also taking place in and around London today.
Make a pledge
The WWF have listed pledges you can make to be part of the change in the world. Choose from the list below. I intend to buy less plastic this year and