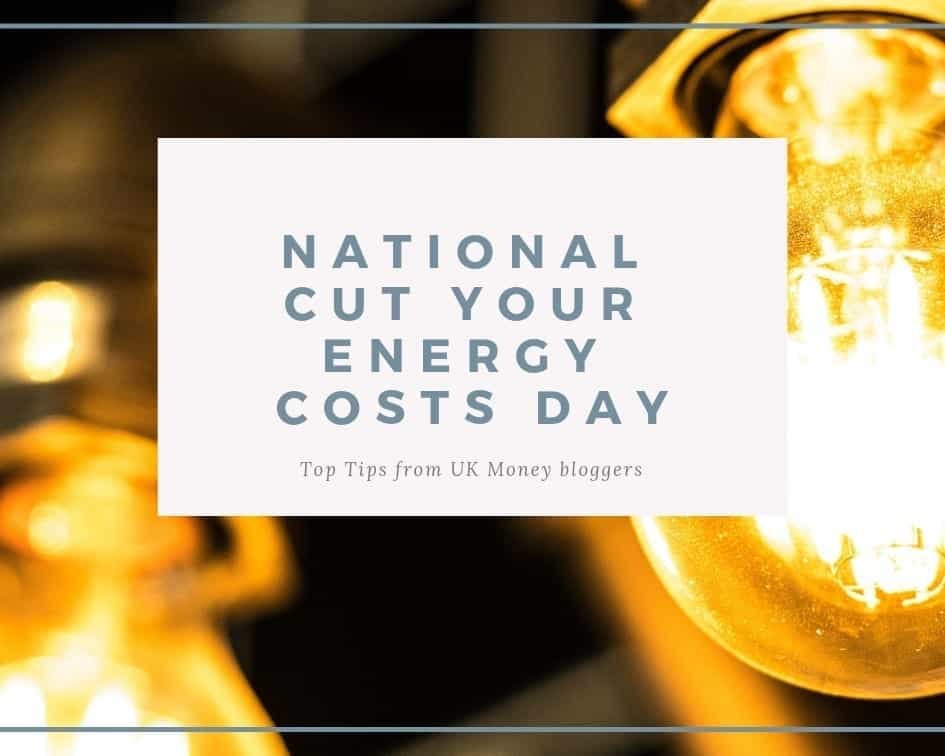 #CutYourEnergyCostsDay is an opportunity to take a look at your life and your home, and find ways of reducing how much energy you're using. Not just for the winter months. This is your chance to address the year ahead and find out how to make your energy bills more affordable all year long.
January is an optimum time to look at your bills and see how you can cut your energy costs. Top Money Bloggers in the UK have kindly offered their Top Tips on how to cut your energy costs. You can save money throughout the year just by making these small changes.
UK Money Bloggers Group Top Tips for #CutYourEnergyCostsDay
"Don't think the new energy price cap means you don't have to do anything. The lowest prices will still come from comparing and switching"
"If you are on a low income, check if you can get £140 off your electricity bill this winter with a Warm Home Discount. Some smaller suppliers have already closed for new applications but the bigger ones are still open."
Helen Dewdney – The Complaining Cow
"From 01 May 2018 all energy suppliers had to follow Ofgem's back billing rules. Before then it was only the big six and according to Ofgem, they did not always follow the principles. If the supplier is at fault for not sending you a bill for more than a year, (and this could be for a number of reasons including, not dealing with requests from you about a faulty meter or account and subsequently allowing a large debt to build, failing to process a direct debit or just failing to send you a bill) then you do not have to pay. There are some reasons when this doesn't apply, such as if you make no attempt to make a payment. Should the company not honour this principle then follow their complaints procedure."
"Katy from Katykicker has saved around 15% off her energy bill by automating devices in her home such as fish tank lighting and when devices are switched off at Night."
"We save on energy by having switched all our light bulbs to LED. It's a small initial investment to buy them, but compared to standard bulbs you save around £11 per bulb per year, and as they last for over 10 years it's a good long term saving. "
"I use My Energy Club as they monitor the energy prices and email me when ever there is a better deal to switch to. I then check a few other sites comparing the energy prices to ensure its the best deal. This year I switched from First Utility to another provider and saved about £50. "
"I know it's somewhat controversial, but I am definitely saving money on my energy bills by having a smart meter."
"I've got my children to save energy playing a game checking their smart meter usage"
"I saved around £50 per year by having a smart thermostat installed."
"We save on energy by using the Plugwise app to monitor energy consumption of electrical devices in the home and thus reduce costs accordingly."
Michelle from Time and Pence says, "Make sure everyone in the family turns off TV's, Computers and lights when leaving a room. Every little adds up."
"Invest in a smart boiler and thermostat set up. We have our heating on constantly during the winter months with a clever thermostat that has a sensor on both the outside of the house and the inside – it works to keep it at a constant temperature. It's actually far more expensive to let the house get cold then make it warm again, over and over again throughout the cold months. Our energy bills are cheap compared to most similar houses too."
"My best tip for saving energy would be to invest in smaller appliances when you need to replace them, as they use less energy generally."


Top Tips:
It is often in the little things that you do that can save you big money. Whether you are living with a partner or housemates, there are so many ways in which you can save money on your bills. Turning off the lights will help too and will cause less arguments in the home.
Weatherproof your home
Replace old windows with new energy-efficient windows
Replace old furnace with new energy-efficient furnace
Properly maintain furnace
Use solar heat if possible
Turn down thermostats
Turning off lights when leaving a room
Use energy-efficient compact fluorescent light bulbs
Run dishwasher and washing machine only when fully loaded
Lower water heater temperature
Take shorter showers
Unplug unused appliances
Carpool whenever possible
Do what you can to conserve energy and save yourself money this year. Please let us know your feedback in the comments section below. Use #CutYourEnergyCostsDay to join the conversation on social media.