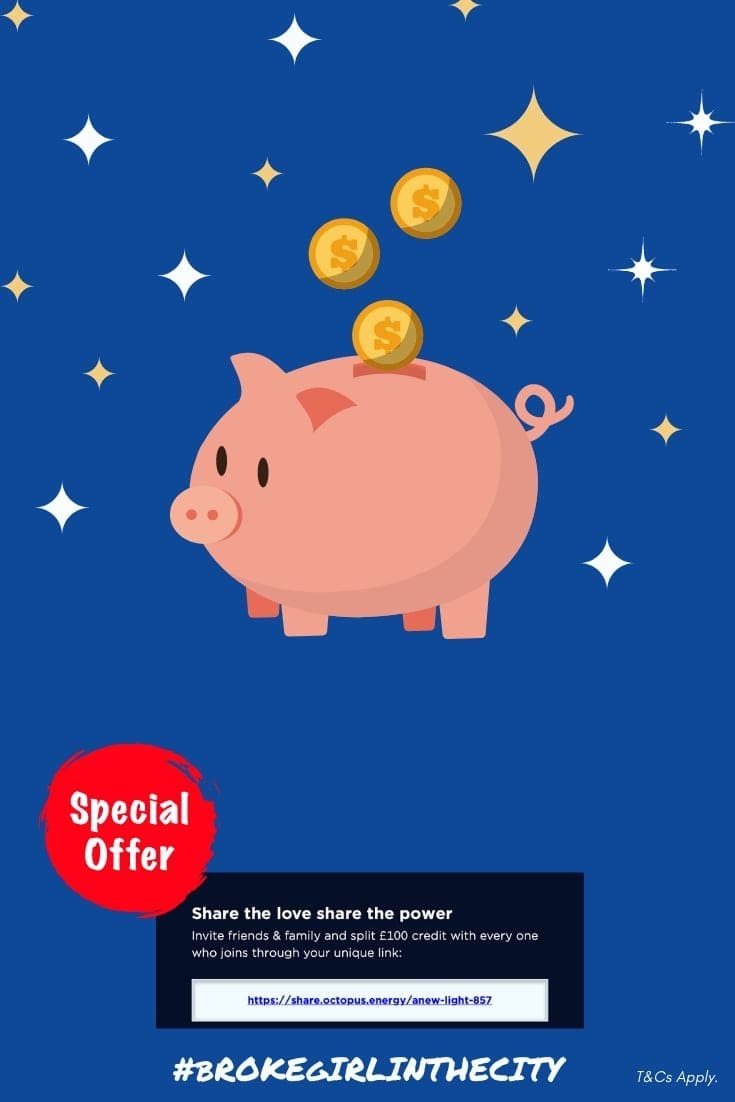 Save money on your energy bills by switching to Octopus Energy and get £50 for you and a friend!
April is the start of the new financial year. So there hasn't been a better time to relook at all of your bills. Prices may have gone up, so look around to shop for the best offers. Renegotiate where you can and check for what's up for renewal.
Recently I signed up for Octopus Energy, which has an amazing referral scheme. Will, who runs the money blog Great Deals Made Easy, referred me, and both of us received £50 off our bills this month!
Just incredible to change providers and signing up.
Octopus Energy
Octopus Energy was launched in 2016 with a vision of using technology to make the green energy revolution affordable whilst transforming customer experiences. Today Octopus supplies 100% renewable electricity and gas to 2.2 million homes and 25,000 businesses in the UK and operates in six countries.
Follow these easy steps to claim yours:
Your friends have benefits! Once you have signed up, you can then send your referral code to your friends. If you run a business, it may prove useful to look at your supplier too.
Click on this link "https://share.octopus.energy/anew-light-857"
Choose a tariff from the options below
Make the switch!
I love the fact that Octopus Energy is also committed to renewable energy too!
Type in your postcode to get a quote
Get a quote – Choose a tariff – Submit your details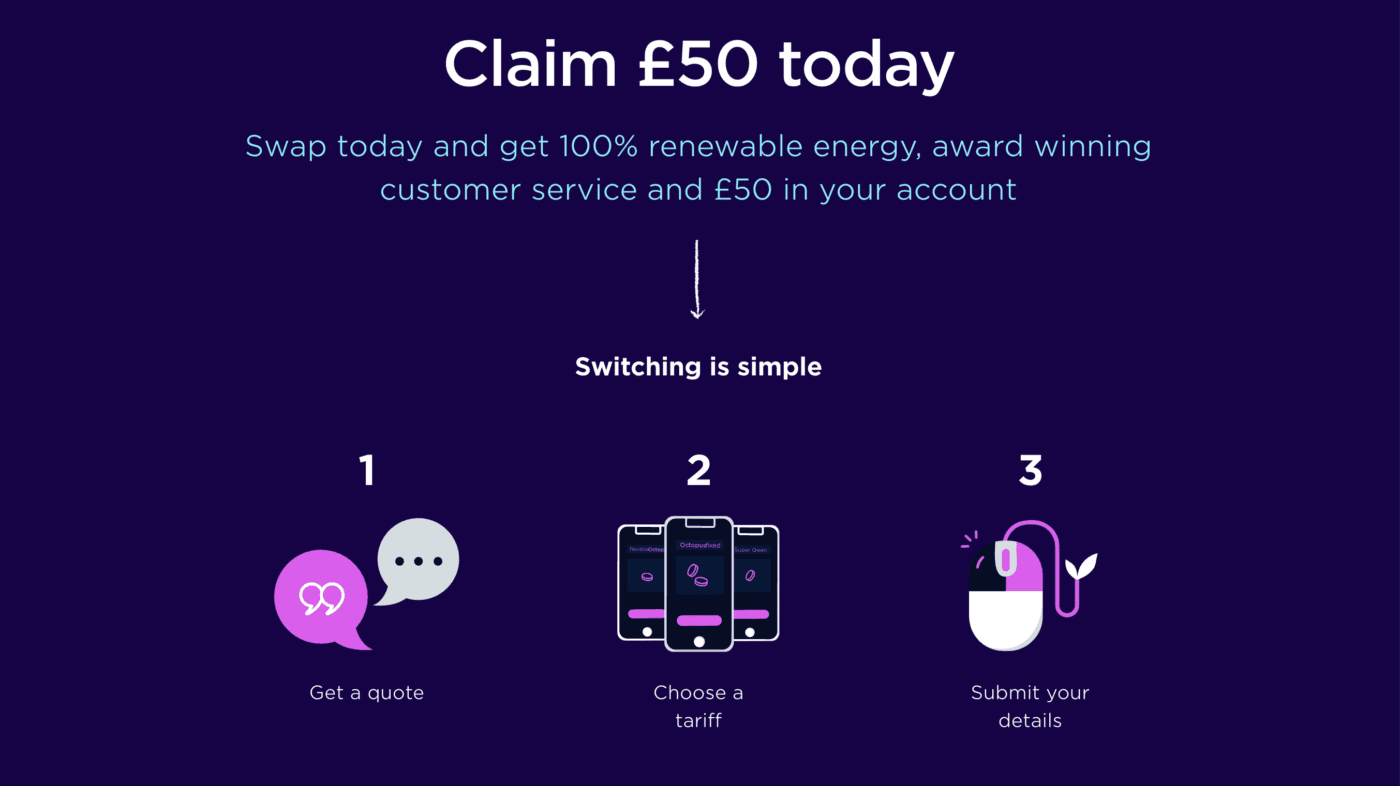 Choose from one of the smart tariffs below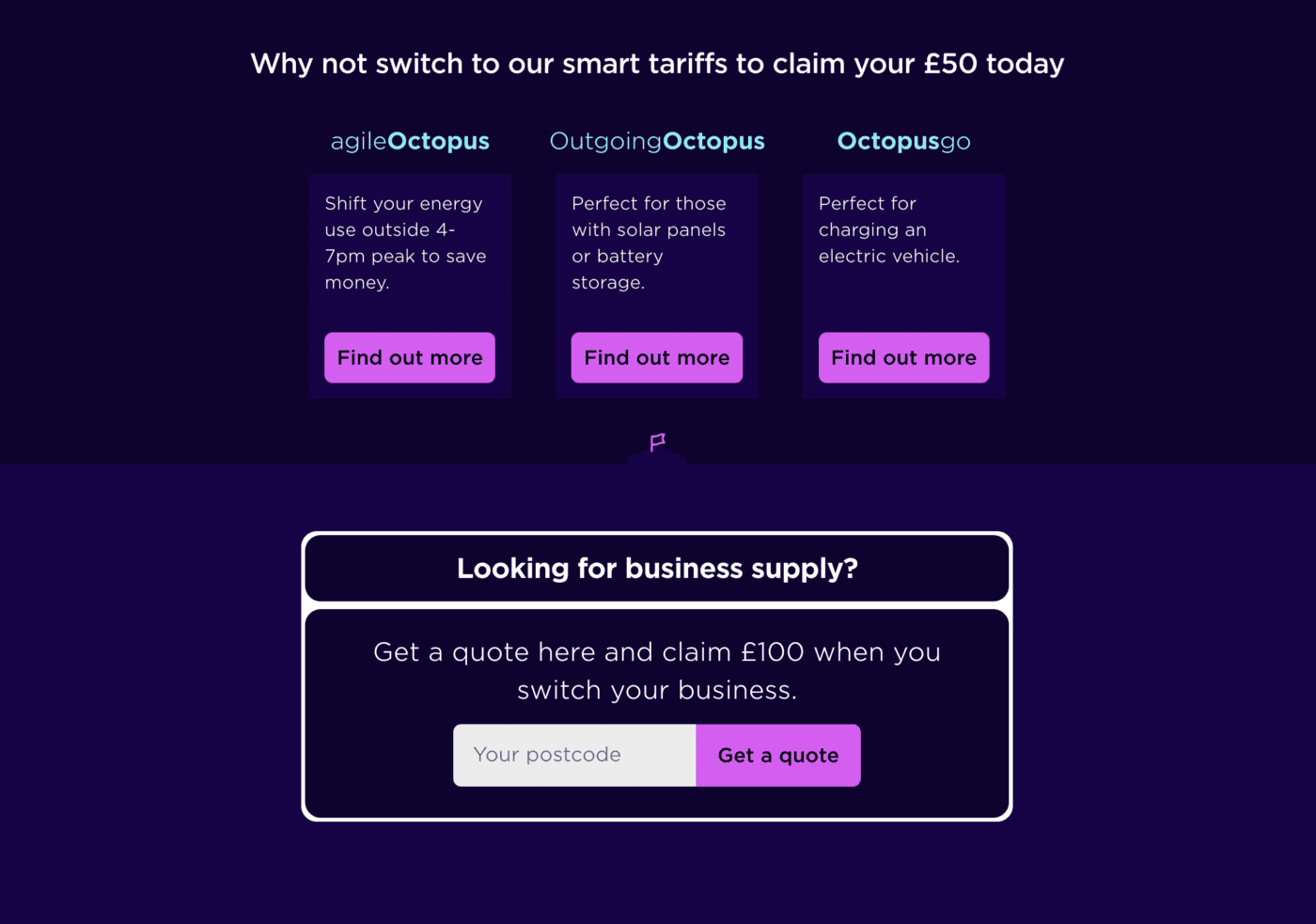 Octopus Energy is doing its bit for the environment.
In 2016, Octopus entered the market to disrupt the status quo with energy that's good for the planet, good for your wallet, and, honestly, good for your soul.
Since then, they have picked up 30,000 customers a month on average. Supplying energy to 1.5 million UK homes (and counting). To this day, 92% of our customers rate us as 5* Excellent on TrustPilot; we're the only supplier recommended by consumer champions. Which? Year after year after year.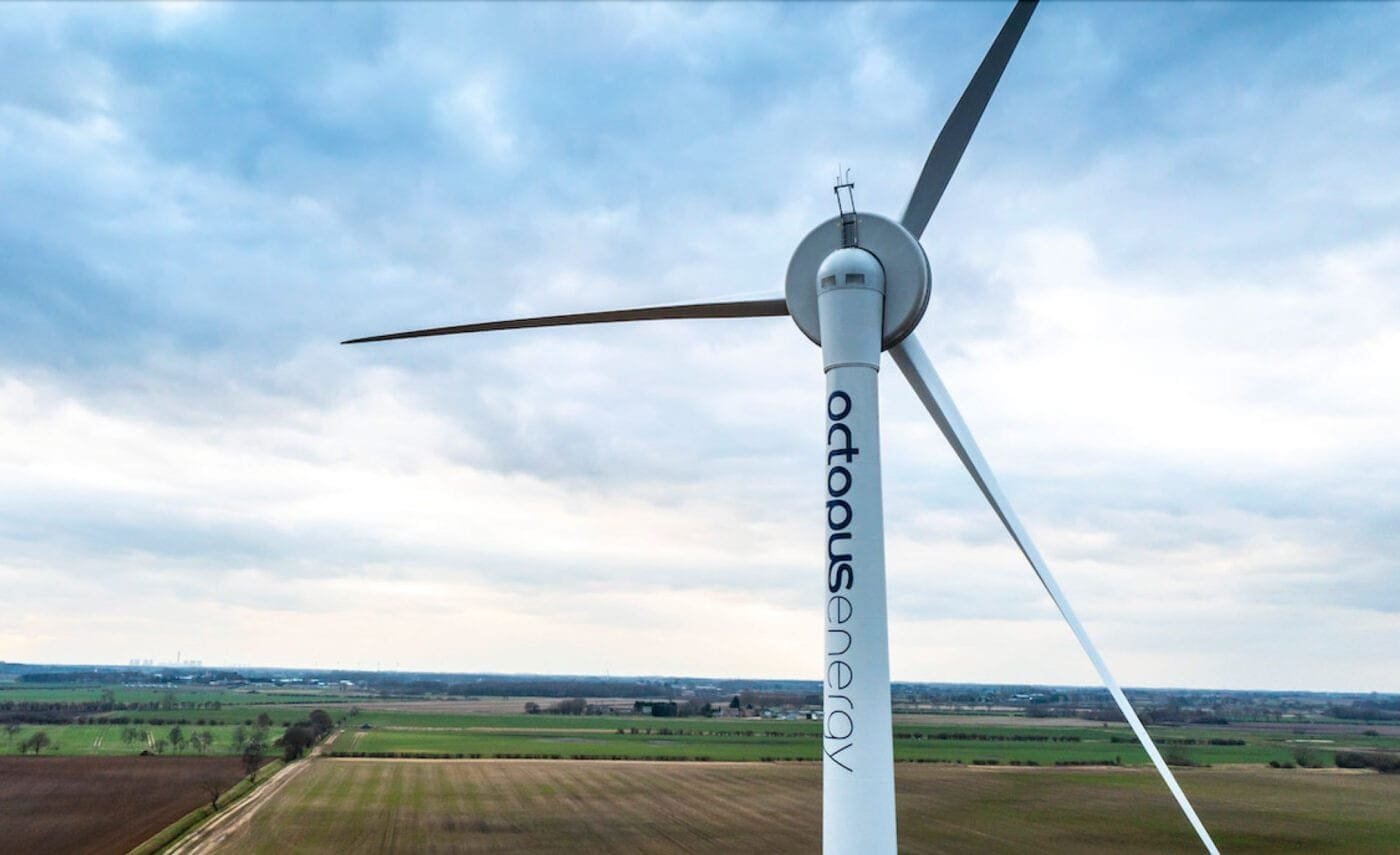 Renewable energy as a standard
All tariffs use 100% green electricity and are no more expensive than our competitors' non‐green tariffs. You can also carbon offset the gas you use if you want to minimise your environmental impact even further.
The company is backed by Octopus Investments, the UK's largest investor in solar power, responsible for nearly 40% of the nation's large-scale solar generation.
Energy fit for the future
In 2018, Octopus Energy became the only supplier to harness smart meter technology's potential. Launching Agile Octopus, a time-of-use tariff with half‐hourly rates allowing customers to adjust their consumption to times when the wholesale price of energy is cheapest.
Next came Octopus Go, a tariff designed just for EV drivers, with a super cheap night rate so these early adopters of the future of green transport can always wake up fully charged.
And it's not just about your home energy. Octopus Electric Vehicles helps GB drivers switch to greener cars, providing everything from the car itself to smart charging options. Powerloop is an EV leasing bundle introducing vehicle‐to‐grid charging to GB homes. Drivers use their cars to power their homes during times of peak energy demand to relieve pressure on the grid.
Octopus Energy awarded "Recommended Provider by Which?
Octopus Energy – which already supplies 1.8m households across the UK – has once again been awarded "Recommended Provider" status by Which?. The fast-growth disruptor is the only energy supplier to have received prestigious recognition for four years in a row.
The renewable energy business also excelled in Which?'s annual energy satisfaction survey, which asked more than 8,000 people in September 2020 about their experiences with their energy provider. With an 80% customer score, Octopus Energy ranked second. Having achieved a five-star rating for bill accuracy. As well as a four-star rating for bill clarity, customer service, complaints handling and value for money.
The energy disruptor is also the UK energy supplier which has received the most accolades for its customer service in 2020. Having gained three awards and scored highest in five independent rankings and public ratings. The Institute of Customer Service Index, the Uswitch Awards, Trustpilot and the UK Customer Service Awards are among them.
Octopus Energy is the UK's fastest-growing private company, having gained 1.8 million customers since launching to the market in 2016.
Greg Jackson, CEO and founder of Octopus Energy, comments:
"We're thrilled to be endorsed by Which? for the fourth year in a row – something no other energy company has ever achieved before. It proves that our technology enables us to grow at an unprecedented rate whilst cutting costs and delivering outstanding customer service.
Energy challengers, led by Octopus, are proving that green energy can be cheap energy and that customers can expect and demand better service than ever before.
I'm so proud of our team, who are putting their heart and soul into driving this customer-focused revolution in energy. And it's absolutely fantastic to see Which? Recognising our role in this transformation."