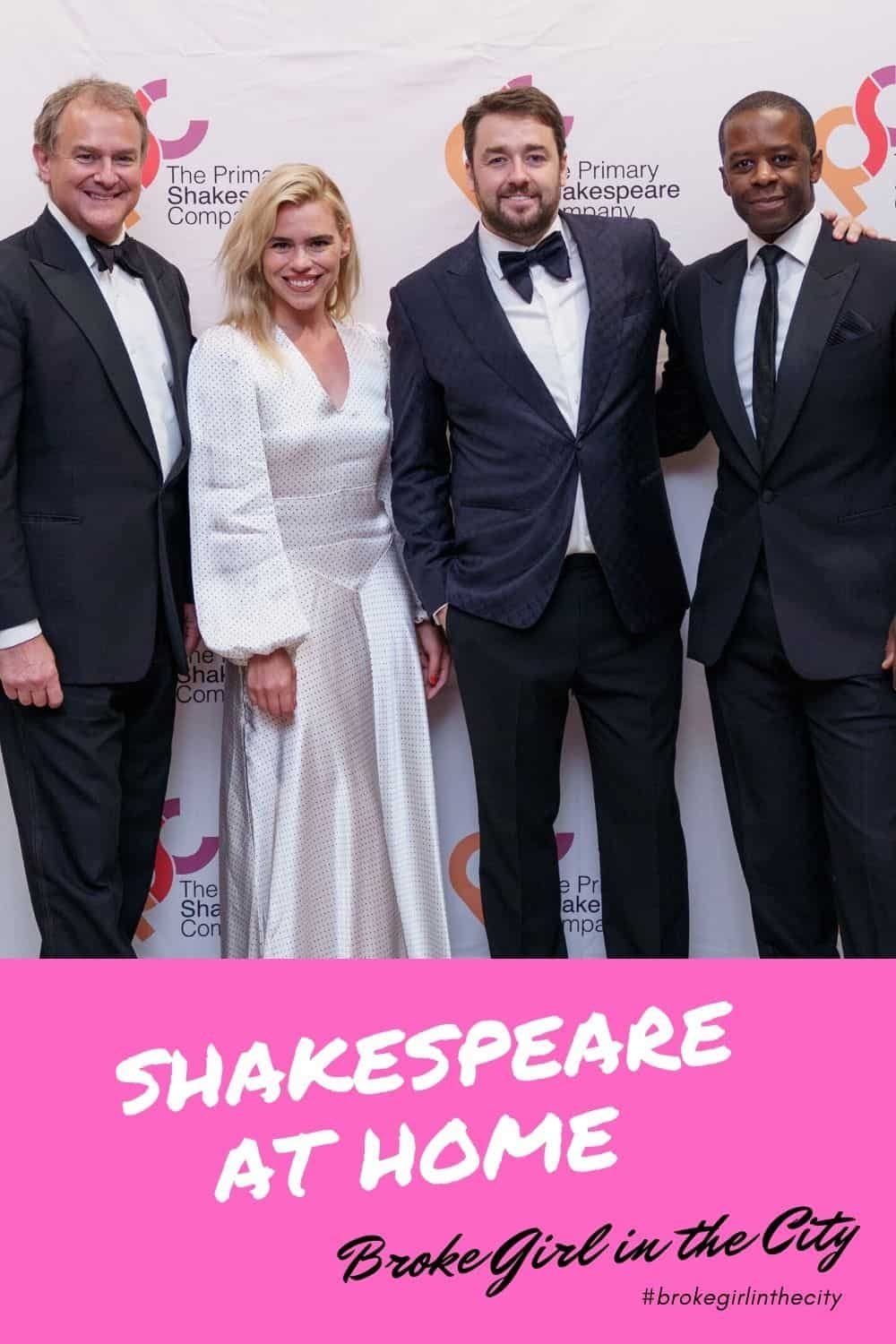 British acting legends launch Shakespeare at Home
It's unusual for me to mention anything relating to children or kids in my blog. Mainly because it's not my speciality. I do not have any kids of my own and there are so many other amazing mummy bloggers out there.
However, these are unusual times. I loved English literature at school. I was fascinated by people and still am. So when this dropped into my inbox. I wanted to share with you all. For a year I supported kids who were studying English Literature in East London, where English was their second language. I spent weeks spending more one-on-one time with a young lad, who was lovely. Popular at school but was struggling and just needed some attention. We studied Mice and Men and I helped bring Shakespeare to life. I will always remember those lessons fondly. It was reported back that he was more confident to talk about books in class.
British acting legends launch 'Shakespeare at Home' campaign for parents, carers and teachers.
Parents, carers and teachers are being encouraged to use new educational resources released for free on 20th April 2020 by children's charity, The Primary Shakespeare Company. In a campaign fronted by some of the country's most beloved actors.
'Shakespeare at Home' brings together more than 150 individual activities and educational resources. Including games, films, arts and crafts, along with easy-to-follow lesson plans for parents.
The resources will be released every week for six weeks. As children would have been heading back to school with the end of half term.
The new materials for parents, carers and teachers fully encompasses the national curriculum including English, Maths, Science, History, Art, Geography, History, Music and PE.
Some of the country's most acclaimed and awarded actors are taking part in the campaign including Hugh Bonneville, Adrian Lester and Billie Piper.
Programme Director for The Primary Shakespeare Company, Neil Carter said: "As children should be heading back to school this week, we know parents and carers will be concerned about how to keep their kids entertained and engaged with the curriculum.
"That's why we've taken the programme we would typically deliver in primary schools and adapted it to an entirely online and digital-friendly platform.
"As children, parents, carers and teachers become increasingly frustrated with the lockdown; we hope they will take advantage of our fun, new resources, completely for free and in line with the national curriculum.
"Parents can submit completed work which we'll check over and award the best a prize. We're delighted to have the support of Hugh, Adrian and Billie who will also be keeping an eye on all the submissions so make sure it's up to scratch!"
Downton Abbey favourite and Golden Globe nominee, Hugh Bonneville added:
"Now – especially now – opportunities for young children to maintain their sense of creativity are essential.
"The Primary Shakespeare Company have moved swiftly to adapt to the online-only world so that they can continue to inspire primary school children to express themselves by exploring the plays of Shakespeare.
"A new term is beginning – act up!"
Hu$tle star and Olivier Award-winner, Adrian Lester added:
"A child's passion for creativity and sense of play doesn't have to be locked down with the rest of us.
"It is incredibly important that we encourage children to tell stories, imagine other lands and make a whole world in one room.
"Although the children are apart, they can be together in the stories that they tell each other and explore together.
"The Primary Shakespeare Company don't need a classroom to bring Shakespeare's fantastic characters to life for children – a camera and a keyboard will work just as well.
"As Hugh said… act up!"
Doctor Who legend and Olivier Award-winner, Billie Piper added:
"As a child, I really struggled in school. I just wasn't connecting with my lessons and the curriculum, and I found that really frustrating. Drama changed everything – it gave me a purpose and a passion.
"I know there are so many children feeling the same way, especially during these tough times, and this is why what The Primary Shakespeare Company are doing is so important.
"These new resources are a great way to keep kids entertained and engaged with the school curriculum without it feeling too pressured or forced."
Every year, tens of thousands of children across the country struggle to connect with their school lessons and fall behind.
The Primary Shakespeare Company works with children from disadvantaged backgrounds to bridge that gap. In the ten years they've been running, their work has engaged, inspired and motivated more than 30,000 children using the power of drama and arts.
The digital marketing campaign will feature across Facebook, Twitter, Instagram and Pinterest. It was designed and will be run by Apostrophe Talent – the charity's PR and marketing agency.