Described as one 'the most beautiful women in burlesque' (female first), Mashable has also described her as 'the kind of person who electrifies the internet'.
#SukkiforTutti lingerie collection inspired by Sukki Singapora
Sukki, one of the renowned Burlesque dancers today, has a glamorous and chic look inspired this collection.
First modelling for Tutti Rouge and Fashion TV in 2015, Sukki soon became an avid fan of their lingerie for the fuller busted woman. Sukki also became designer Jessica Noble's female muses, and in honour of this, the TuttiForSukki collection was borne.
Tutti Rouge – Autumn/Winter
Fabulous fashion-led fuller bust lingerie Tutti Rouge officially launch their Autumn/Winter 2016 Sukki Lingerie. The stylish lingerie set has been designed with inspiration and admiration for the international burlesque star Sukki Singapora.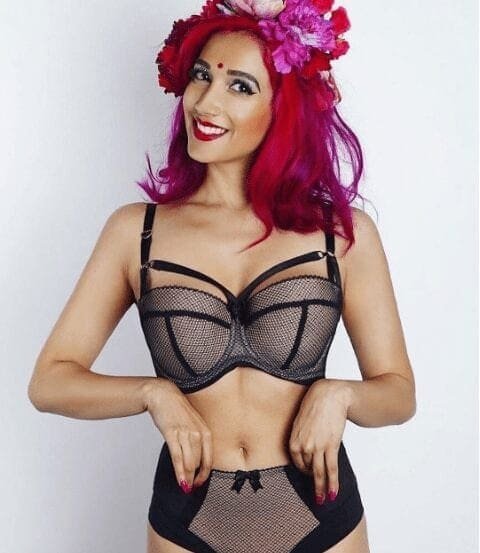 Get the #TuttiForSukki look!
The Sukki-2-Style Bra retailing at £39.50 is exactly that – one bra with 2 looks. The super sassy Sukki bra is perfect for both day and night. Worn as a 3-part balconette by day, it can be vamped up by taking off the detachable caging – all inspired by the show stopping Sukki Singpora.
The Sukki High Waist Knicker retailing at £22.00 'Hold me Tight' with 'TuttiTec' will help shape your waist for that ultimate Burlesque look.
The Sukki collection is now available online at www.TuttiRouge.com
Sukki Singapora is an International Burlesque star, who has inspired the fabulous fashion lingerie label Tutti Rouge's new range #SukkiForTutti.
Sukki spends her time performing in London, Singapore and America.