World Kindness Day is celebrated nationwide annually, 13th November.
It is a day to celebrate and promote kindness in all its forms. World Kindness Day falls on the same day and unites people in kindness globally.
One of my favourite quotes is "Be Kind, because you don't know what someone else is going through."
I try to do random acts of kindness in my life. Whether it's helping someone on the streets. Phoning a friend you know is suffering with depression. Holding the door open for people in shops. It doesn't take much of our time to do something kind for someone. With so much suffering and disillusion in the world. Start making the world a better place. One random act of kindness at a time.
10 Ideas for World Kindness Day
Send flowers to someone
Buy someone lunch today
Phone someone you know is struggling right now
Cook someone dinner tonight
Give an old coat to Wrap Up London
Smile at strangers (yes even in London!)
Ring a friend or family member today
Arrange to visit a friend you haven't seen in ages
Offer your services to a charity of your choice
Help the homeless in any way you can today
Wrap Up London is back
For the 8th year running, Wrap Up London are collecting your old, unwanted coats and giving them to charities that support the homeless, refugees, children living in poverty and people fleeing domestic violence (to name a few).
Help keep vulnerable people warm this winter by donating a coat this November!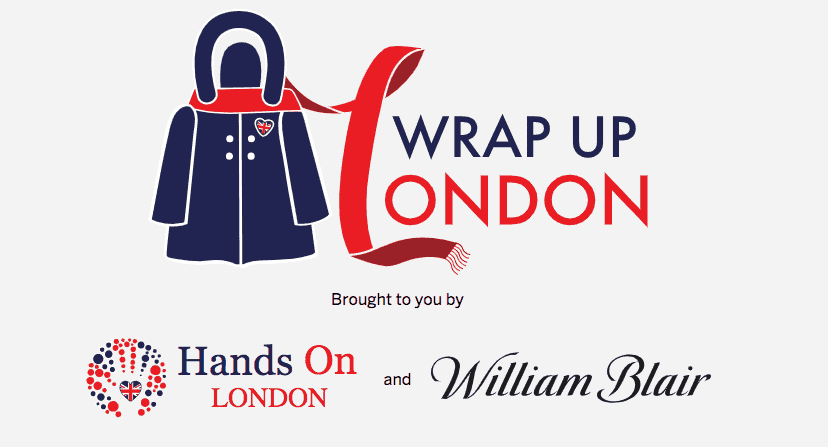 How to donate your coat
Tube Stations:
Monday 12th – Wednesday 14th November (7am – 11am). Look for signs throughout the six stations and keep checking @WrapUpLondon to find out more information on the day.
Canary Wharf
Find us at the bottom of the main escalators into the station (opposite Reuters). Our spot is in front of a pillar.
Kings Cross
Find us at the north entrance to the tube station off Pancras Road, in the Northern Ticket Hall.
Liverpool Street
Find us inside the London Underground entrance next to Costa Coffee and behind the NatWest ATMs. (Closest entrance on Liverpool Street)
London Bridge
Find us by the main pillar in the middle of the tube station foyer. We are opposite the Jubilee Line gates.
Victoria
Find us at the bottom of the stairs by the underground entrance (use one of the "original" entrances just outside the main station)
Waterloo
Find us at the entrance to the Jubilee line off Waterloo Road or down the escalator opposite platform 5 in the main station. Take a left and you'll find us by Lola's Cupcakes.
Broadgate Centre
Monday 12th – Wednesday 14th November (9am – 5:30pm).
Big thanks to Chris Royle who posted that he was helping his Snapchat colleagues this morning to gather coats on behalf of Wrap up London!
Hashtags: #WorldKindnessDay #WKM #WorldKindnessMovement