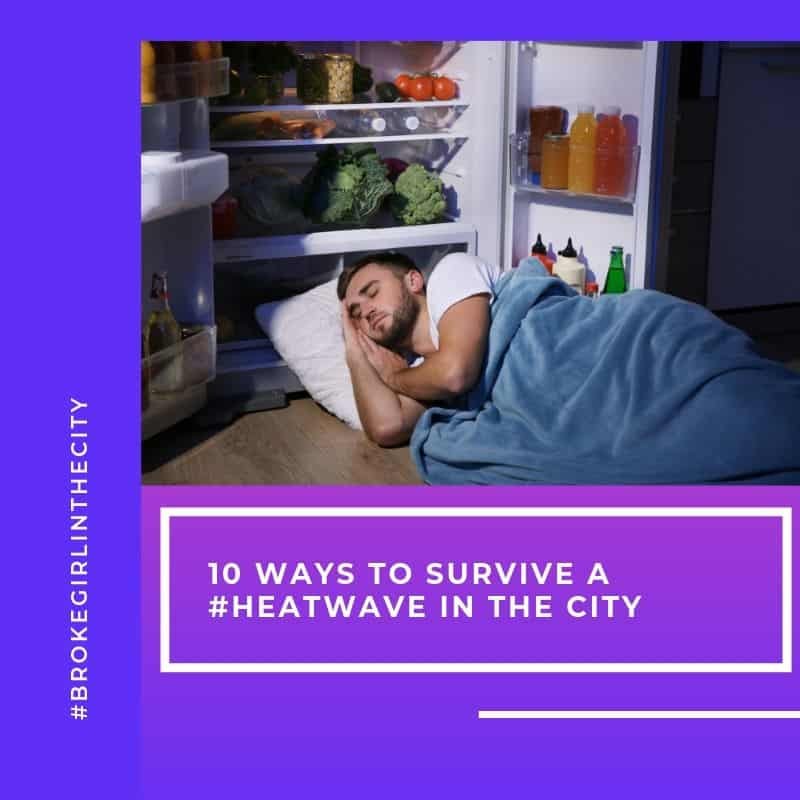 10 ways to survive a heatwave
We all love the summer months when it's warm outside and the streets of London are littered with people all smiling, eating al fresco and drinking late into the evenings with colleagues and friends. Yet the city almost turns into a dystopia when it becomes a heatwave.
Tube journeys feel like you are burning alive in an underground furnace. The streets resemble concrete jungles with not enough greenery to sit down and relax. Any spot is already taken by the time you get out of work. It's a fight to get into air-conditioned eateries around the city. I thought I would take this opportunity to list out my top 10 things to so to survive a heatwave in the city, given that tomorrow is forecasted to be the hottest day so far on record.
1. Keep hydrated!
Whatever you do in this heat, do not go anywhere without water. This month is #plasticfreejuly so use a water bottle to take some chilled water with you everywhere. If you don't already have done, buy one so that you are not constantly buying single-use plastics in this hot weather.
It might seem exciting to hit the town when the sun is out. Yet drinking alcohol in this heat can be dangerous. Opt for wine spritzers or gin and tonics. Keep drinking glasses of water to stay hydrated in between rounds. Try and avoid sugary drinks too. Drinks with electrolytes are often a good shout as they replenish salts which you lose through sweating in this heat.
2. Stock up on ice-creams
Forget diets right now. Keep cool by stocking up on ice creams or lollies this month. You can buy some cheap and amazing ones in many stores. Someone at work bought the office all ice-creams yesterday and I don't think I have ever been so happy to have one! I have loaded up my freezer ahead of tomorrow with ice lollies from Aldi.
3. Eat alfresco
I recently moved to Norwood Junction and have the most wonderful garden with a picnic table. Whilst I am a hayfever sufferer and on very strong anti-histamines. I love eating alfresco each evening. Whether you have a garden or are close to a park. Spending time outdoors is great for the soul. I am not overly hungry in the heat so a picnic is perfect for this weather. I recently met up with members of the UK Money Bloggers group in a park. Use this opportunity to meet friends or eat outside with your housemates.
4. Invest in a fan
I am sure Amazon and Argos love this time of year when there is a virtual stampede to snap up a fan. I lost mine in one of my house moves so I will be on Amazon Prime tonight trying to find the cheapest but most effective fan which will cool me down tomorrow. I found a great tower fan costing £25.99 from Amazon. A great recommendation from my brother is to have a plate of ice in front of the fan as this will then cool the air in the room.
Fortunately for me, my workplace has agreed that we can all work from home tomorrow. Warnings have been issued to not travel on the trains where possible as many trains have been canceled due to the hot weather.
5. Enjoy cool showers
When it is this hot, I will have a cold shower in the morning and then again in the evening to cool down. When everyone has been sweating on the tube and you feel the grime of the city on your skin. It's important to maintain self-care and ensure that your skin is kept hydrated and cleansed. It's a great way of bringing your overall body temperature down too.
6. Keep your home curtains drawn
Shut the windows and pull down the shades when it's hotter outside. That might seem the wrong way around as your first response is to open the windows and the curtains. However, if your room faces the sun, it will heat your room. Also if you are a hayfever sufferer you need to be careful of having the windows open in the evenings. Depending on whether you are in a relationship or not, think about sleeping alone for one night!
7. Protect yourself
It's tempting to sunbathe in a heatwave to sport a tan but the last thing you want is to burn yourself, even if like this chap, you just want to be batman. Try to avoid the sun at mid-day when it is usually at its hottest.
I tend to shop in Superdrug or Boots. Don't skimp on protecting your face, chest, and arms from the rays of the sun. Keep cleansing then moisturising using an SPF filter to protect your skin. I buy face masks from Superdrug, such as the Garnier Moisture Bomb Chamomile Hydrating Face Sheet Mask (£1.99), which will also hydrate and cool the skin. Put it in the fridge before applying for extra coolness.
8. Wear light clothing
One of my bugbears in the city is having to travel on the underground when you adorning summer clothes. Wear a summer skirt and you run the risk of flashing your lovely bum cheeks to anyone behind you who isn't looking on their mobile phones. Or I am having a Marilyn Monroe moment when my dress or skirt blows up in the summer breeze. You don't want to wear anything tight in the extremely hot weather, as much as you may want to flaunt what your mother blessed you with. A heatwave is a time to wear next to nothing in the comfort of your own home but opt for something more loose-fitting and appropriate at work with colleagues. I love Primark and New Look when shopping for summer clothes on a budget.
Red Floral Tea Dress
£17.99 – New Look
In addition to light clothing, be sure to wear a wide-brimmed hat so that your face, ears, and neck are protected. These areas are especially sensitive and subject to sun damage in a heatwave, so keep it covered. Also, make sure the sunglasses you wear to protect your eyes.
9. Go shopping
As a rule, I hate shopping. Yet when I stepped into the cool oasis that was Aldi today, I felt blessed. Cool air, freezers, this is the one time that you should go shopping. I have bought lots of melons, grapes, ice-creams to keep myself hydrated in this heatwave. You will find me outside dining al fresco enjoying the sunshine!
10. Find a lido or beach
Lambeth is home to one of the most amazing Lidos in London – in Herne Hill, Brockwell Park. There are several Lidos tucked away in areas of the city such as Lambeth Lido, London Fields Lido, Tooting Bec Lido (where I worked on MTV's Living on the Edge photoshoot) and Parliament Hill Lido. Why not head to a lido after work tomorrow or if you are lucky to be off for the day – head straight to the beach!