Amazon Fresh opens its first store in London
Amazon opens its doors this week to Amazon Fresh in London. The first convenience grocery store to offer Just Walk Out Shopping in the UK. Amazon Fresh is Amazon's first physical shop and first grocery store outside of the US. located in Ealing, London.
How does it work?
To shop the Amazon Fresh store, customers simply use the Amazon app to enter and can put their phone away and shop for what they need like normal, bagging items as they go. At the end of their shopping trip, they can just walk out. No stopping to stand in queue or check out.
Amazon launches new private food brand, 'by Amazon'
The Amazon Fresh store will also offer customers a wide selection of its new private food brand, 'by Amazon'. This new brand has hundreds of delicious products, including meat, poultry and fish, dairy, fruit and veg, bakery, freshly prepared meals and everyday essentials. 'by Amazon' will also offer customers hot food throughout the day and tasty on-the-go meals for breakfast, lunch and dinner.
The Amazon Fresh store will offer customers everything they'd want from their local neighbourhood grocery store with an experience that allows shoppers to simply take what they want and just walk out.
An interesting move by Amazon. What are your thoughts?
Further information is available at amazon.co.uk/freshstore.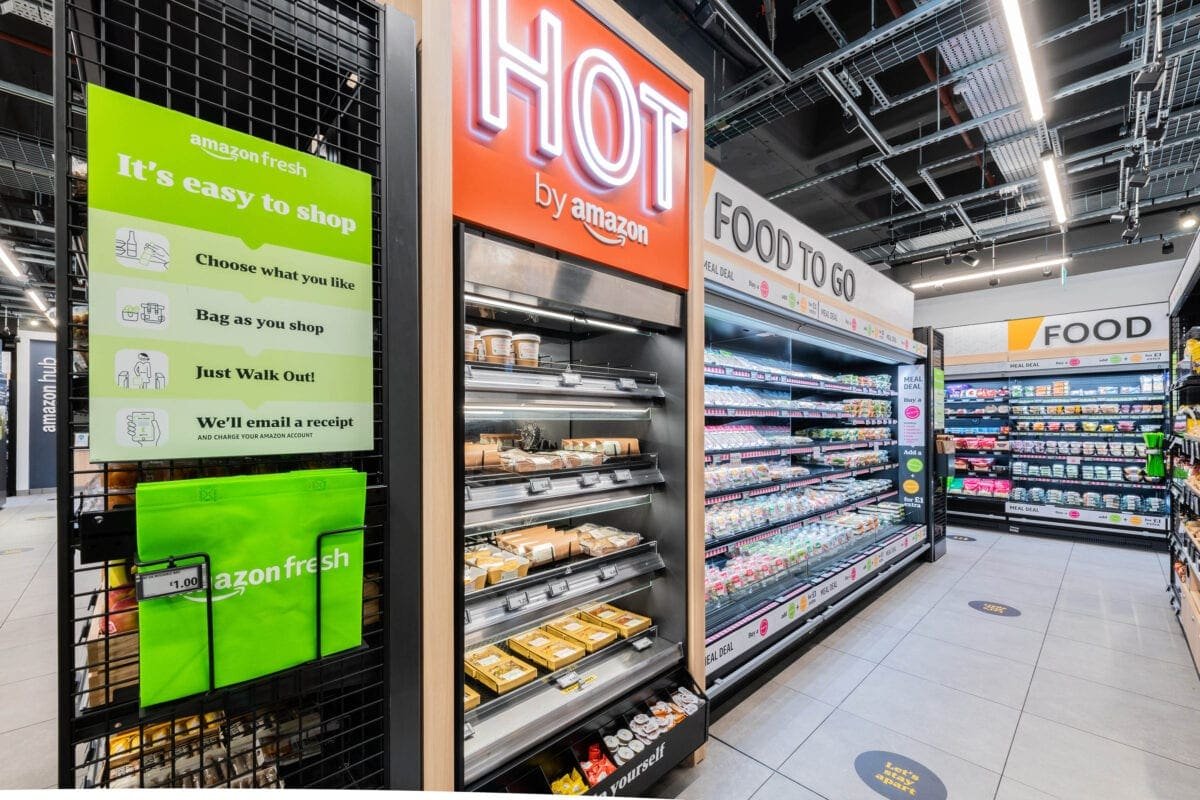 Amazon Fresh store

opening
What: Amazon Fresh store, the first convenience grocery store to offer Just Walk Out Shopping in the UK
When: Thursday, 4-March – doors open at 7:00 am
Where: 59 The Broadway, Ealing, London, W5 5JN
What you expect to find?
Amazon Fresh UK shoppers will find everyday ingredients and essentials on their shopping list, along with ready-made meals to help make dinner tonight easier. A wide range of 'by Amazon' hot food items is freshly prepared in the Amazon Fresh store; regularly replenished and served from a grab-and-go heated cabinet. So the food is hot and there is still no need to queue.
This will also be the only store in the UK to sell 'by Amazon' products. In addition to this, these stores will also sell household goods, magazines, flowers, Amazon devices and more items that we think shoppers will be looking for.
Safety: 
Several measures are in place to ensure a safe workplace and a shopping experience for customers, including: 
Lowering max occupancy to 20 so that customers have more space as they shop and associates have more room do their jobs
Clear markers to remind everyone of the need to wear face coverings and maintain physical distancing
Available PPE and disposable gloves at the store entrance and after the entry gate, as well as hand sanitiser
Frequent cleanings in the store. Details of our COVID-19 policy here.