Lockdown is extended by another 4 weeks.
Boris Johnson led a media conference today to tell the UK that lockdown and what has been coined "Freedom Day" is going to be extended by another 4 weeks until July 19th. The Delta variant has meant that Covid numbers are again increasing, but the concern lies with the NHS.
Government's Roadmap to freedom
Starting today's speech by claiming that as a nation we will have to live with COVID. Boris addressed the nation stating that the NHS needs 4 more weeks as hospitalisations and ICU admissions are increasing. With only a third of people within London having been vaccinated according to the Government, can the economy and the hospitality industry survive?
A race against the virus
The 4-week delay is designed to decrease infections and hospitalisations, and by the July 19th date, many more people will have had their double doses of vaccines.
At the conference today, Boris stated that the Delta variant cases are increasing faster by 64% a week, and doubling every week in worst-affected areas. There is a concern for people like me who have had both jabs and are still classed as being vulnerable.
Boris continues to say that the link between hospitalisation and death has weakened, but numbers in ICU are rising. "We need to give NHS a few more crucial weeks to give more jabs." As first outlined in their roadmap, not met all 4 tests have been met and so it is sensible to wait a little longer.
Number of people who received a vaccination for COVID-19 in the UK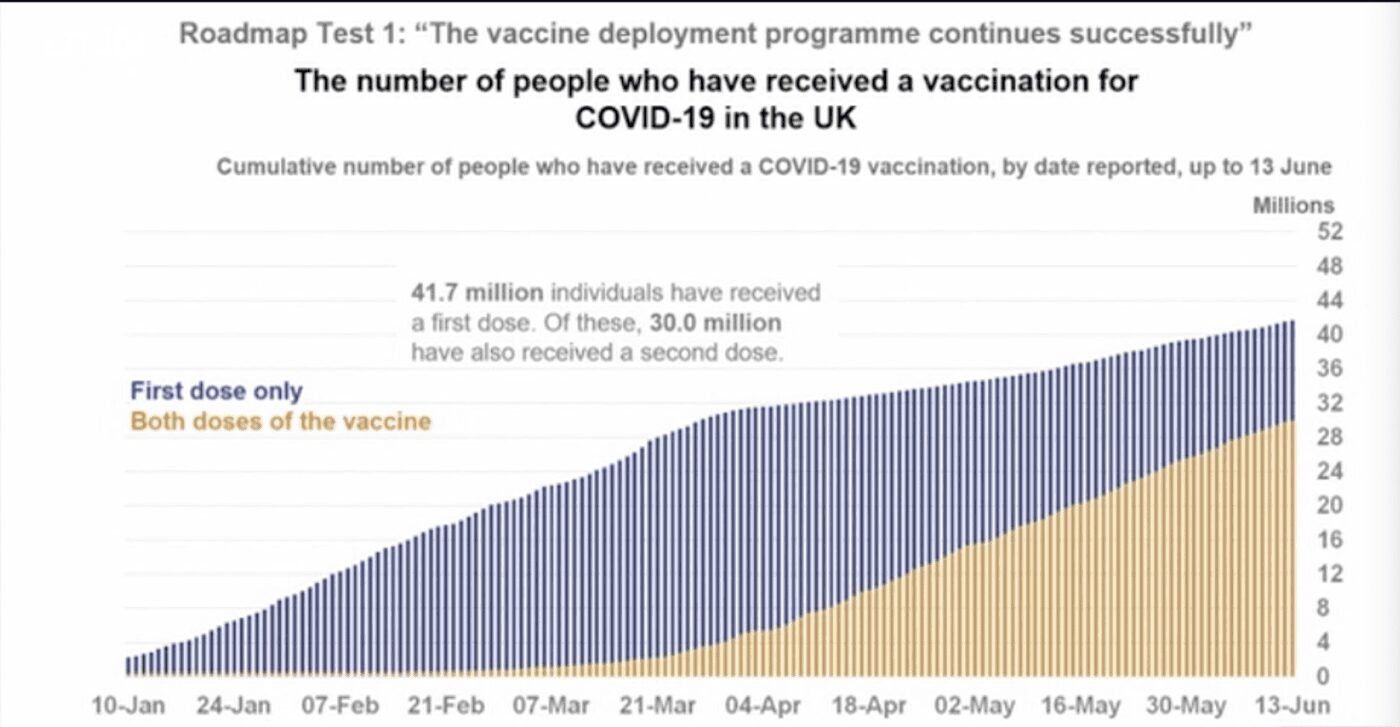 Age distribution of hospital admissions in England
July 19th is the new "Freedom Day"
By Monday 19th according to the Prime Minister, 2/3 of the adult population, frontline workers and people over 40 will have received a vaccine. The Government intends to accelerate jabs for those people over 40 years old to get maximum protection. Every adult is to get a dose by 19th July 2021. Younger people are invited to get a jab.
Considering that most people within the UK over 40 years old have received a vaccine, the worry is that COVID is spreading more among the younger generations who have not had their vaccines. Unfortunately, there is also evidence of people refusing to have the vaccine, which is worrying.
Wedding restrictions to be lifted:
Limit for weddings & wakes for 30 guests will be lifted
Pilot events such as Euros and Theatrical Events to continue
Boris caveated that he reserves the right to open sooner. However, in his words, "by being cautious now, we have the chance to save thousands of lives by vaccinating more people."