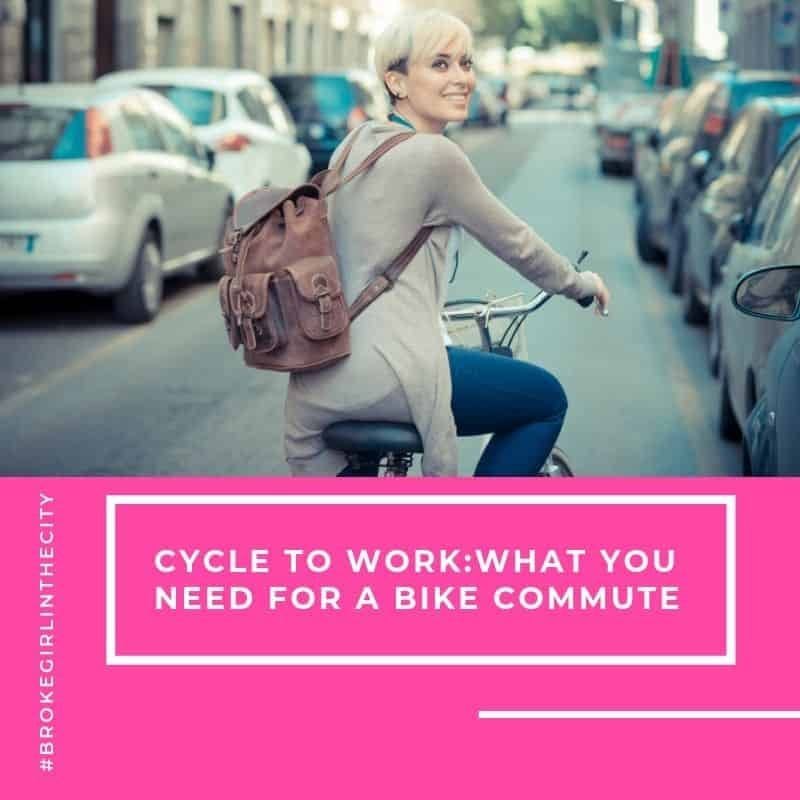 Cycle to Work: What you need for a bike commute
Did you know 60% of London's workers have skipped work before on a day they couldn't afford the commute? (source).
Thursday 8th August 2019 is Cycle to Work Day, which means that it is the day to try out a cheaper way to commute – commuting by bike.
Until now, more men have cycled to work than women, so the tips online for cycling to work have favoured men. Women working in London have different dress codes than men – they too need to know how to commute and still show up at work looking professional.
This article covers how women should dress for a bike commute. It also includes what to leave at work the day before to make freshening up after the bike commute easier.
This Guide Includes
Cycle to Work: What to Wear
If you have a short commute to work you can wear what you'd typically wear to work. After all, many people bike to work in Europe, and they don't wear cycling-specific clothes.
Anyways, it is not worth investing in cycling gear if you are only commuting on a bike as a trial period or just for Cycle to Work Day. Therefore in this post, I focus on how to adapt the wardrobe you already have to a bike commute.
Whether you change at work or wear work clothes – keep things comfortable with the following tips:
Wear a Moisture-Wicking Vest
If you want to go make the transition from bike to board room as light as possible, wear a moisture-wicking vest as a bottom layer which you can remove when you get to work.
Wear the Right Colours Clothes
Bright colours are great as they keep you visible on the road. Don't wear light shades as they will change colour when wet.
Which Skirt or Dress to Wear When Riding to Work
The best skirts to wear when you cycle to work are A-line skirts. If you want to wear a pencil skirt or any other fitted skirt – make sure there is enough stretch.
The ideal skirt/dress length for a bike commute is on the calf or just above the knee. Only if you have a chain guard should you wear mid-length skirts or longer – you don't want to get caught in the chain. Long floaty dresses and skirts are to be avoided for the same reason. Your personal safety is key.
How to Prevent Skirt and Dress Fly Ups During a Bike Commute
The main fear of every female cyclist is a skirt or dress fly up. You can prevent skirt/dress fly up using the Penny in Yo' Pants trick – all you need is a coin and elastic band. However, many women feel safer when they wear bike or yoga shorts underneath their skirt or dress and remove them when they get to work.
What Trousers Do Women Wear When They Cycle to Work
Skinny jeans are a favourite among women who cycle to work. They say it lessens the chance of them getting grease on their trousers, but make sure that they have enough given so that you can move around.
There are other types of trousers you can wear, but it is best not to wear wide-leg trousers.
Whichever trousers you choose, make sure to roll up your right trouser leg to avoid being dirtied by muck and grease.
How to Find out Which Tops Are Suitable for a Bike Commute
Whatever you wear, make sure to try it out before you leave home. You try out a top by sitting on the bike, stretching your hand to the handlebars, your one foot on the pedal-almost like you are cycling-and see how that feels.
What Type of Shoes Should a Woman Wear for a Bike Commute
Ideally, you should leave your work shoes at work the day before and cycle to work in something comfortable like trainers. If you won't be changing your shoes at work than opt for work shoes with stiffer soles as it will make it easier to ride in.
The best soles for cycling are made of leather as its harder to pedal in shoes with a plastic bottom. We don't recommend cycling in boots and heels as they offer less control and power. It is a good idea to avoid wearing slip-on shoes or any footwear which will compromise your safety on the roads.
Hairstyles for Female Bike Commuters
During the Commute:
Its always a good idea to tie your hair back and if you have a fringe – pin it up. Wear a silk scarf or bandanna to keep your hair neat under a helmet. Wearing a hoody will keep your hair tidy in damp or windy conditions.
When You Get to Work:
Some workplaces with shower facilities have blow dryers too. However, if you work doesn't provide or you don't have the time – a professional plait will do the trick! No one will notice if your hair is wet or frizzy if you plait it. Those with curly hair can also use mousse.
Freshening up After Bike Commute
If your work offers shower facilities – make sure to commute in extra early as not only do you need time to take a shower but you also don't want to run into anyone in your cycling clothes. Even if it's just casual wear.
Other people go to the nearby gym and shower there before coming to work. No showers at work? No problem. Many commuters go straight into their workday without showering first – and they have developed hacks along the way! The checklist below has a section on what to leave at work to make freshening up easier.
What You Need When You Cycle to Work [CHECKLIST]
Click here to download the printable checklist of what you need to cycle to work and still arrive at work in style.
Cycle helmets
Currently, in the UK, there is no legislation that requires a cyclist to wear a helmet, though it is recommended by Transport for London and the Highway Code. The main purpose of a cycle helmet is to prevent or reduce the extent of injury to a cyclist's head during a collision. Cycle helmets must adhere to standard EN1078.
Ready to cycle to work? You might find these instructions for choosing a bike commute helpful. Over the pond, the City of Chicago offers an illustrated guide to bike commuting which you might like.
Let me know how it goes!