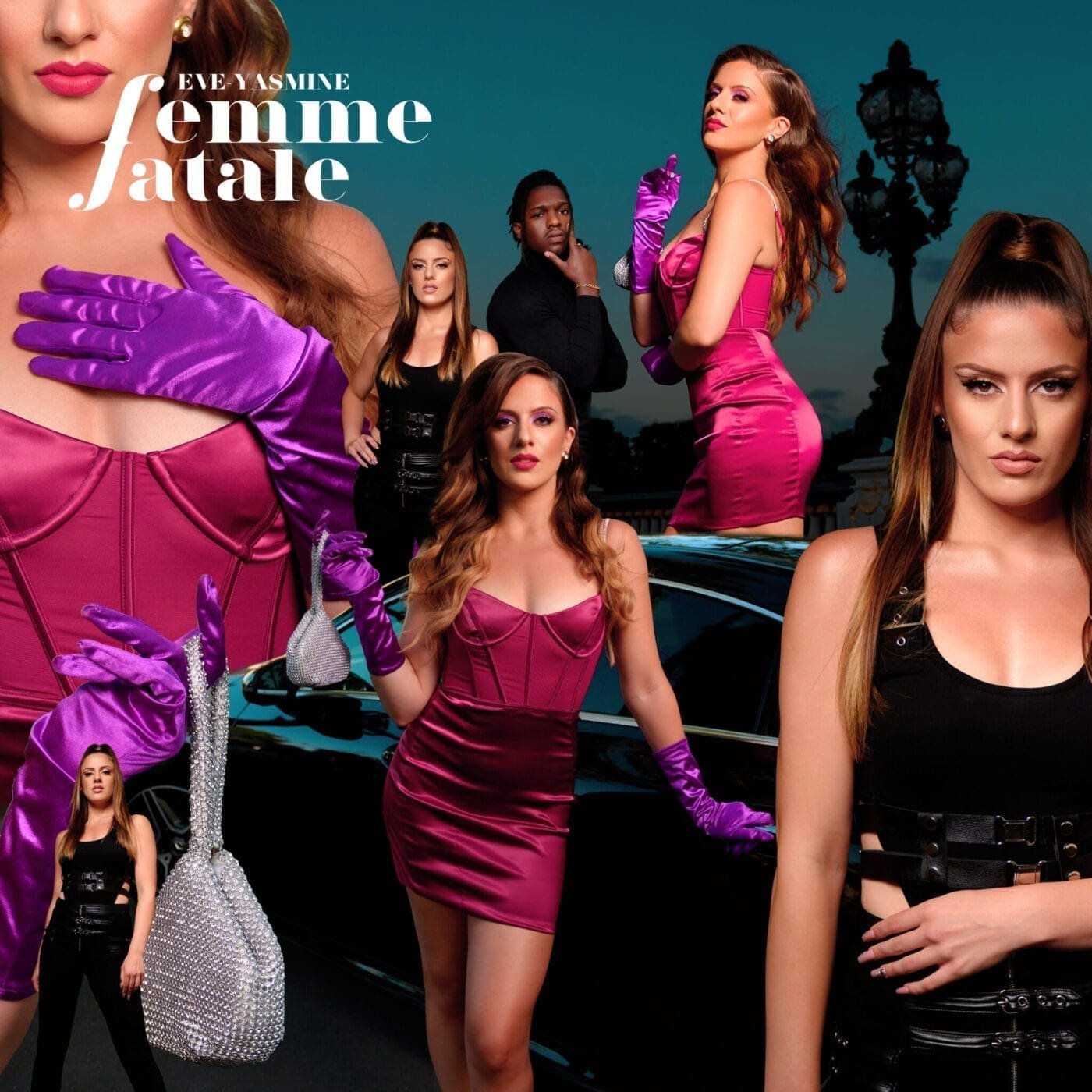 'Femme Fatale' is London-born music artist/songwriter Eve-Yasmine's debut EP!
Sultry, cinematic R&B Pop. Femme Fatale – the title track is inspired by James Bond and Paris with Frenglish lyrics that celebrate powerful female characters such as Jessica Rabbit and reference film icons such as Idris Elba and James Dean.
Eve-Yasmine is a music artist and songwriter from London with R&B, Soul and Pop influences.
Her tone is deep, rich and soulful. With British, Moroccan and Spanish origin her versatile and multi-lingual songwriting ability shines in the EP creation with music producer S.B.O. Recorded and created between London, Los Angeles and Paris, the 3 track EP features Femme Fatale (shot in Paris), Glow Up (shot at God's Own Junkyard in London) and Wild Run (shot in the Mojave desert).
"Recently I have been writing for a new artist in Paris and decided to take the opportunity of already being there to shoot the visuals for Femme Fatale!"

Eve-Jasmine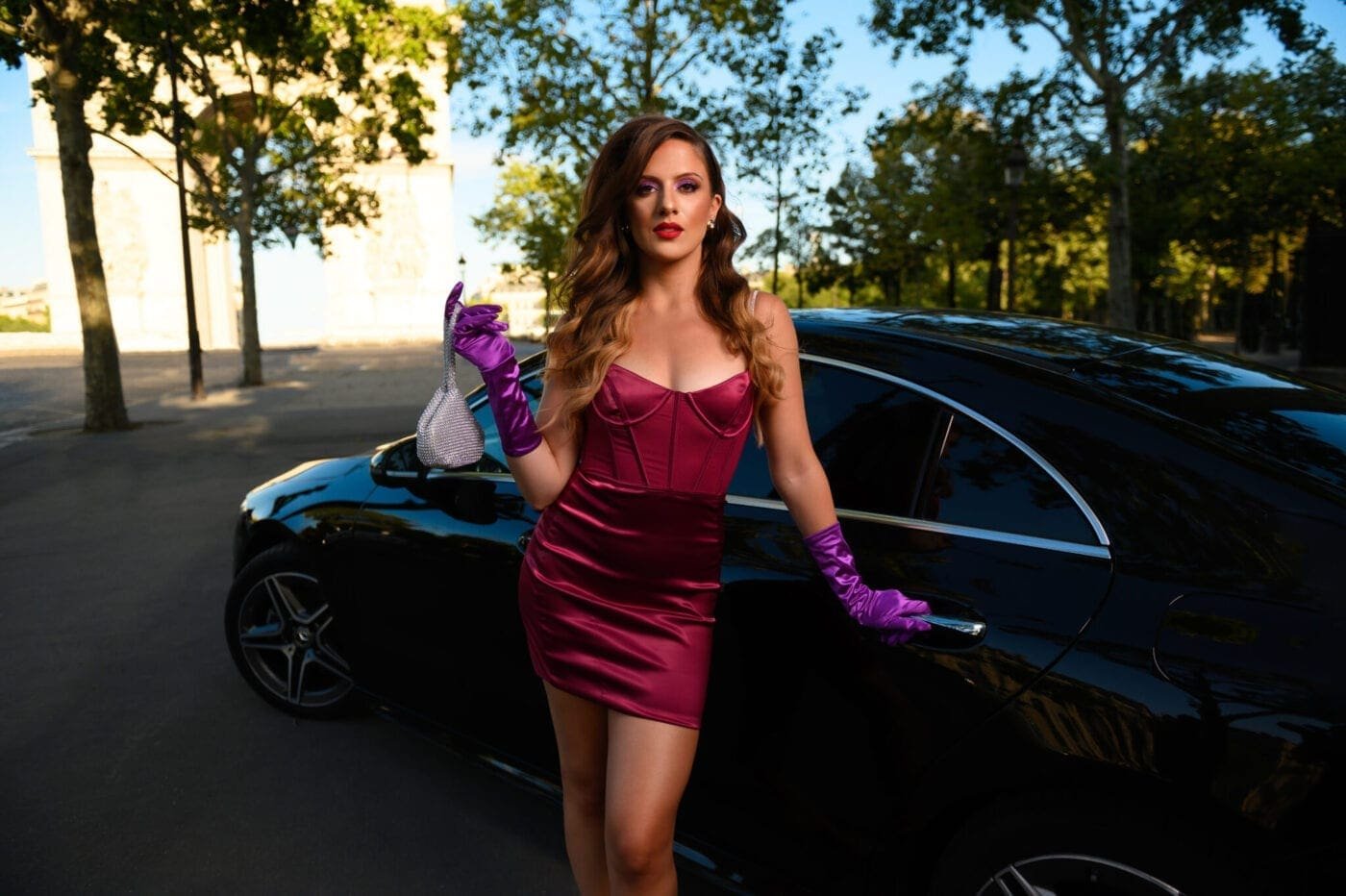 Interview with Eve-Yasmine
Q. Eve – it's so lovely to catch up again. I am a huge fan of your work. Tell me a bit more about your new song Femme Fatale?
A. So lovely to catch up with you too!! Thank you so much Marie, I love what your blog stands for!
Femme Fatale is the title track and name of my debut EP. It's inspired by James Bond, Paris and powerful female characters.
I went to S.B.O with the idea of the song concept – he is such a sick producer and I am so grateful we worked together on this project.
Q. How exciting was it shooting the video in Paris and what does the story of the video mean to you?
A. It was magical, so much fun. Shooting in Paris was a pretty amazing experience in itself and a vision come true. The way things fell into place even when things at first felt like they were going wrong or not happening. I spent hours researching as usual to find the right make-up artists, lead model and locations etc – all on my little budget but I had a number of people who really helped me to pull it off for this shoot! This is also the first time I have collaborated with a brand in my music video and it was a delight this time to be sponsored by French beauty brand ORNÉ COSMETICS
I had the chance to shoot on a beautiful boat called Chez Mila with the Eiffel Tower in the back. Mal Visuals who directed Glow Up created the video for Femme Fatale and it was brilliant to create together again; he is such a cool guy to work with. I wanted the video to portray a strong female presence and enjoyed styling myself in outfits inspired by Jessica Rabbit and Lara Croft.
Q. You seem to be incredibly busy always. What was lockdown life like for you?
A. Sometimes that's very true! I thrive off being busy. Other times I am chillin' with my puppy haha. But I really do like to stay active and productive. Lockdown was creative. I had just quit my full-time job before lockdown and although all my freelance work that was lined up was cancelled, I did lots of IG Live performances, got connected with more creatives, wrote the most I have written for some time and jammed a lot with my Dad. There's a lot of positives I have taken from it.
Q. What is your top tip for living your best life?
A. Follow your heart, trust your gut, do what fulfils you. If you're unhappy in a situation, leave that situation. Don't be afraid to fail, try or create opportunities when there aren't any. Try as many things as you need to to discover what makes you happy and helps you find your purpose. And overall be grateful for all the small wins, gratitude is everything.
Q. What are your ambitions and plans for the future?
A. I want to put out an album, tour and sing/write a song for a James Bond film or Disney movie! Speaking that all into existence…I will also continue to crowdfund so I can start funding more projects and making more happen so I can put out more music. I have songs written that needed to be recorded or mixed/mastered etc, so the extra help will really help move things forward! I'm so excited for what's to come and want to grow as much as I can and enjoy every moment along the way…
Check out these fabulous photos taken from Eve-Yasmine's video in Paris…