Eve-Yasmine debuts headline show at The O2 Academy Islington London
Eve-Yasmine is a music artist and songwriter from London with R&B, Soul and Pop influences of British, North, African and Spanish origin. Eve's versatile and multi-lingual songwriting ability reflects her mixed background and showcases her pure vocal power.
My Review:
I have known Eve-Yasmine for a number of years since we met at MTV. I was honoured to watch her perform her debut headline show at The O2 Academy Islington in London to a packed out crowd. The atmosphere was incredible as I walked into the venue. Family, couples, groups of friends, supporters….the venue was packed! Such a buzzing atmosphere.
The night was absolutely electric. One of those nights where you are blown away by the talent in the room and you know this is only the start of their journey.
Eve absolutely glows. A visual sensation; she looks beautiful, sexy, classy, cool and at the same time, she exudes such a positive and incredible energy. She continues to be the star I knew she would be when I first met her. Eve-Yasmine is a very special person and has an incredible voice. I am not even going to compare her to other talents as I genuinely think she is in a league all of her own. I can't wait to keep sharing news of her with you all.
Talking to Eve-Yasmine:
Talking to Eve after the show, I asked her what this meant to her. To which she replied:
"The headline show was such an important gig for me. It was the first time all my siblings and parents had come to see me perform together and to be singing with my sister and best friend on stage with an incredible band just felt amazing!
I love the adrenaline rush you get as you're going on stage and while you're performing. It was 100% my most favourite gig to date. I really sang my heart out and I was so excited to finally share my new more R&B driven sound and songs as well as performing my pop tunes.
Glow Up is a mellow, yet uplifting song – it's a celebration of self–love 'I'm proud of my hustlin', our growth and also a reminder that it's cool to just go with the flow sometimes.
I recorded it in a late-night session with Redah while out in Los Angeles by myself on my solo trip. I was genuinely so happy while making this song and Redah's feedback and attention to detail with vocals really made me feel comfortable to come out of my shell more with my voice.
S.B.O produced the beat it was a real' nice follow up from Wild Run."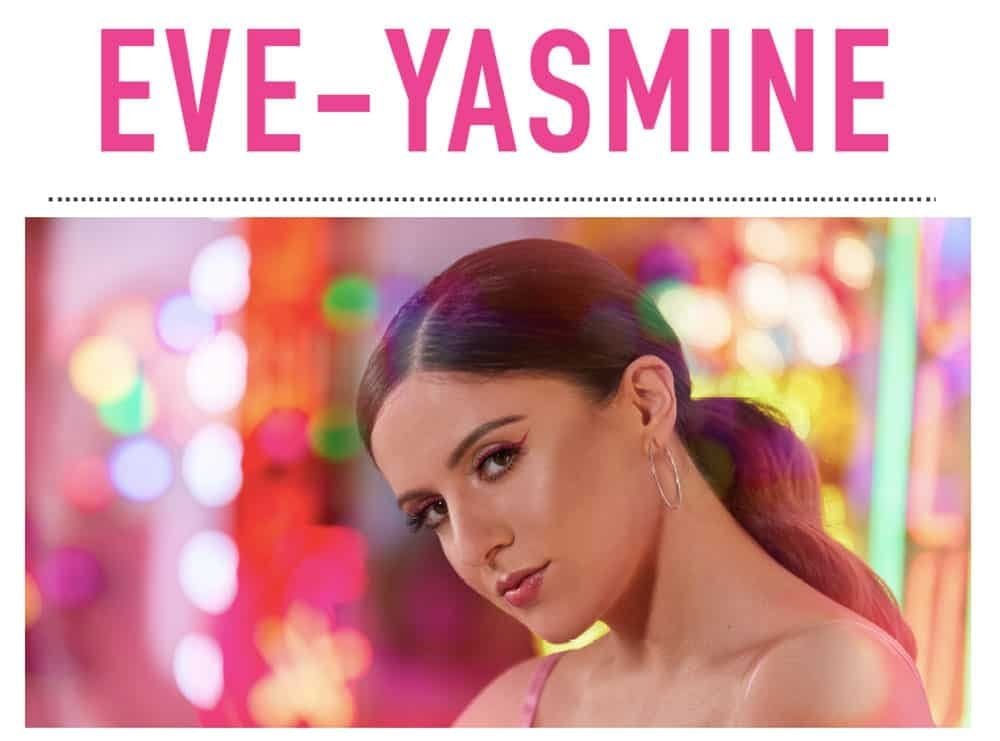 Wild Run | Glow Up | Femme Fatale
Eve's deep romantic tone is indulgent in her debut EP Femme Fatale, effortlessly switching from English to French. Wild Run, Glow Up and Femme Fatale takes you on a cinematic ride of female empowerment, desires, self-love, powerful female characters and moves. 'I'm so smitten, always driven' 'I love this phase, love the moves I've made'. You can listen to her full tracks below.
https://www.youtube.com/playlist?list=PLToGD9HfkG22xwDGZHyBA6Q8xRtIWRhiC
Photos from 02 Academy Islington
#Indirects – female empowerment song
Snippet is taken directly from Eve-Yasmin's FB:
#INDIRECTS – wrote this w/ @jackgourlaymusic last year and this was my first time performing it live with my amazing band at my debut headline show at @o2islington – it's a female empowerment song and focuses on being direct with each other, celebrating each other and embracing your uniqueness. Felt so good to perform!!! Dedicated it to my youngest sister love u xxxx hit the link in my bio to watch in full! Shout out to my band!!
Eve-Yasmine 'Glow-Up'
You have to listen to this – it's so beautiful. Perhaps one of my new favourites by Eve-Yasmine. Tell me what you think below…?
Glow Up is a soulful R&B track written by Eve-Yasmine. Produced by up and coming South London producer S.B.O. The lyrics are full of self-love 'I'm proud of my hustlin' and encouragement. 'Sometimes we flow, sometimes we grow, sometimes we glow…Glow Up'.
Eve-Yasmine recorded the vocals during her Los Angeles trip in Hollywood. Together with the multi-talented producer/writer/singer/engineer Redah -(whose credits include Universal Music and Spider-Man Into The Spider-Verse) – they had initially connected via Instagram before her trip! The music video directed by Mal Visuals was shot in the colourful renowned 'God's Own Junkyard' in East London. A warehouse full of neon lights used in some of the most famous movies. Contrasted with scenes in a blank white empty space. Make-up and hair was by Tamara Tott who created some killer looks!—
————
Eve-Yasmine – The Artist
Eve-Yasmine started singing in a gospel choir in school. Auditioning to eventually become a CK Gospel Choir alto vocalist touring with them for 2 years. Her father plays keys and her mother sing.
Notable achievements include being a BBC introducing artist |BBC Asian Network's Spotlight artist| MOBO Awards UnSung Top 20 finalist| singing for Lewitt Audio at Metropolis studios |sessions for Senheisser | Support from Singersroom, Noctis Magazine, BBC Essex Radio, PopSugar, SBTV, Hip Hop Soul Radio, Foundation FM and Hit Radio.
Eve-Yasmine has worked with many talents. Including up and coming South London 's S.B.O producer of her debut EP Femme Fatale, DJ I-Amin (Dizzy Dros), Jewlz (Dollypran, Ghita), Omar El Barkaoui (Keziah Jones, Cheb Khaled, RedOne, LaFouine, Kelly Rowland) Redah (Universal / Spider-Man Into the Spider-Verse), Robin Banerjee (Amy Winehouse) and Jack Gourlay (James Arthur, Jess Glynne, Tom Odell) to name a few.
Previous Articles:
MISTY is a romantic deep pop track penned by London-based music artist/songwriter Eve-Yasmine and Casablanca based music producer Jewlz. Read the full article below.
Eve-Yasmine is a London-based 22-year old singer-songwriter who debuted her hit single 'Habibi' earlier this year. Read the full article below.