Femme Luxe Jumpsuits
With the easing of lockdown and summer arriving. It's time to start looking for a new summer wardrobe! As I look to come out of lockdown and into everyday life. In collaboration with Femme Luxe, I wanted to showcase their range of Casual jumpsuits. A perfect way of getting out of leggings and jeans, which have been the go-to wear for many of us over the last few months. What's great about these casual jumpsuits is that you can wear them by day, but add some heels and accessories to dress them up in the evening.
Disclosure: the article below contains affiliate links. That means if you choose to buy an item using one of the links below, I may earn a commission at no cost to yourself.
Who are Femme Luxe?
Femme Luxe is making luxury affordable. In their words "we make class look sass." In 2016, founder Bobby Samari started the first chapter of the Femme Luxe story. Femme Luxe Finery Ladies On-Trend Fast fashion with an Insta inspired feel. It's time to start livin'​ your luxe life, girl!
Femme Luxe's: Jumpsuit Collection
I was really impressed by Femme Luxe's Jumpsuit collection. So much so, that I wanted to showcase a few of them to you. Jumpsuits can be worn casually or dressed up for a glam night out. They can be really versatile, but you do feel good when you are wearing one! It's important to choose a jumpsuit to complement your shape.
In general, styles that are fitted at the waist and then wider on the legs tend to be the most flattering. If you are tall, then wide-leg jumpsuits will complement your shape. If you are shorter, then go for a slim, cropped style instead.
#Gifted Femme Luxe kindly sent me jumpsuits to try for the purpose of this review.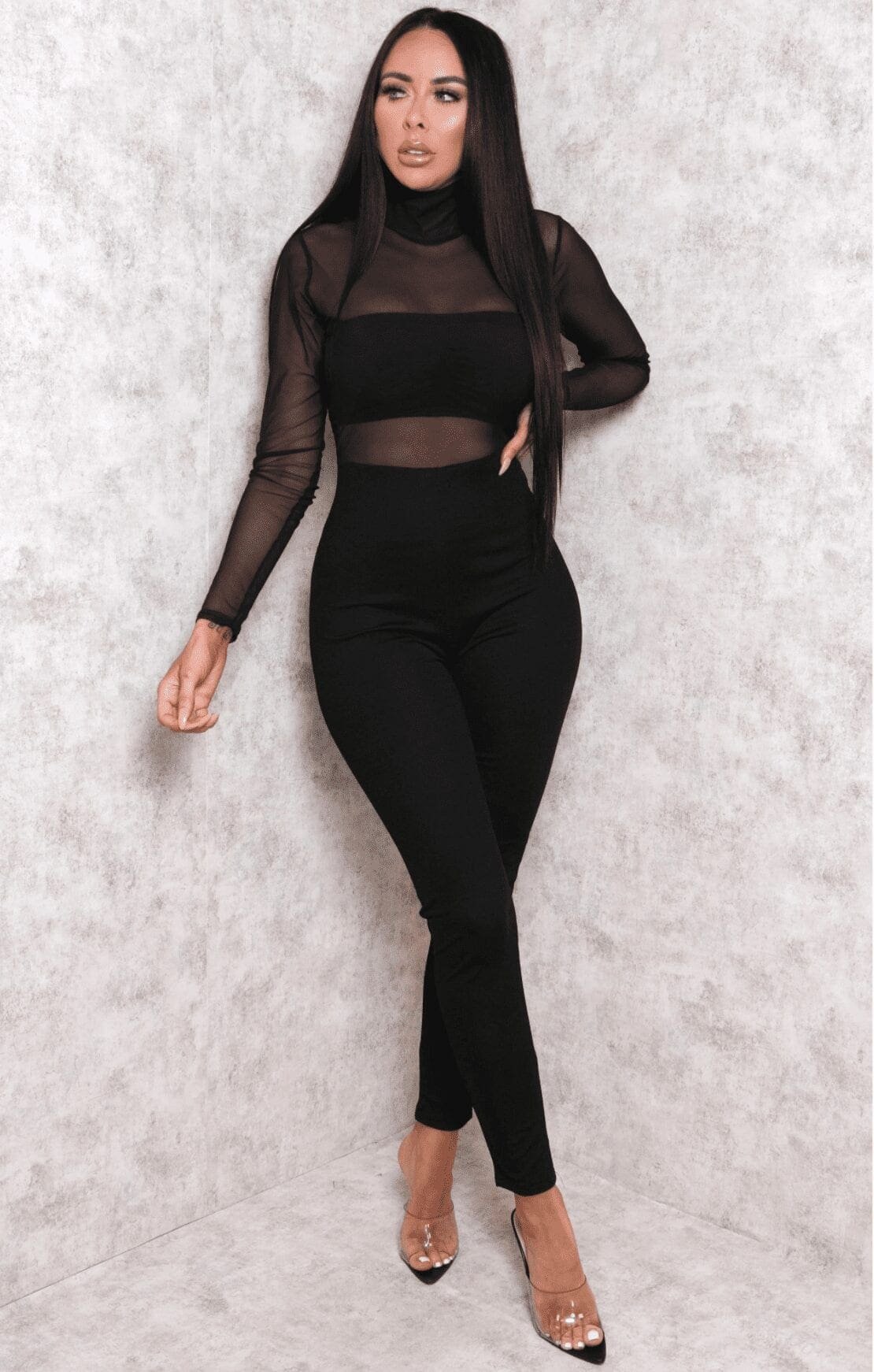 Black Mesh High Neck Jumpsuit – Stephanie
£31.98 £13.59 after EXTRA 15% OFF With Code: TKE15
I love this jumpsuit as it is fitted, with a neckline which is perfect for wearing out in the evening. You can wear a jacket over this in the day, before removing in the summer months. Heels are great for creating a statement look!
Black Strappy Wide Leg Jumpsuit – Mazie
£31.98 £12.99 (60% OFF) £11.04 after EXTRA 15% OFF With Code: TKE15
A fitted waist with a wide leg is incredibly flattering on most shapes. You can wear with flat shoes in the day-time, but wear with heels in the evening to give more definition to your shape in this jumpsuit.
Black Belted One Shoulder Jumpsuit – Evelyn
£37.98 £18.99 (50% OFF) £16.14 after EXTRA 15% OFF With Code: TKE15
I really loved the one-shoulder look as it feels more retro. Accessorise with statement jewellery; bracelets and ear-rings if you want to dress up this look. The simple cut means that it is flattering, creating a great silhouette.
Top Tips for choosing a jumpsuit:
Jumpsuits that are fitted at the waist but looser on the legs are flattering to most shapes
If you are tall, wide-leg jumpsuits that finish just above the ground will suit your shape
If you are shorter, look for a slim, cropped style to show off your figure