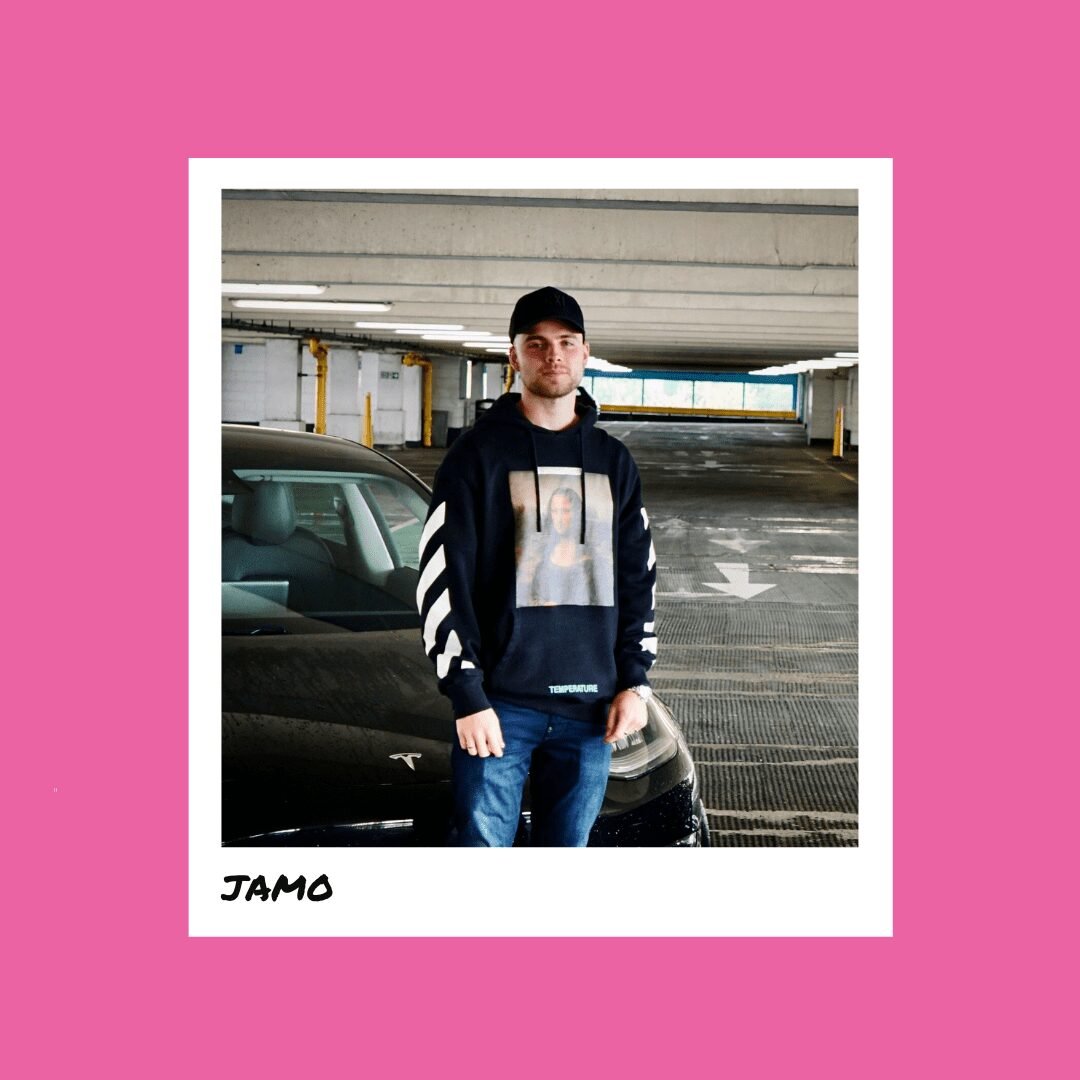 JAMO is a UK artist who's on the rise as an upcoming star. His new single 'Late Night' is the lead single for his debut EP 'Late Nights' which was released on the 30th of July 2021. 'Late Nights – EP' features vibrant tracks that are both immersive and uplifting, available on all major platforms now!
1. Late Night is the first single off JAMO's upcoming EP – Out Now. Can you tell us more about its release?
Yeah, so Late Night is a really fun track, it's my favourite track I've written so far, it holds such good vibes and I just love the groove of the track. The synths and keys give off so much energy and it's all topped off by the guitar riff that drives the song.
The EP has been an exciting project, I've only done singles before so it has been nice to work on something that's on a larger scale. The rest of the tracks share similarities to late night with the guitar licks and riffs but are all very unique in their own ways. It's finally finished, done and dusted so it's nice to know exactly what I have in store for my fans!
2. What is the story behind the song and what does it mean to you?
It's probably the most honest track I've written lyrically. The lyrics just described the situation I was in at the time in the middle of lockdown and all the lyrics just flow, kind of like a rap. But the song basically outlines how everything feels better in the late night. No matter what's going on in your life, all the issues seem so small in the late night.
3. How would you describe your music to someone?
I think my music is pretty easy on the ear, I pride myself in my production techniques so I like to think everything is smooth and smooth. My voice gets compared to Justin Bieber quite a bit so that is always a positive! But I like to write music that people can relate to, and pop music is the best way to reach a big audience.
4. How did you get your stage name JAMO?
So my actual name is Jamie and I earned the nickname Jamo back in school. As I started taking my music career more seriously JAMO became more than a nickname and became how I'm known. It's pronounced Jay-mo, a lot of people mistake it for Jam-o so I need to spread the word!
5. Can you tell us about your music background and who influenced you?
I started out in a band playing rock music and from there I started to develop a love for more electronic music, moving through R&B and Hip-Hop to House and Disco. I have a wide range of music that I listen to from Chris Brown and Drake to The 1975. I've recently got into a similar Artist to me called Logan Prescott who is absolutely unreal! I feel like Late Night is a huge reflection of elements from all of those genres. It has the guitar licks in it, a dance track kind of tempo and some R&B vibes on the vocals that are delivered in a rap type of rhythm.
6. You released a selection of House & R&B tracks last summer, some in collaboration with artists Colin Jay & LAWZ. How was a year in lockdown for your music?
I loved working with Colin Jay, he's a well-known artist from the local area and we made a great rework of Down by Jay Sean. LAWZ is a good friend of mine who I studied music with at college, we have worked on multiple projects together and have got more music releasing soon. But lockdown for me was a strange one, I'm sure everyone would agree. In a way it allowed me to focus harder on my music and start releasing projects instead of just keeping them for myself. I went through so many different stages in the lockdowns we had where I was falling in and out of creative mindsets. But it definitely helped me to take it more seriously and move to the next level within my career.
7. You are based in Herts? What are your favourite things about the area & London?
Yeah, I'm from Welwyn which is a city in Hertfordshire. It's a pretty quiet area, there's never really a lot going on here, so I'm looking forward to spicing things up! I have a great group of mates and I know so many nice people from my area, we always have a laugh and a great time. I love London, it's such a lively city and I have barely discovered any of it yet! Cannot get enough of the big city.
8. As we are easing out of lockdown, what are the 3 things you can't wait to do again?
1. The Rave – I can't wait to be back at big events like clubs and festivals. It's been such a long time since we were allowed to do these things so it would be great to get back to it again. I've got a festival booked in Lincoln called Lost Village which will be incredible to go to again!
2. A holiday – I'm really looking forward to a holiday, especially with the UK weather this summer. A little trip to Portugal or Italy will be unreal. I'll have to treat my girlfriend to a trip away ASAP!
3. Perform Live – It's been a while but I can't wait to jump back on stage. After releasing so many new tunes, my next performance is going to be very exciting! So that will definitely be on the cards very soon.
9. What is your top tip for living your best life?
Surround yourself with the best people, people who are positive and supportive of what you're doing! I'm extremely grateful for the people I have around me, we all just bounce off each other and grow the good vibes together. You have to do what you want to do in life and live with no regrets. So go live your best lives people!
10. What are your plans and ambitions for the future?
I want to progress more as an artist, I want to grow my fanbase and increase my music catalogue more and more. I'm excited to see where my EP takes me and look forward to proceeding with the next projects after as well. After being home in the UK for such a long time I would love to go travelling and see more of the world. I'm lucky to have visited many lovely places in my life and am excited to keep exploring the globe.