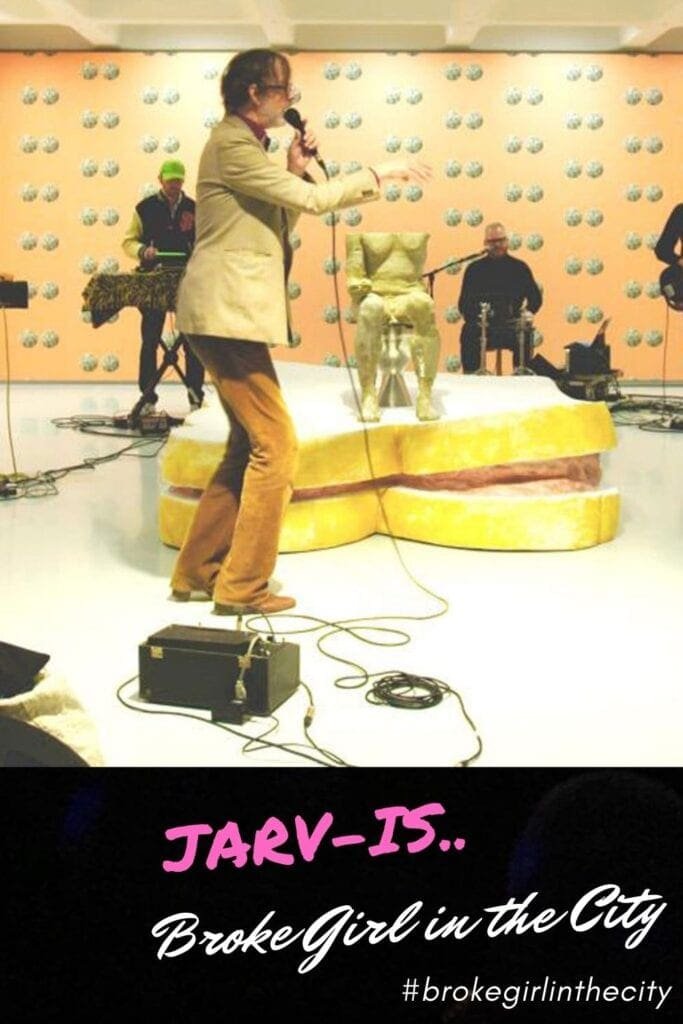 JARV IS… performance at the Barbican
A Musical Response to Michael Clark: Cosmic Dancer
Premiere screening Friday 16 October: 8pm BST
Available to watch here
#MichaelClark #JARVIS @barbicancentre
JARV IS… surrounded by Tits in Space and Cnut by Sarah Lucas
To coincide with the first-ever major exhibition on the groundbreaking dancer and choreographer Michael Clark, and to celebrate Clark's creative friendship with musician Jarvis Cocker. The Barbican exclusively screens the premiere of A Musical Response to Michael Clark: Cosmic Dancer on Friday 16 October at 8 pm BST.
Cocker's recently formed band JARV IS…perform an exclusive set of songs including 'House Music All Night Long' from their latest album 'Beyond the Pale'. A cover of The Velvet Underground's 'Venus in Furs'. A newly arranged version of 'Further Complications' from Cocker's eponymously titled solo album, and a cover of 'Big New Prinz' by The Fall.
The performance takes place in the newly-commissioned immersive film installation by Charles Atlas A Prune Twin(2020). The recreated set of Clark's collaboration with The Fall for I Am Curious, Orange (1988), and in Sarah Lucas's installation.
Filmed by Andy Hui, this Barbican commission will be available to view for free via the Barbican's website and will remain online.
Michael Clark: Cosmic Dancer
One of the most exciting creative cross-disciplinary relationships in British culture, Clark and Cocker's collaboration began with WHO'S ZOO? at the 2012 Whitney Biennial in New York, during which Cocker's former band, Relaxed Muscle, performed live on stage. This was followed by New Work 2012, co-commissioned by the Barbican with Relaxed Muscle performing in the Theatre.
The piece was remounted as animal/vegetable /mineral in 2013 at the Barbican, with Relaxed Muscle appearing as a projection, filmed by Charles Atlas. In 2018 Cocker introduced the BBC recording of to a simple, rock 'n' roll . . . song., performed at the Barbican.
Clark has also been a guest on Jarvis Cocker's BBC Radio 6 Music Sunday Service, to mark David Bowie's 65th birthday. Cocker has also written an exclusively commissioned text for the Michael Clark: Cosmic Dancer catalogue.
Michael Clark: Cosmic Dancer explores Clark's unique combination of classical and contemporary culture. It unfolds as a constellation of striking portraits of Clark through the eyes of legendary collaborators and world-renowned artists including Charles Atlas, BodyMap, Leigh Bowery, Duncan Campbell, Peter Doig, Cerith Wyn Evans, Sarah Lucas, Silke Otto-Knapp, Elizabeth Peyton, The Fall, and Wolfgang Tillmans.
The exhibition presents a comprehensive story of Cark's career to date and his development as a pioneer of contemporary dance. Films, sculptures, paintings, and photographs by his collaborators across visual art, music, and fashion are exhibited alongside rare archival material.
"A step through the looking-glass into a body of work that seems as edgy and provocative as it ever did." Guardian
Event Details:
Michael Clark: Cosmic Dancer opened to the public in the Barbican Art Gallery on Wednesday 7 October 2020 and runs until Sunday 3 January 2021.
A Musical Response to Michael Clark: Cosmic Dancer by JARV IS… will remain online after the premiere screening on Friday 16 October at 8 pm BST.
About the Barbican
A world-class arts and learning organisation, the Barbican pushes the boundaries of all major art forms including dance, film, music, theatre and visual arts. Its creative learning programme further underpins everything it does.
Over a million people attend events annually, hundreds of artists and performers are featured, and more than 300 staff work onsite. The architecturally renowned centre opened in 1982 and comprises the Barbican Hall, the Barbican Theatre, The Pit, Cinemas 1, 2 and 3, Barbican Art Gallery, a second gallery The Curve, public spaces, a library, the Lakeside Terrace, a glasshouse conservatory, conference facilities and three restaurants. The City of London Corporation is the founder and principal funder of the Barbican Centre.