Mental Health Awareness Film "Faces" by Award Winning Actress Kyla Frye to be released on Time To Talk Day
Thursday 7th February 2018.
The latest film to come from actress and filmmaker, Kyla Frye, "Faces". Co-directed by multi-award-winning Sam Bradford will be released online for a limited time on Thursday, February 7th on 'Time To Talk' day in association with the charity 'Time To Change'.
Up and coming actress Oyinka Yusuff, takes centre stage as "Faces"' lead character 'Sabrina'; a high-flying advertising and marketing exec who begins to question her reality, herself and everyone else around her.
"Faces" also features top British talent from DR WHO, PEAKY BLINDERS, WAR OF THE WORLDS, TRANSFORMERS and more.
The micro-short "Faces", which is only 5 minutes long, shines a spotlight on what mental health looks like in 21st century Britain and aims to raise awareness whilst sparking conversation surrounding the topic.
Kyla Frye, who is currently 8 months pregnant, wrote, produced and co-directed "Faces". She wanted to share her own experiences about mental health. Create something positive that empowered those who also struggle with their mental health and challenge the notion of what it means to be a "strong black woman".
"Faces" is the second collaboration between production companies Fryeday Entertainment and Praxima, whose first, "Double Cross" received critical acclaim and is available to watch on Amazon.
Keep up-to-date on Faces:
Facebook / Twitter / IMDB and #FacesMH
Kyla Frye
"Faces" is the brainchild of Kyla Frye. A talented actress, Kyla has directed this film to coincide with Time to Change Day.
I first met Kyla on a photography shoot to celebrate her engagement to Marcus by Marshal Gray. Kyla is one of those people who you meet, who is beautiful inside and out. High energy, loving, fun and genuinely lovely. Kyla is someone you love being around.
Time To Talk Day
I am a huge advocate of promoting mental health. Many of us struggle with mental health in some form, whether it's anxiety, depression, panic attacks, bipolar disorder. Whilst many of us are encouraged to speak out today. Please consider the feelings of those people who feel unable to do so. If you are working, encourage a safe environment to be able to share with one another. However, the person who is sitting quietly at the back not speaking. They might be the person who is struggling and doesn't want to talk about it. It's not easy speaking about issues and also there is still a stigma that needs to be overcome in the workplace.
If you are struggling…?
We need to support one another. I see so many people in distress on social media. Other bloggers. Those who are not. Social media can be the dark, dark web as we have found out through cyberbullying and also abuse. However, I have seen communities of people support one another when they are down. Phone your friend who you know is struggling. It doesn't take 5 minutes to pick up the phone or send a text. If you are struggling, you are not alone. As much as you may feel that way now.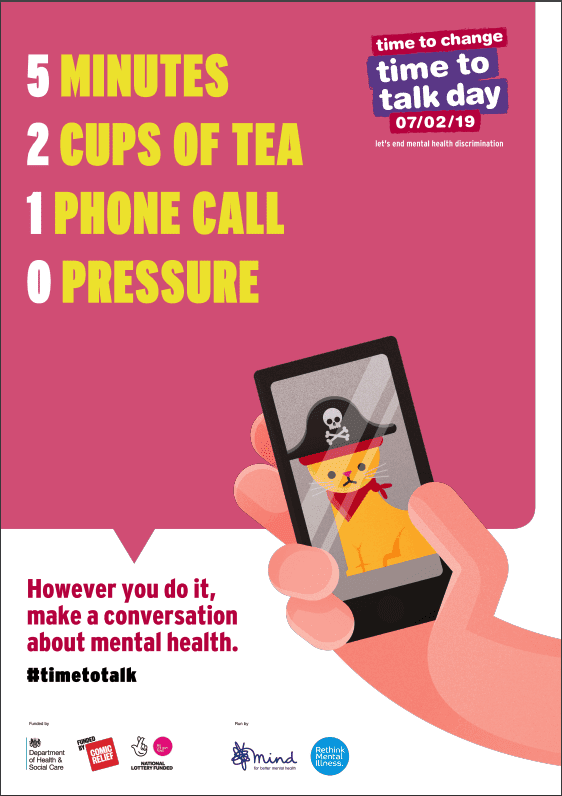 Need Support?
If you're experiencing mental health problems or need urgent support, there are lots of places you can go to for help. All of the below information is listed on the Time To Change website.
Telephone: 116 123 (24 hours a day, free to call)
Email: jo@samaritans.org
Website: www.samaritans.org
Telephone: 0300 123 3393 (9am-6pm Monday to Friday) or text 86463
Email: info@mind.org.uk
Website: www.mind.org.uk/information-support/helplines
Telephone: 0300 5000 927 (9.30am – 4pm Monday to Friday)
Email: online contact form
Website: http://www.rethink.org/about-us/our-mental-health-advice
Telephone: 0300 304 7000 (4:30pm-10:30pm)
Website: www.sane.org.uk/what_we_do/support/helpline
Telephone: 0808 808 4994 (11am-11pm, free to call)
Email: Helpline email form
Crisis Support: Text 'THEMIX' to 85258.
Website: www.themix.org.uk/get-support
Telephone: 0800 1111
Website: www.childline.org.uk
Website: http://elefriends.org.uk/
If you're a carer needing support you can contact all of the above as well as Carers Directand the Carers Trust, both of whom are able to provide support and advice on any issues affecting you. Elefriends is run by Mind.
What if I'm supporting someone in a crisis?
If the person seems really unwell, and you are worried about their safety, you should encourage them to seek help. If however they are threatening suicide, then call the Police straight away.
How to support someone in crisis