Kylie Cosmetics Holiday brush Set Prize Giveaway – Competition closed
Kylie Jenner recently launched her Christmas Holiday range online. So we decided to snap up the Santa Baby Kylie Cosmetics Holiday brush set to give away. Most of the new collection sold out in hours. Kylie Cosmetics is by Keeping up with the Kardashians star and businesswoman – Kylie Jenner.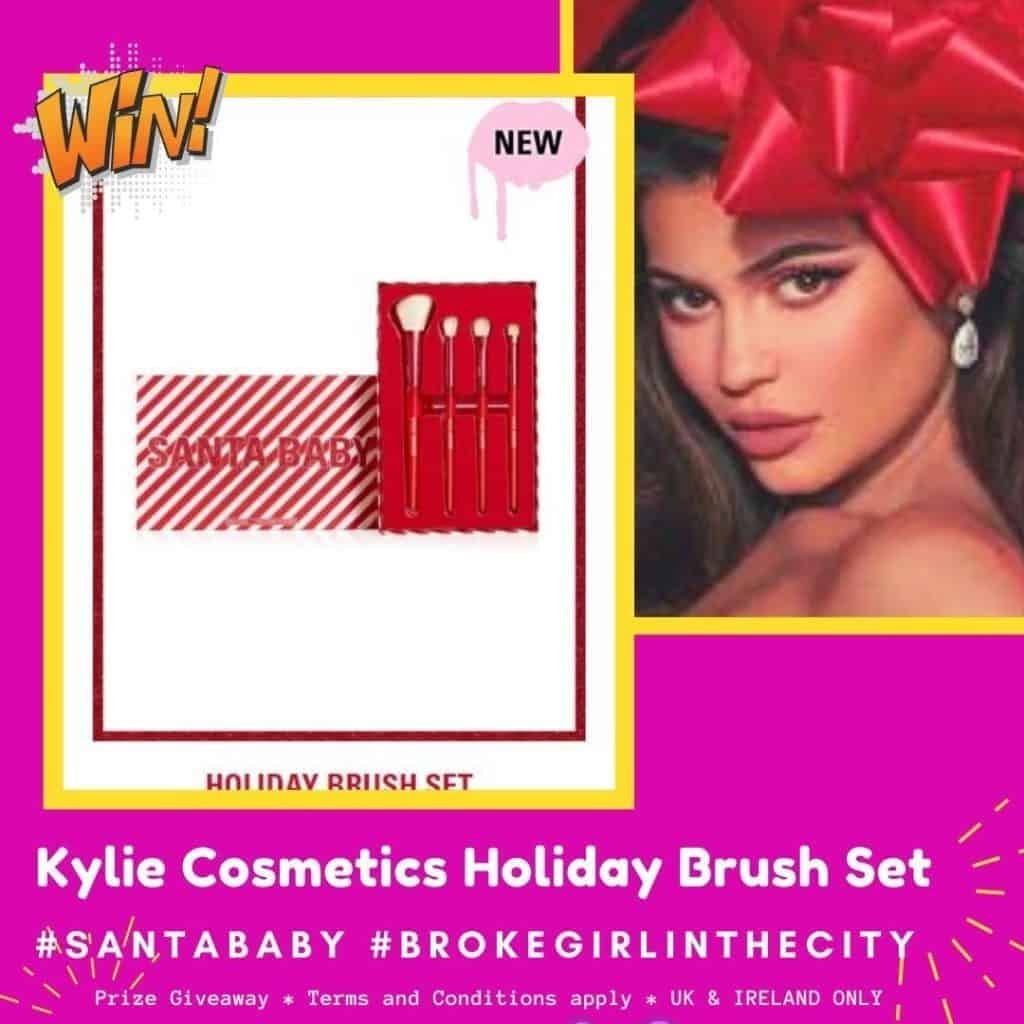 Kylie Cosmetics by Kylie Jenner
Kylie Jenner started her range of beauty and cosmetics, which has grown into a million-pound beauty business. On November 18, 2019, Coty, Inc bought a 51% stake in the company for $600 million. Kylie is the youngest of the Kardashians but the first-ever billionaire.
Instagram Prize Giveaway
Head over to Broke Girl in the City on Instagram for the chance to win this Holiday Brush Set from Kylie Cosmetics. The competition is only valid in the UK & Ireland (sorry for any International folks). Competitions end on Sunday 15th December 2019.
Twitter Prize Giveaway
Having decided to buy one for a lucky Instagram winner. I decided to do a flash competition on Twitter so that one other person could win a Holiday Brush Set just in time for Christmas!
What other perfect colour would suit Christmas holiday season? The soft red and white brushes come in a Santa Baby gift box.
So head over to Twitter for the chance to win this Santa Baby Holiday brush set! Competition ends on 19th December 2019.
Kylie Jenner – My Everyday Makeup Look
Ever wondered how Kylie creates her perfect look? It might only take 10 minutes according to Kylie, but in this video, she gives a step-by-step account on how to do your makeup. You can see how Kylie sets herself up for the day and look amazing.
Disclaimer: These competitions have not been endorsed, administered or promoted by Kylie Cosmetics. UK & Ireland only. Terms and conditions apply.