How to celebrate #BubbleBathDay
The one thing that will always destress me is a bubble bath. It's one of my favourite things to do in the world. Where you can retreat from the world. Relax, unwind and destress.
I can't think of anything better than settling in tonight with a bubble bath. I am currently not very well, so even better to soothe tired limbs and relax.
So this evening I dedicate to #BubbleBathDay.
Three great bubble bath buys:
You don't have to spend lots of money on bubble baths. I have picked 3 best bubble bath soaks you can buy today from Amazon Prime; each costing between £1-2 each. Whether you want to destress – moisturise – exfoliate. The choice is yours for a perfect bubble bath.
Radox – Stress Relief
Soothing bath mixture that leaves your skin delightfully fragrant
Rosemary and eucalyptus scent inspired by nature's best ingredients
Mood changing fragrance which cleanses your body
Soothing bath mixture that leaves your skin delightfully fragrant Rosemary and eucalyptus scent inspired by nature's best ingredients Mood changing fragrance which cleanses your body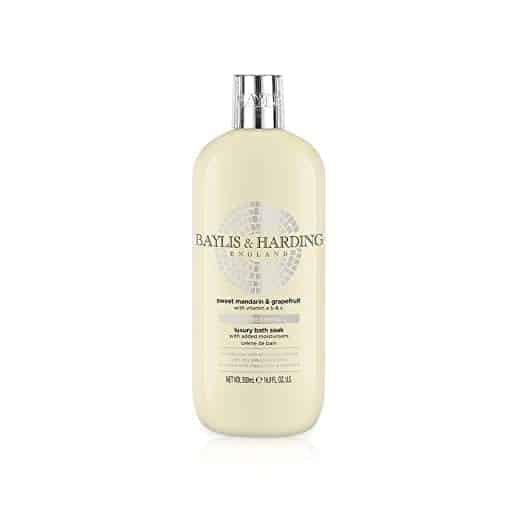 Baylis & Harding Bath Soak
Another favourite on a budget is the Baylis & Harding Sweet Mandarin and Grapefruit Moisturising Bath Soak.
A subtle yet spicy fusion of soothing jasmine and orange blossom behind zesty top notes of sweet mandarin, grapefruit and lemon.
A scent which balances and refreshes.
A Beautiful soft touch 500ml Bottle of luxury Bath Soak
Palmolive Exfoliating Shower
An exfoliating shower scrub is also a great way of sprucing up your body. You could also try the Palmolive Aroma Moments Feel the Massage Exfoliating Shower Gel.
Regenerate yourself with this gently exfoliating shower scrub
Made with dead sea salt, aloe vera and water mint
Let the fresh fragrance revitalize your body and mind
Mineral scrub
Feel the massage
Gentle exfoliating shower gel
Bath Bombs
Lush are renowned for the best bath bombs. If you head to Oxford Street in London you can spend hours in one of their key stores. A personal favourite is the Intergalactic Bath Bomb.
Anjou Bath Bombs Set
6 x 110g Vegan Natural Essential Oils and Dry Flowers.
Fizzy bubble bath fun: Exploding with essentials oils, enjoy a relaxing and moisturising Spa treatment with a bath bomb gift set made from a variety of your favourite dried flowers
Ultimate gift set: The ideal beauty box for birthdays, Christmas, anniversaries, Mother's & Father's Days, or other holidays that will delight people of all ages
Moisturising skin care: Rejuvenates and nourishes the body with lush aromatherapy that smoothens the skin and leaves a feel-good result
6 natural essential oils: To match your mood choose a fizzy bomb blended with lush organic ingredients including peppermint, sweet orange, lemon, rose, lavender, or citronella essential oils
My perfect bubble bath
I love hot bubble baths. Not so hot that you have to get back out because you have nearly passed out. Just the right warmth and depth where you can lie down and switch off. I use both a Radox bath muscle soak and also have started to use Epsom salts.
It's time to completely down tools including my iPhone. Everything can wait – it's #BubbleBathTime!
Glass of Cava and candles are optional:
Anjou Scented Candles Gift Set
Made of 100% Natural Soy Wax, Fragrances: Very Vanilla, Christmas Wood, Fresh Wind.
100% natural: Anjou scented candles an all-natural wick without artificial dyes or colouring and burn Smoke-free
Cordial and stimulating fragrances: using only the best natural perfumes, Anjou aromatherapy candles create a pleasant atmosphere
Beautiful design: with its elegant art style, The candle jar fits well into stylish homes and can be reused as a classy decoration or a jewellery box
Exquisite and long-lasting: Despite its small size and light weight, each scented Candle burns up to 13 hours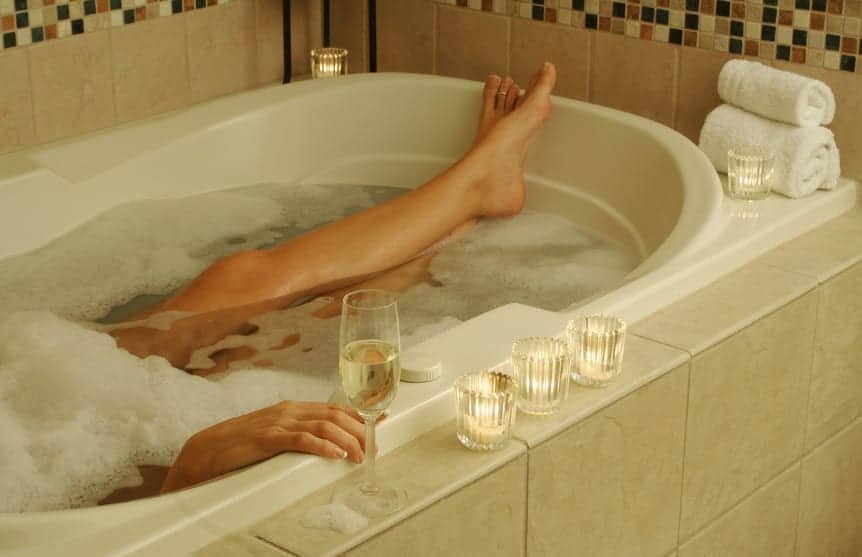 My favourite tipple. Cava.
What dreams are made of. Bubbles in the bubble bath.
John Pratt/Keystone Features/Getty Images