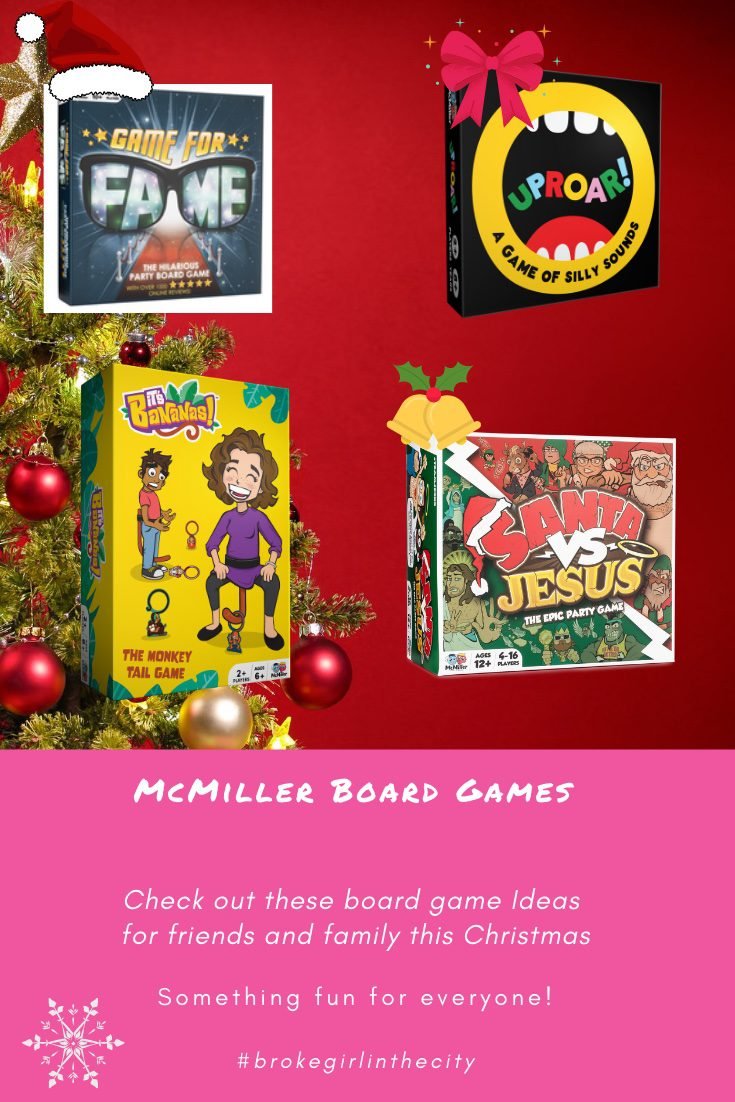 McMiller Entertainment Brings The Belly Laughs to Board Games
McMiller Entertainment is the laugh and soul of the party with its range of ridiculously hilarious games that'll have the whole family laughing within minutes.
2021 is the year that many of us bought jigsaws and board games to keep us entertained at home. I love board games and am quite competitive too!
With Christmas around the corner, we are all looking forward to spending time with loved ones. So what. better way to spread some sheer and have fun than buying a new board game? You can buy fun ones, naughty ones or games for the kids. After a rather serious year, it's time to have some fun!
All games are available from Amazon and www.mcmiller.fun.
It's Bananas! is the smash-hit party game that gets your friends and family howling from your first squat to your last whack of a coconut.
Split into two teams, strap on your monkey tail, warm up those thighs and get ready to compete in a series of silly monkey challenges! Whoever collects the most bananas wins! Easy … or is it?
Gameplay is super simple to follow – perfect for monkeys with short attention spans (that's a game for me then!) – but hard to master, making it the perfect addition to any game collection.
Ideal for any get-together, It's Bananas! is for two or more players so is great for groups of friends and family, plus it spans the generations – the challenges are tricky enough for both grown-ups and kids alike so no need to hold back and let the little ones win!
Price: RRP £22.99, ages 6+.
UpRoar! is the speedy and hugely hilarious card game where mooing like an angry cow can win you the game!
Spot the only matching pair of words between two cards, and be the first to sound out the answer.
Bring on your WAA WAA cry baby, your WHOOSH BANG firework, your OOO OOO laughing monkey – but be quick to secure the win. With zero tactics required, literally anyone who can read and make noises can play! What's more, being pocket-sized means Uproar! is the perfect packable party game that can go anywhere!
Price: RRP £8.99, ages 8+.
Game For Fame is the board game that mocks and celebrates all things celebrity as you claw your way to the dizzying heights of fame and fortune.
Players start as penniless nobodies, and at the end of the game, the wealthiest celeb wins! How do you become the wealthiest celeb? Through a series of bizarre 'auditions' (no real talent required!). Can you land a dog food commercial by talking with your tongue out, or book an underwater musical by gargling different songs?
But watch out for bad press, botched botox, and avoid rehab if you plan on being the next big Super Celeb. Forget your friends, ditch your family, be a star! The winner takes all.
Price: RRP £26.99, ages 12+.
Santa V Jesus Game
Who rules Christmas? Are you Team Santa Vs Jesus? This is the perfect Xmas Party game, which will have you laughing your Christmas socks off. It's designed for 4-16 players so perfect for a family board game night, or as a Secret Santa present. Santa VS Jesus is a festive adult drinking game that is not for the easily offended. It's not too naughty, it's strictly PG-13.
It only takes 2mins to learn and split into two. Team Santa. Santa Jesus. dole out the cards and complete challenges. Can you guess the punchlines in Have Yourself A Merry Little Quizmas? Or land a role in the new Christian rom-com There's Something About The Virgin Mary? It's time to win Christmas.
Price: £21.99
Fun Family Time with 5 Second Rule from PlayMonster
PlayMonster has mastered the art of quick thinking fun with 5 Second Rule – the range of games that will have the whole family frantically frazzled!
It should be easy to name '3 Things That Go With Chips' – but can you do it under the pressure of a five-second countdown while other players stare, waiting for you to get flustered? In the new revamped classic edition of 5 Second Rule, time is not on your side, so just say what comes to mind and risk ridiculous answers slipping out as the new electronic timer counts down to an alarming buzz! Give the timer a satisfying SLAM before it buzzes and wins the point! There are chances to 'duck' the question or inflict 'pain' on your opponents by using SWITCH or PASS ON cards too. It's all good fun as players race to reach the finish first in this fast-paced, frenzied and fun family game!
The Classic game is suitable for ages 8+ (RRP £21.99).
For little ones, 5 Second Rule Junior is a great way to get tiny minds ticking! Kids love ice cream, but can they name three flavours in just five seconds? When they say whatever springs to mind, kids are bound to say something silly, but that's all part of the laugh-out-loud fun of the game. Players have to race around the board to win! Bogey ice cream anyone?!
Price: Suitable for ages 6+ (RRP 13.99) Special Offer £9.99
5 Second Rule Uncensored is the cheeky grown-ups' version.
Can you name three night-time activities without getting tongue-tied and flustered? Everyone's watching you, time is ticking, so push embarrassment aside and dig into the darkest corner of your mind – you only have five seconds! Suitable for ages 17+ (RRP £15.99).
And when you just need something to pop in a bag to take to friends or on holiday, 5 Second Rule Mini is the perfect packable party game! A mini version of 5 Second Rule in an all-new format with a fun spiral timer to count down the time. Like the original, there are opportunities to 'duck' the question or inflict 'pain' on your opponents by use of the SWITCH or PASS ON cards. Suitable for ages 8+ (RRP £8.49).
All games are available from Amazon, John Lewis and other leading retailers.