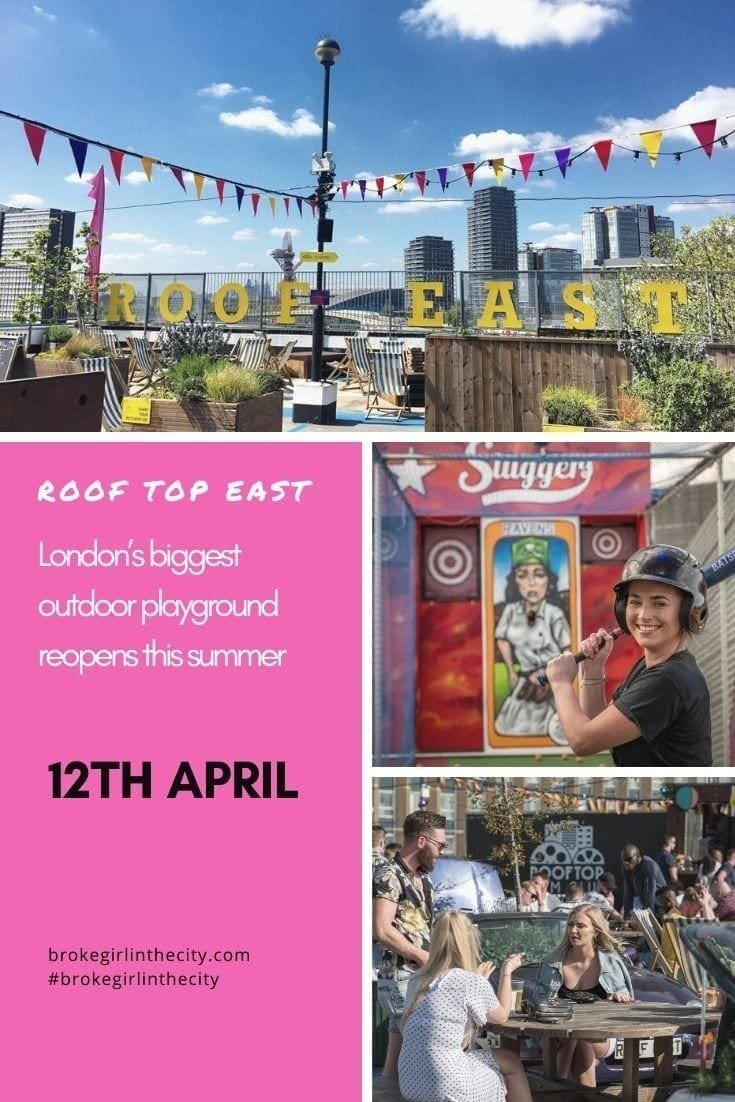 Roof East – London's biggest outdoor playground is reopening its doors for a summer like no other
At 30,000 square foot, Roof East is London's largest outdoor adult playground. Play one of three exciting games – All new East London Bowls Club, a new look Birdies mini-golf course and Sluggers Batting Cages. This year, three delicious street food vendors join the roof. Cheeky Burger and East Side Pizza from April 12th and Kolkati opening in May. Roof East reopens to the public on Monday 12th April and tickets will be on sale from 1st March.
Save the Date: 12th April
From 12th April, Roof East in Stratford is back and ready to bring you the best post lockdown party vibes of the summer. Get ready to sip some sundowners, soak up the electric atmosphere and perfect your rooftop selfies once again.
Roof East is the only place in London where you can enjoy a cocktail against the backdrop of East London. Whilst challenging your mates to original outdoor games. Try your hand at the brand new East London Bowls Club, Sluggers. London's highest batting cages, a round of crazy golf with Birdies or catch a film at Rooftop Film Club.
East London Bowls Club brings a game of traditional bowls with an East London vibe to the roof
Roof East's newest recruit, East London Bowls Club brings a game of traditional bowls with an East London vibe to the roof. Bringing the banter back to bowls, the new lanes are a vibrant oasis of colour and are complete with fairy lights and coloured strobe lights to take you from day to night. Covered in florals and complete with the bright colours you'd expect from the games at Roof East. it is the perfect backdrop for those long-awaited Insta group snaps.
Flex your competitive muscles with the ultimate rooftop crazy golf course at Birdies – and it has had a full jungle makeover. With a new course, 9 new holes and a new look. Challenge your speed, accuracy and determination as you aim for that hole in one.
Sluggers are good for releasing any pent up tension or energy you might have left over from months stuck inside. Step up to the plate, bat away from your troubles and escape the every day with lightning-quick pitches and an adjustable speed-o-meter at the ultimate American-style baseball batting game.
After all those games you might be feeling parched. Luckily for you, Roof East will have wine, craft beers, soft drinks and mocktails alongside a specially crafted cocktail menu. Transport yourself to a Venetian terrazzo with a classic Aperol Spritz hand-made by one of our skilled bartenders. Feeling fancy? Opt for an English Garden Party, a blend of Gin, Elderflower, Lemon and Pressed Apple. Or when the heat rises reach for a cooling and refreshing Gerry's Iced Tea, a mix of Tennessee sweet tea, Bourbon, peach liquor, circus and fresh-brewed tea.
You also won't need to worry about queuing at the bar to get yourself a chilled drink. There is no bar service and all ordering is done via an app. Your drinks are brought directly to your table once ordered.
Throughout the summer, Roof East will also be home to three street food traders. Head to Cheeky Burger for a mouth-watering burger, complete with a selection of toppings.
Whether you're in the mood for the Cheeky Cheese, a classic beef patty topped with melted cheese, or want to try the meat-free but equally flavoursome Cheeky Vegan with vegan cheese and house vegan mayo, there's something for everyone.
East Side Pizza, will be serving up delicious sourdough pizzas with flavoursome sauces and obscenely good crusts.
From the classic Margarita to the indulgent Truffly, topped with wild mushrooms, creamy white sauce and truffle oil and N'duja love me? with n'duja spicy salami and roasted red peppers. All pizzas are handmade on-site and vegan cheese and gluten-free bases are available on request.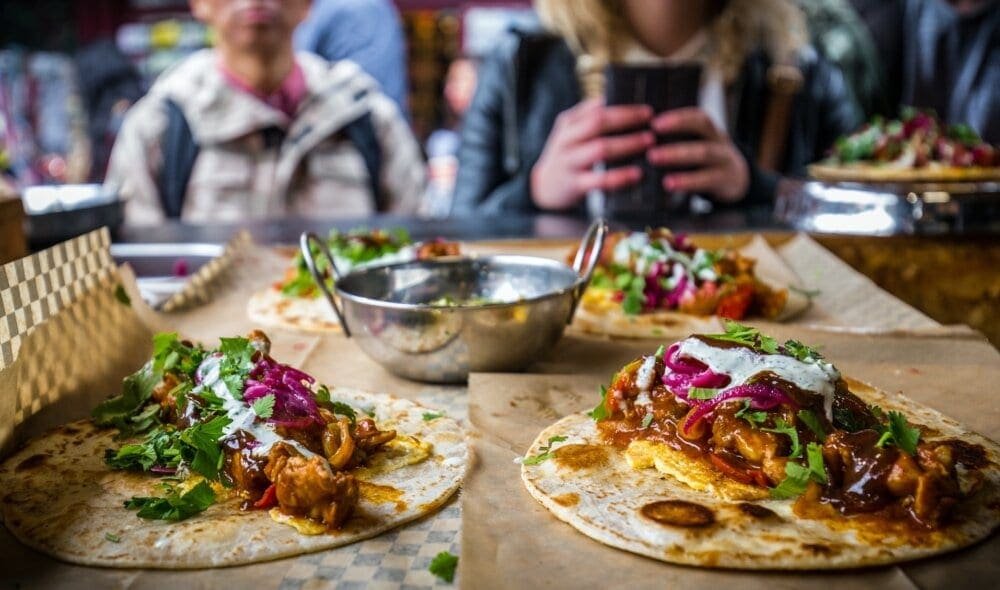 Ultimate Indian street food stall, Kolkati
From May, a taste of India will arrive on the roof with the ultimate Indian street food stall, Kolkati. Serving up their popular Kati Rolls which are packed with flavour. The Original Kolkata Kebab will transport you to India, with egg-fried paratha flatbread, spiced filling, coconut coriander raita, tamarind + date ketchup, fresh coriander, tomato, pink pickled onions and a squeeze of lime. Or opt for a vegetarian option with the Paneer Roll or a Kala Chana Roll. Be inspired by a delicious line-up of East Indian inspired sides, including their legendary Masala Fries.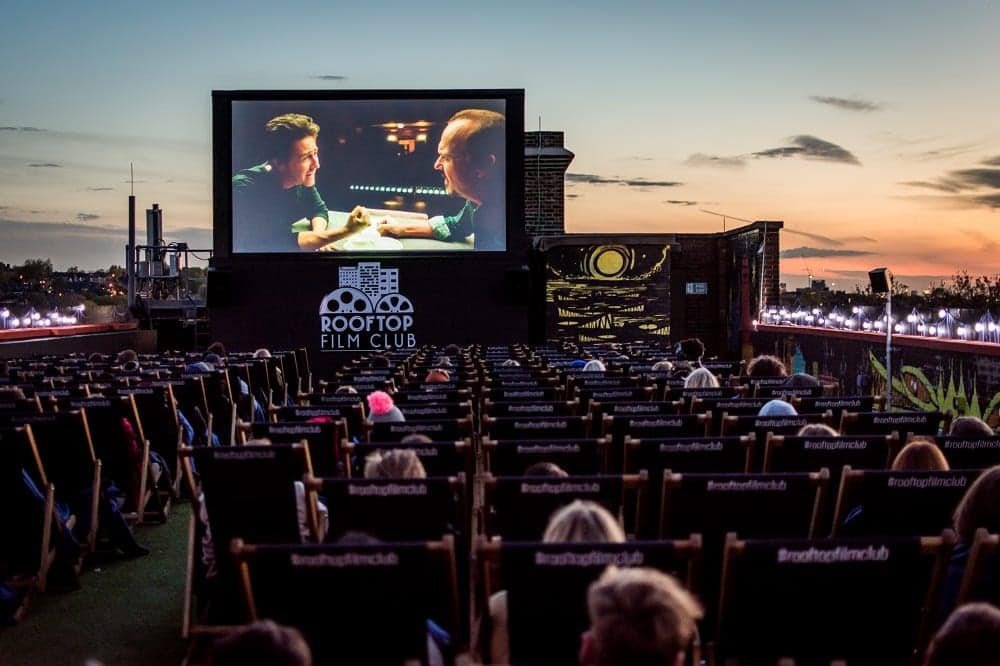 Rooftop Yoga with Nadine of 'Animo Yoga' & Rooftop Film Club starts in May
Throughout the summer, Roof East will announce even more games and events. Including Rooftop Yoga with Nadine of 'Animo Yoga' starting in May, so keep your eyes peeled for updates. Rooftop Film Club will open its doors in May with the full schedule of screenings soon to be announced. My favourite event of the year!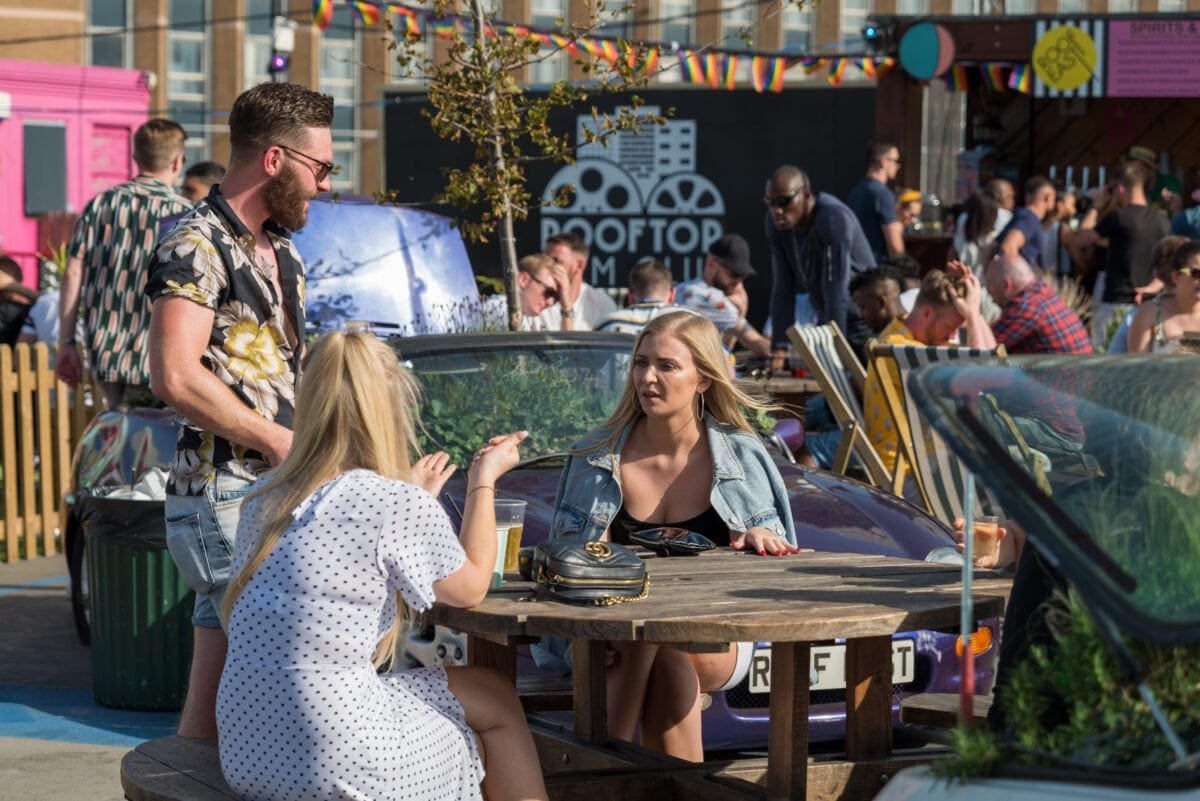 Book early to secure yourself a space
When restrictions are lifted, you'll be able to book out exclusive areas that host between 20 and 150 people. Perfect for making up for lost time and planning that long-overdue birthday party. Or the work night out we've all been longing for.
Walk-ins will be accepted. As the roof will be operating at reduced capacity its best to book via the Roof East website. In line with government regulations, Roof East will be adhering to the 'Rule of 6' so all parties must be limited to 6 people. All tickets are fully transferable, free of charge depending on any changes to Government guidelines.
For more information on Roof East, the games available or to book an area check out the Roof East website or Instagram:

Opening Times
Roof East is open until the end of September 2021.
Open 7 days a week 12-18th April.
From April 19th, open Thursday to Sunday. From 17th May, open Tuesday – Sunday

Timings: 12th-18th April – SUPER LAUNCH WEEK
Mon – Fri: 4pm – 10pm
Sat – Sun: 12pm – 10pm
Games will all close at 9 pm.
Last entry at 9 pm, last food and drink orders at 8.30 pm and last games to start at 8.20 pm.
Children welcome Saturday and Sunday: 12 pm-5 pm
All children under 16 must be accompanied by an adult.

From 19th April
Mon-Weds: Closed
Thurs – Fri: 4pm-10pm
Sat – Sun: 12pm-10pm
Games will all close at 9 pm. Last entry at 9 pm, last food and drink orders at 8.30 pm and last games to start at 8.20 pm.
Children welcome Saturday, Sunday and Bank Holidays: 12 pm-5 pm
All children under 16 must be accompanied by an adult.

From 17th May
Closed Mondays – with the exception of Bank Holiday MondaysTues – Fri: 4pm-11pmSat – Sun: 12pm-11pm

Roof East Games Pricing
East London Bowls Club
Up to 6 people per lane.
From £22 (25-50 min)
Kids 9 and under play for £1.

Sluggers Up to 6 people.
From £24 (25-50 min)
Not suitable for kids 9 and under.
Kids aged 14-15: £7 for 25 mins or £9 for 50 Mins.

Birdies Up to 6 people.
Price per person: £10
Kids 9 and under play for £4
Kids 10-15 play for £5

For more information or to purchase tickets please visit: http://www.roofeast.com/