Drop it like it's hot this August at Rooftop Film Club
Blockbuster beats come to the roof this month,
Hip-hop classics will be showing every Thursday at Bussey Building
A special dogtastic wooftop event on the 18th proves you may have 99 problems but a b*tch ain't one
Exclusive events including beat-boxing workshops, hip-hop dancing, and live DJ sets
Grab a FREE ice cream at over 150 screenings courtesy of headline sponsor, extrême
Find Rooftop Film Club's open-air cinematic glory at Bussey Building (Peckham), Roof East (Stratford), and the Queen of Hoxton (Shoreditch).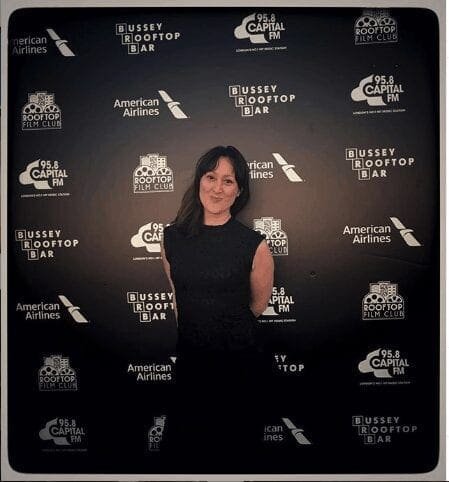 My Review:
A pic of me at the opening of the Rooftop Cinema summer series, Bussey Rooftop, Peckham.
"It's my favourite event of the summer in London", Marie Ellis.
Rooftop Cinema is the highlight of my summer. I always look forward to this film festival coming back. Nothing beats sitting up on the rooftop, with a blanket, popcorn, drinks and a film. I love the fact that this is a fully immersive experience, with drinks as you watch the sunset over London and also experience some of your favourite films in such fantastic surroundings. Do set aside some budget this August to attend one of the great films on offer.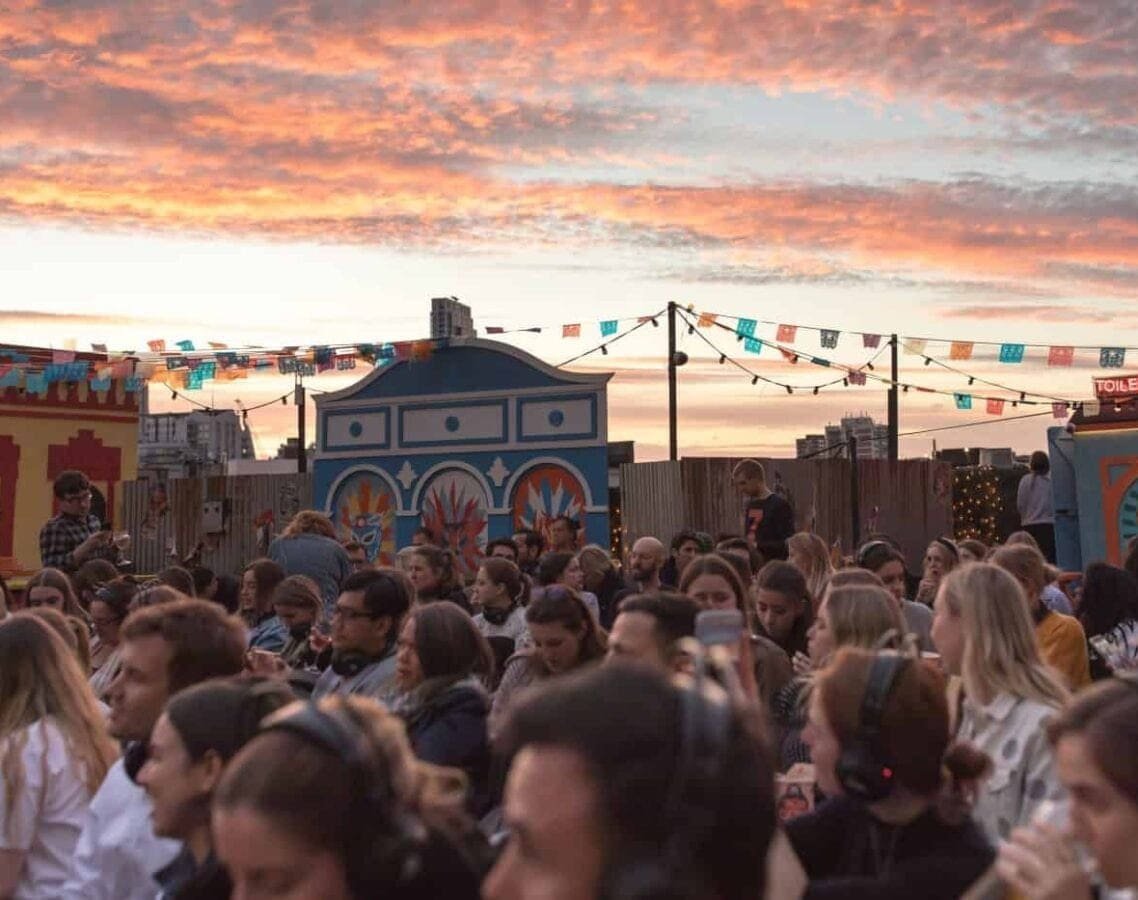 Rooftop Film Club celebrates all things hip-hop this August
Drop the mic as Rooftop Film Club celebrates all things hip-hop this August, with screenings every Thursday teamed with exclusive activations throughout the month at Bussey Building in Peckham.
Do The Right Thing kicks off hip-hop movie month with a 30th Anniversary screening of Spike Lee's iconic hit film on Thursday 1st with highly acclaimed DJ BobaFatt mixing legendary hip-hop beats with soul, bass and rhymes sure to get your groove on.
Get ready for the weekend with music from Reprezent Radio presenter Henrie on 8th August and check out Ice Cube's comedic performance in Friday, offering that extra helping of cool. Bust a move with a performance by Noesisx Arts dancers and RSVP to your invitation to watch House Party on 15th August.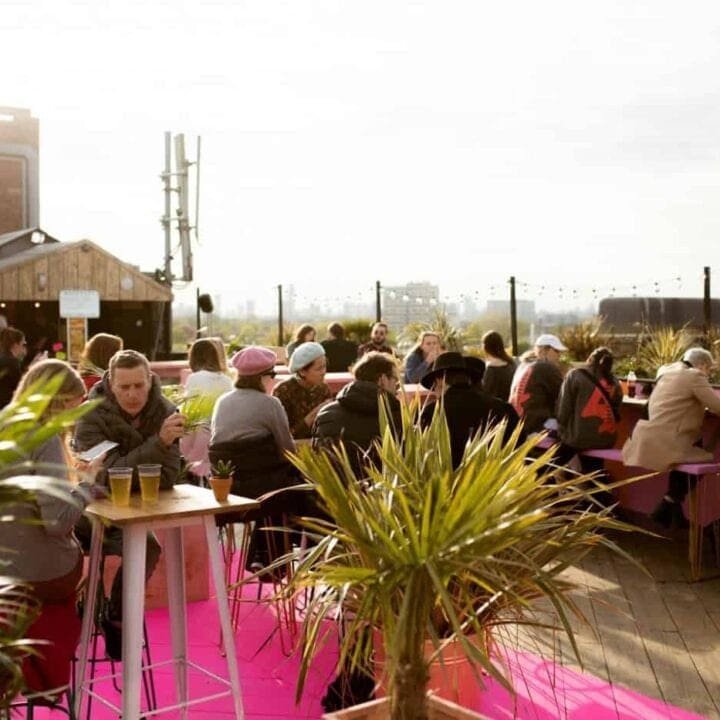 Exclusive beat-boxing performance and workshop
Rooftop Cinema is upping the bass with an exclusive beat-boxing performance and workshop from Beatfox on 22nd August. Demonstrating all the tips and tricks guaranteed to get you weak in the knees and sweaty in the palms. For more of a rapper's delight, soak up some sounds at the bar. Then lose yourself in 8 Mile, as Eminem teaches us how to spit lyrics in the award-winning contemporary classic.
Fancy some more ice with your delicious rooftop cocktails? Ice Cube's hard-hitting N.W.A biopic Straight Outta Compton on 29th will be served alongside renowned Reprezent Radio DJ Bisola Otun playing back to back 80s/90s hip-hop.
Speaking of magic carpets, let their rooftop romances whisk you away with Grease on the 19th. Or the Hollywood classic, Casablanca, screening on the 13th. For those nights with the girls, movie heartthrobs like Leo feature in The Great Gatsby on the 2nd. Or watch the lovely Ryan Gosling in La La Land on the 11th.
Furry best friends are always welcome on this rooftop. A special event at the screening of The Queen's Corgi on the 18th is going to prove the true meaning of Puppy Love.

Did we mention the big screen hits? Marvel at the bad-ass Brie Larson in Captain Marvel on the 4th. Or for a special treat, grab you star-shaped shades and a pair of headphones for a sing-along screening of Rocketman on 16th.
It's getting hot in here, so don't forget the cones
Headline sponsor, extrême, will be handing out indulgent ice creams at 150 screenings. Available in four indulgent flavours. Each cone features a core of smooth sauce, enclosed in a layer of two ice cream flavours, and coated with a crisp wafer shell. Topping extrême is a spiral of delicious ice cream, an intense layer of thick sauce and crunchy biscuit pieces.
Foodies unite and feast on burger and hotdog delectables. Along with sumptuous salads at Rockadollar on the roof at Bussey Building, washing down all this yummy food with a refreshing cocktail Bussey Rooftop Bar.
BUSSEY BUILDING, PECKHAM RYE
The Bussey Building is a Victorian reinforced concrete industrial structure. Brick-clad with most of its decorative features on the side facing the railway tracks. It originally acted as advertising for Bussey and Co, the well-known sporting goods manufacturers. George Bussey was an eminent Victorian industrialist and entrepreneur. The factory made cricket bats from its own willow farm in Suffolk. There are magnificent views of central London from the three roofs. The factory was, when it was built, one of Peckham's tallest buildings.
Tickets: From £15.95
Screenings: from 1st May – late September
Times: Doors: 6 pm. Screening times vary – please check the website for details
Nearest Tube/Rail: Peckham Rye rail station
Address: Rooftop Film Club @ Bussey Building: 133 Rye Lane, Peckham SE15 4ST
ROOF EAST, STRATFORD
Launched in June 2014, Roof East is an urban park, rooftop bar, open-air cinema and an events space located opposite Stratford Station and Westfield shopping centre. Formerly an empty rooftop car park, the space plays host to a wide variety of cultural events, performances and community activities.

Roof East was set up and continues to be managed and operated by Urban Space Management Ltd, a company with over 40 years of experience in creating interesting and unique destinations such as Camden Lock, Spitalfields Market, Gabriel's Wharf and Trinity Buoy Wharf. The Roof East project is a collaboration between Urban Space Management and London Borough of Newham.
Tickets: From £14.95
Screenings: from 1st May – late September
Times: Doors: 5 pm. Screening times vary – please check website for details
Plus: Food & drink available from the Roof East resident bar and London's finest street food vendors
Nearest Tube/Rail: Stratford mainline and underground station
Address: Rooftop Film Club @ Roof East: Level 8, Stratford Multi-storey Car Park, Great Eastern Way, Stratford, E15 1XE
QUEEN OF HOXTON, SHOREDITCH
The Queen of Hoxton rooftop terrace is now a celebrated and integral part of the Shoreditch skyline, and its twice-yearly seasonal transformations are eagerly anticipated by Londoners who want to snuggle up with us in the winter or lounge in the urban heat during summer. This year it will be channeling the vibrant town of San Cristóbal in Mexico, under the name Las Mexicanas.
A long hot summer of tacos, tequila and giant frozen Margaritas on the roof, Queen of Hoxton will also be stepping into the world of Lola Gonzalez, the rebel Queen of the Lucha Libre movement where wrestling is the name of the game. Visitors will be able to learn some wrestling moves as Lola and her band of Luchadoras is teaching a new generation of young women to kick-ass. In addition, a number of Mexican and Latinx community events will also be featured throughout the season.

Tickets: From £14.95
Screening: From 6th May – late September
Times: Doors: 5 pm. Screening times vary – please check the website for details
Plus: Food & drink from the Queen of Hoxton bar
Nearest Tube/Rail: Shoreditch High Street mainline and Liverpool Street underground station Address: Rooftop Film Club @ Queen of Hoxton: 1 Curtain Rd, London EC2A 3JX For more information on Queen of Hoxton please visit www.queenofhoxton.com