Interview with award-winning comedian Samantha Baines
Award-winning comedian Samantha Baines (The Crown, Sunny D, BBC Radio 4) brings her complete sell-out, critically acclaimed Edinburgh 2017 show to The Soho Theatre for three nights only. This year she's exploring the lost women of science. Expect facts, puns and an ear trumpet attached to a whiskey bottle. It's science meets funny.
'Beg, borrow or steal a ticket.'
★★★★★ Physics World
Samantha Baines will be bringing her show, 1 WOMAN, A HIGH-FLYER AND A FLAT BOTTOM to Soho Theatre from 4th – 6th December
You are quite the successful, multi-talented artist. When was it first apparent that you were born for entertainment?
Well, thanks! I used to get my sister to put on little shows with me at home and we would perform them for my parents and their friends at dinner parties. We weren't invited to perform. I'd just march in during their dinner and say there was going to be a performance. Apparently, sometimes I'd go around with a hat and ask for money afterwards! So clearly I was a business-savvy performer from a very young age.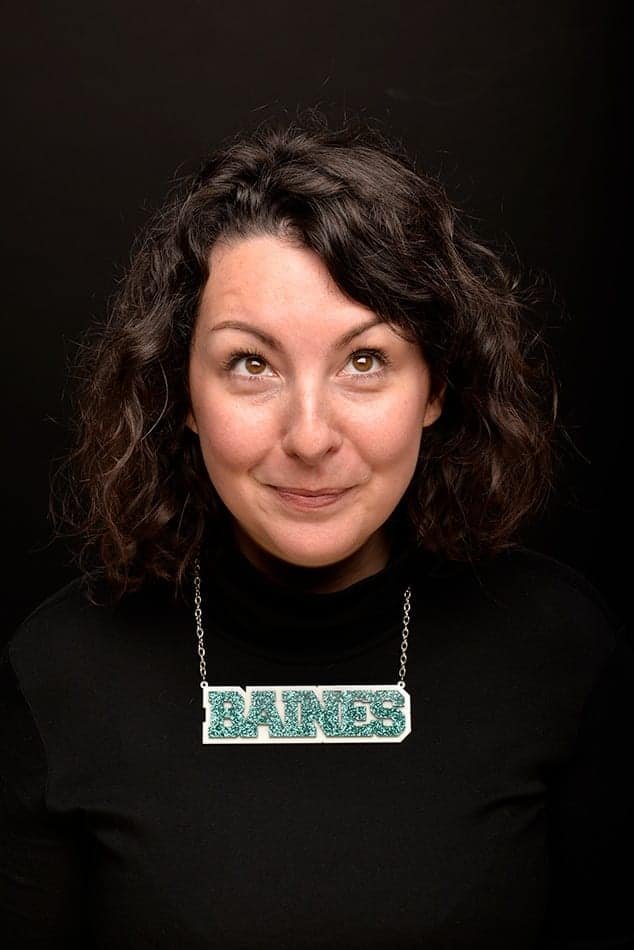 Which do you prefer, comedy or acting?
Can I say both? What I love is that I get to do lots of different things, it keeps me on my toes. I guess acting was my first love as I studied drama at University and went to the Royal Central School of Speech and Drama to study acting. Stand up comedy is a more recent discovery (if 4+ years is recent) but I love that I get to be me rather than playing a character and I get to meet so many brilliant people.
What are the differences between the rush you get while acting on camera and the rush you get when performing live?
There is nothing like the rush of performing live comedy and building a relationship with an audience. Stand up changes with every performance, even if my jokes might be similar. There are so many factors that can affect a Comedy show, like the room and the people and that's what makes it so exciting. Stand up is amazing because you are truly in control of it; of the words, the performance, the style and that autonomy are really empowering.
Acting for the camera is more of a slow burn as you do lots of takes of each scene (sometimes 14 hour days!) and then the project might not be on TV or in the cinema over a year. In contrast, to stand up acting is in some ways out of your control as your performance and scenes are edited, and someone else chooses which version of your performance is used in the final show, so it's more of a collaboration. It's actually really nice for someone else to have responsibility for a change. The fact I can just turn up and play essentially (as that's what acting is really) is wonderful. I love to feel part of a team and playing other characters and scenarios different from my life is always a thrill. It's wonderful that TV and film can transport an audience to a different place and it's humbling that I get to be part of that.
In terms of comedy, what has been your absolute worst moment while on stage?
I did a gig upstairs in a pub where I was introduced as "a woman" as if the audience wouldn't be able to work that out for themselves. The act before me had done sexist material about women being too stupid to work and even did a domestic violence joke! Then the second row of men got up and went to get a drink before I'd even got to the mic. I felt like I was being judged for my gender. There was absolute silence to most of my jokes and I thought "why am I doing this?".
And your best?
Best moments on stage are when you get a room full of people to come together as an audience and properly laugh and you see their eyes light up.
My best Comedy moment was actually off stage when I received an email from a lady who suffers from health issues who came to see my show with her carer. She thanked me for celebrating amazing women in my show and for making her laugh and forgetting all her problems for an hour and that felt amazing. That's why I'm doing this.
If you could work with anyone in the world, who would it be and why?
Acting-wise, I think Reese Witherspoon is doing amazing work producing films by female writers and focusing on stories with female leads which is so important. I would love to be part of one of her projects.
Comedy-wise, Sandi Toksvig is an inspiration as well as Jo Brand. So many greats Stephen Fry, Bridget Christie and if we could bring people back from the other side then Victoria Wood.