Ariana Grande has surpassed herself. Releasing one of the most teased and eagerly awaited videos of all time. Thank you, Next has amassed over 55million views since Friday on YouTube at the time I published this story. Vevo announced that the video had broken their 24-hour view count record.
"Ariana and Hannah Lux Davis' entertaining work now joins the ranks of some of our most successful videos of all time"

JP Evangelista (Vevo)
Thank you, Next tributes Bring It On, Legally Blonde, Mean Girls, and 13 Going on 30. Four classic coming-of-age films, where the strong female lead went through a break up and yet came out the other side more strong and empowered. You only have to remember Elle Woods who went to Harvard to be with her ex-boyfriend, yet transformed herself into a successful lawyer. Original members of the shows feature in the video such as Jonathan Bennett; the attention to detail is just outstanding. With an aside with original cast member Jennifer Coolidge where they joke about the size of her ex, which from the burn book we assume is Pete. Ariana even brings to life the 'bend and snap' from Legally Blonde, which Reese congratulated her on social media for. Also, what was a stroke of genius, having Kris Jenner to play her mum.
"Thank you, Next Bitch"

Kris jenner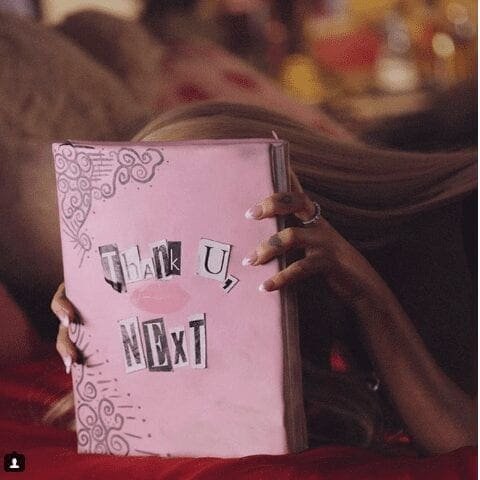 Thank you, Next decoded
Ariana runs through her exes in her 'burn' book throughout the video. Sean Paul is described as 'cute' and 'sweet', but would still get it.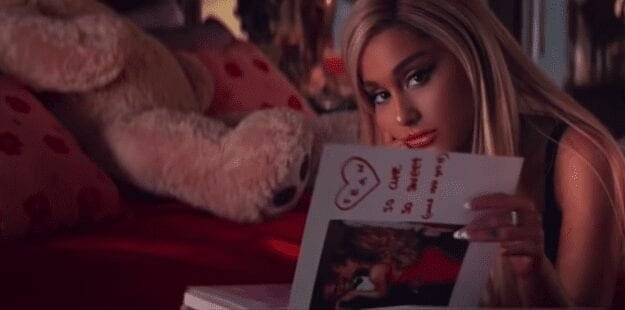 Ricky follows as she describes him as a great dancer and that they remain good friends. In the page dedicated to her Pete, she says she will always love him and apologies for dipping out of their engagement; again referencing the fact he is 'huge'.
Malcolm somewhat disappointedly doesn't appear in the burn book. However Ariana gazes above as she describes him as an angel instead. It has been rumoured that a photo of him is on a table beside her which she is looking at in the video.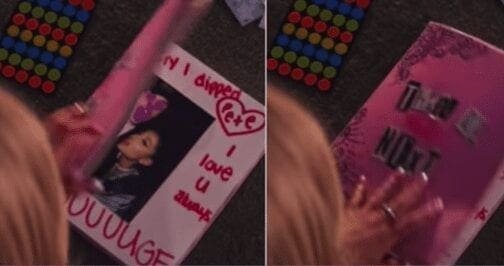 I loved the mixtape from Ari to Ari. If you look at her shirt here it says she is a little bit needy, which again is so cute. The one in the original film says dramatic, but she has chosen to say this about herself instead.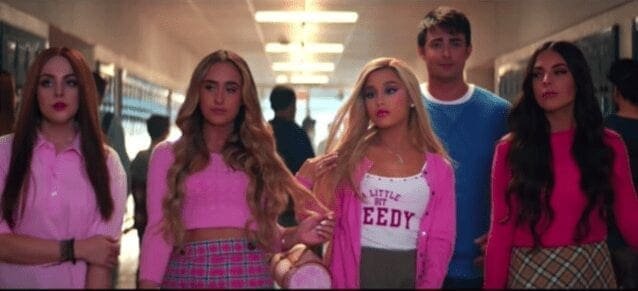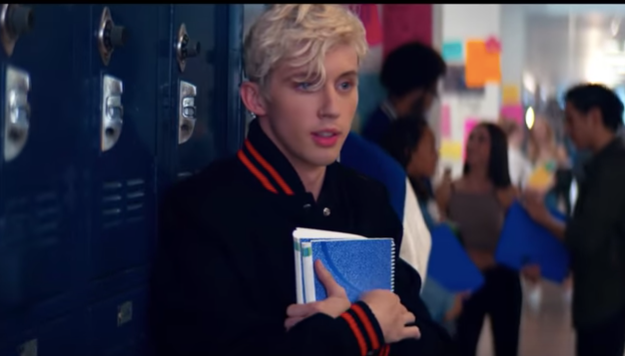 if you notice the car plate it references 7 rings. Some people have questioned whether this is a new song which is being teased. Ariana recently bought her friends rings when they went out for the day.
Ariana is reading a book on US Immigration, which is no doubt a reference to what is going on at the US border right now. This masterpiece of a music video was directed by Hannah Lux Davis.