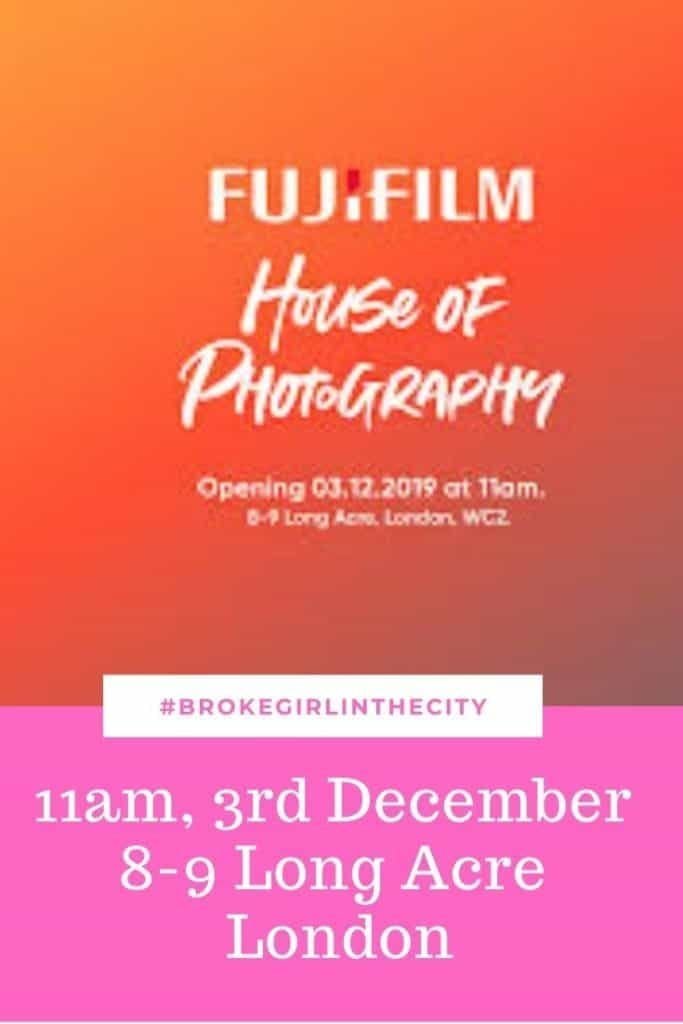 Fujifilm House of Photography | 8-9 Long Acre
The first 100 people through the door will receive a FUJIFILM goodie bag containing an instax camera and FUJIFILM X-A7 camera!
The FUJIFILM House of Photography opens 11 am on Tuesday 3rd December in Covent Garden. The new store celebrates the instax, X Series and GFX system cameras.
The House of Photography is a perfect hideout for photographers and bloggers. As well as providing services such as hiring professional studio space.
FUJIFILM House of Photography to open Tuesday 3rd December
Fujifilm opens its doors to its central London experiential concept store at 11 am on Tuesday 3 December, with a host of camera and photo giveaways on offer to members of the public.
FUJIFILM House of Photography
The 'FUJIFILM House of Photography' will be a permanent addition to Covent Garden (8-9 Long Acre, WC2). It has been created in partnership with retail specialists Liberation Build and contractors Landmark and is spread over three floors. Aiming to inspire and encourage visitors to get creative and immerse themselves in the world of photography – from picture taking to picture making.
Opening Day
To celebrate the opening, the first 100 members of the public through the doors on Tuesday 3rd December will be gifted exclusive 'FUJIFILM House of Photography' goodie bags. Featuring camera and photography merchandise which will be revealed closer to the store opening date.
To further entice visitors to the 'FUJIFILM House of Photography' throughout the first week of opening, customers who spend over £100 in-store in one transaction, between Tuesday 3rd December and Sunday 8th December, will be entered into a prize draw to win one of five FUJIFILM X-T3 Mirrorless Digital Cameras with FUJINON XF18-55mm F2.8-4 R LM OIS Lens kits, worth £1,699 (RRP). The award-winning X-T3 is perfect for both photographers and videographers.
Opening day will also provide the opportunity for members of the public to get hands-on with interactive photography experiences. Be that with FUJIFILM X Series and GFX digital cameras, instax instant photography and printing, or a range of photo printing services. As an additional offer on opening day, customers will be able to print up to 25 6"x4" photos for free, without the need for any transaction.
Photography Experience Centre in Covent Garden, London
I am hugely excited to open the doors and welcome members of the public to the FUJIFILM House of Photography for the first time. We believe we have created a true photography playground – a unique experience for anyone with an interest in taking photos and sharing the world around them, be that a complete novice or a professional.
Theo Georghiades, Project Leader, FUJIFILM House of Photography London, and General Manager of Electronic Imaging, FUJIFILM UK
With so much to see in-store, there's always something to do at the FUJIFILM House of Photography. Even before you consider all the events, workshops and seminars on offer from our team of photography experts! From professional exhibitions to photo walks with FUJIFILM X-Photographers and a variety of Photo Imaging services, there's something for everyone.
Browse the full list of events using the free app for iOS or Android
Event Details
FUJIFILM House of Photography
8-9 Long Acre
Covent Garden
London WC2E 9LH
Opening times
Mon – Thu • 10am – 6pm
Fri – Sat • 10am – 8pm
Sun • 12pm – 6pm