The UK's biggest Japanese Culture Event – HYPER JAPAN
What is HYPER JAPAN?
Now in its 10th year, HYPER JAPAN is an introduction to and celebration of Japan's multi-faceted and globally popular culture, from manga and anime, through music, fashion, and food to traditional culture, gaming, CosPlay and much more.
With two events held each year, one in summer and another in winter, HYPER JAPAN welcomed over 80,000 visitors in 2018.
HYPER JAPAN is the UK's largest Japanese cultural event.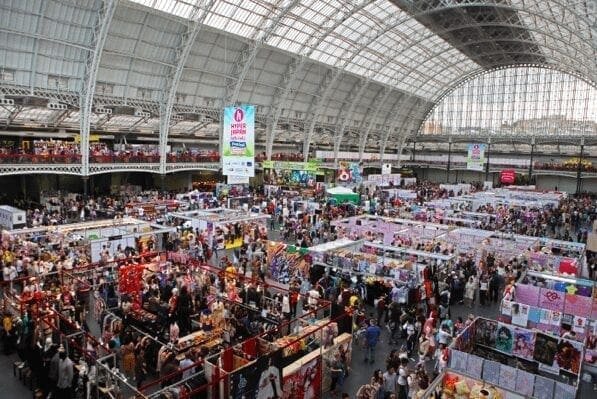 Eat-Japan Live!
Unfailingly popular year after year, Eat-Japan Live! has an incredible selection of food and drinks for sale including Japanese sake, Wagyu beef skewers, takoyaki (octopus balls) and imagawayaki (sweet, filled pancakes). Everything is available to be eaten onsite throughout the weekend. Brewery representatives will be there to talk you through their selection at the EAT-JAPAN SAKE EXPERIENCE*. HYPER Kitchen comes in, with a program of demonstrations and workshops.
As part of Eat-Japan Live!, "Harro Foods presents JAPAN FOOD SHOW"** brings some 47 of popular and well-known food and drink producers and their delicious wares to London.
*Only open on Sat 13th & 14th. An entry ticket may be required in addition to HYPER JAPAN ticket.
**Fri 12th: open to business visitors only. Sat 13th & Sun 14th: open to the general public.
Activity Area
HYPER JAPAN is working in partnership with the UK-Japan Season of Culture, to get geared up and excited for the 2019 Rugby World Cup and the 2020 Tokyo Olympic and Paralympic Games. Joining a global event in Japan is an experience like no other and we hope visitors to HYPER JAPAN can get a small taste of the warm welcome and fantastic atmosphere that awaits them when they arrive in Japan.
As part of this effort, HYPER JAPAN Festival 2019 will include an area where visitors can experience Japanese cultural pursuits first-hand as well as designing and painting their own original rugby ball and take part in a range of activities celebrating Japan's upcoming festival of sport and culture.
Gaming & Anime
In the Games & Anime zone, the first every HYPER HADO Tournament will be taking place using HADO's unique augmented reality sports gaming system. The zone will also have special areas dedicated to world-famous Japanese brands including Nintendo and DRAGON BALL SUPER.
As well as all of this there will be a range of live performances on the HYPER Live! Stage and opportunities to experience all kinds of Japanese culture from the traditional arts to modern day pop-culture.
HYPER JAPAN Festival 2019 Key Information:
Name HYPER JAPAN Festival 2019
Opening Friday 12th July 12:00 – 20:00
Times Saturday 13th July 09:00 – 14:45 (Session One)
15:30 – 21:00 (Session Two)
Sunday 14th July 09:00 – 18:00
Venue Olympia London
Hammersmith Road, Kensington
London, W14 8UZ
Entry Fees https://hyperjapan.co.uk/tickets/
Official Site https://hyperjapan.co.uk/
Organiser Cross Media Limited (https://crossmedia.co.uk/ja/)
Official Partner Nippon Publishing Trading Co., Ltd.