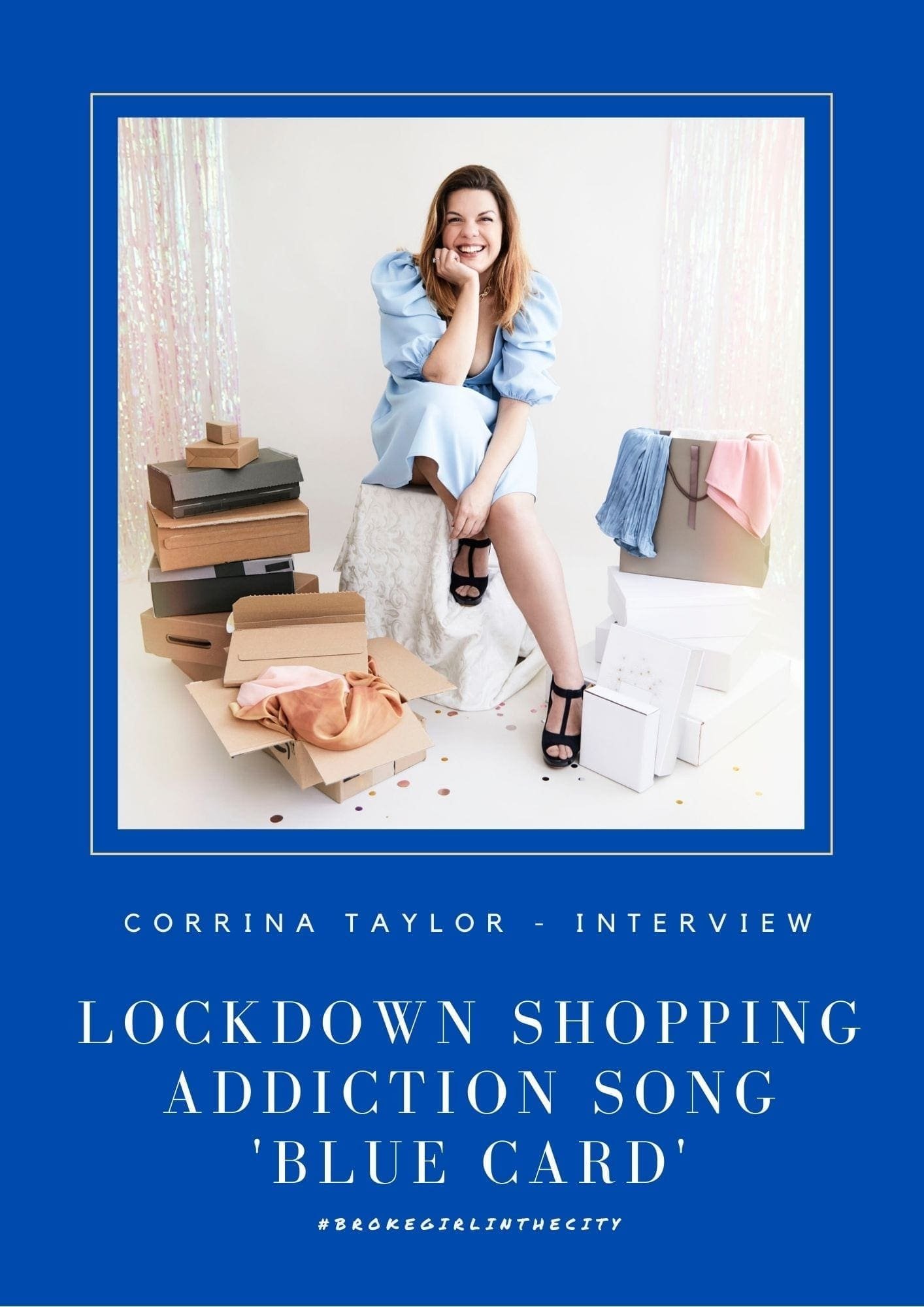 CORRINA TAYLOR – "Blue Card"
The song about lockdown shopping addiction – out now.
Singer/ songwriter/ eternal optimist/ hopeful romantic – all the things rising pop star Corrina Taylor embodies and more. Her songs vary from the light-hearted and playful, to the emotional and deep; as she freely admits, "I write pop songs that are jigsaw puzzles of my own life and emotions". Her lyrics are always honest and real in the hope that people will be able to relate and better understand their own hearts. Her latest single is the honest but good-humoured "Blue Card" – a song about becoming a 'mainstream addict' – in this case, a shopaholic to mask the anxieties in life.
Corrina is not someone who emulates or copies others – she is an emerging artist that is unique and refreshing in her honesty and talent.
Corrina has lived all over the UK: Leicester, Loughborough, Hull, London, Brighton – picking up valuable life experience and musical inspiration along the way. She is currently living temporarily in Italy but, as soon as she can, she will be heading back to her hometown of Cambridge. In the meantime, she continues writing songs and lyrics and dreaming of performing live shows after lockdown. Her inspirations include other bold female songwriters and performers such as Taylor Swift, Katy Perry, Selena Gomez and Julia Michaels and, although they have greatly influenced her work.
The Inspiration for "Blue Card", surprisingly, came from Russell Brand!
During the first UK lockdown Corrina was studying for a Masters degree in song-writing and decided to write a collection of songs focussed on addiction. She read Russell Brand's book 'Recovery' which speaks to the 'everyday addict'. Realising with some shock, that she herself had become a 'mainstream addict' – a shopaholic. She would spend wildly on things she could never use in lockdown receiving a new package EVERY DAY and losing track of what she was buying. She says: "I was buying clothes that I wouldn't be able to wear till the summer, or for the trip to Australia I hadn't, and couldn't, book."
Luckily, writing about this situation has been both magically creative and a kind of therapy for Corrina, as well as being helpful and informative to her fans. She says, "Writing this song was literally MAGIC….this song felt like it came to me, rather than me trying to find it. When I came up with the pre-chorus lines 'Everyone feels sorry the economy is crashing but not me, I'll save it single-handedly, there's no need to worry. "I KNEW I had written a song that everyone needed to hear." The video reflects the influence of that first lockdown, having been filmed (and edited!) by Corrina herself on her iPhone in her family house, along with the spoils of her online shopping sprees.
The response to the track and the accompanying video has been incredible: with over 40 thousand streams via Facebook alone! The light heartedness of the song allows people to identify with it and admit 'me too' and therefore feel less alone with their anxiety. "I knew people would be able to relate to the song and I knew the video was really cool, but I didn't expect the response it got."
"BLUE CARD" VIDEO | TRACK ON SPOTIFY
Interview with UK Singer-songwriter Corrina Taylor
I personally love this song, and it resonates so much with many, if not all of us who have been tempted to shop away our boredom and distress with the lockdown. Corrina has so much great energy, and as I write this I am currently working my way through Russell Brand's book Recovery.
You have just released your single "Blue card" about being a shopaholic. What inspired you to make this single?
It was a sudden moment of inspiration that I didn't think about too much, but I had been doing a project for uni about addiction. Shopping had been on my mind a lot because of lockdown and I had literally bought SO many things!! I remember just sitting on my bed with the guitar one day and the song seemed to come out of nowhere.
I love Russell Brand's book 'Recovery'. What did he write about, that you identified with in his book?
I love the way the book talks to the everyday addict. The shopaholic, the phone addict, the chocaholic etc. I was fascinated by how the 12 step recovery program could really work for anyone and I felt so inspired to begin the journey of healing myself with it. Shopping seems to be just one of my addictions, sugar and my phone being the other problematic ones for me. I love Russell Brand and I think his life and recovery is such an inspiration to everyone.
I was guilty of buying things from Amazon during the first lockdown to give myself something to look forward to. How do you think this snowballs into shopaholic and addictive behaviour?
I think for me, it snowballed because it was just something to look forward to! Before I knew it, something was arriving every day! Lockdown really emphasised a feeling of lack and disconnection. I think shopping gives us those temporary highs that fill the void for a minute…but that's the problem. It's only for a minute, and the cycle repeats. Also I think mainstream addiction is something people joke about, we think it's kinda funny and we ignore the reasons WHY we are doing it. Society makes it ok to be a sugar addict, or a shopaholic etc, but it seems to be more of a problem if you're an alcoholic or a drug addict. When, in reality, the problem all stems from the same place.
What advice would you give to others who also suffer from anxiety and addictive behaviours?
Start with reading Russell Brand's book and educate yourself on addiction and why it happens. I think learning to have compassion for yourself is so important. One day at a time, one step at a time, we can learn to live in a different way. It's unrealistic to think we can change our hard wired survival tactics overnight. By connecting with others and learning more about ourselves. Change is possible. There are SO many role models who have made this happen.
Can you tell us a little about your music career; how would you describe your music?
I love listening to and writing pop music! I often write about my own feelings and my own life as a way of processing things. My thoughts and feelings become like a jigsaw puzzle to put onto sound. I have a mixture of songs from upbeat and cheerful to ballad type heartbreak songs! I also absolutely love top lining on other people tracks, it's one of my favourite ways to collaborate.
How has this past year under lockdown been for you aside from some great purchases?
2020 was an AMAZING opportunity for me to fully go ALL IN on my music! I actually had the most productive year of my life. Finishing my Masters in Songwriting and won the Student of the Year award, which was awesome, and I released 5 songs I'm so proud of. I found this year a very healing time too… There was so much time to reflect and revalue things. I think the time alone was very needed for me, but that's not to say I haven't found it very difficult at times too. I really miss a lot of people and I can't wait till travel becomes a normal and easy thing again.
You are based in Cambridge although have lived all over the UK. What are your favourite things about living in the city / London?
London has a vibe to it that you can't get anywhere else in the world. There is just something about being in London that feels special. Although I am much more of a beach girl these days. I love coming to London as often as I can.
When we come out of lockdown, what are the 3 things you can't wait to do again?
I can't wait to go and see my family and friends in Australia!! It has been 3 years since I left living there and I've been meaning to go back every year since!
I can't wait to go and see my grandparents who I haven't seen for over a year now.
And I can't wait to play some live shows!
What is your top tip for living your best life?
Follow your heart.
Be as authentic as possible to the people around you. Speaking my truth has always helped me get what I want.
Believe that anything is possible so that you never stop trying to make your wildest dreams come true!
What are your plans and ambitions for the future?
I am going to keep making music forever haha! This year I am going to release more music (my best yet, in my opinion!!). At the moment I am living in Italy, but I'm moving back to the UK in April and I can't wait to get back to the studio again! I intend to keep on building my music career and just see where it takes me!
I don't know what the future holds, but I know I will keep on doing what I love. So the future is looking good. The best is yet to come ????

Recently I wrote an article saying that shoppers in Britain had spent £1.2 billion per week to have something to look forward to. So you are not alone! Buying something gives us a temporary fix and buzz, just like a glass of wine (my favourite tipple). However when it becomes something you can't stop, or feel a compulsion to do even though you know you don't have the budget. You might be falling into the realms of an addiction.
Russell Brand's book Recovery can be bought from Amazon. I highly recommend it.!