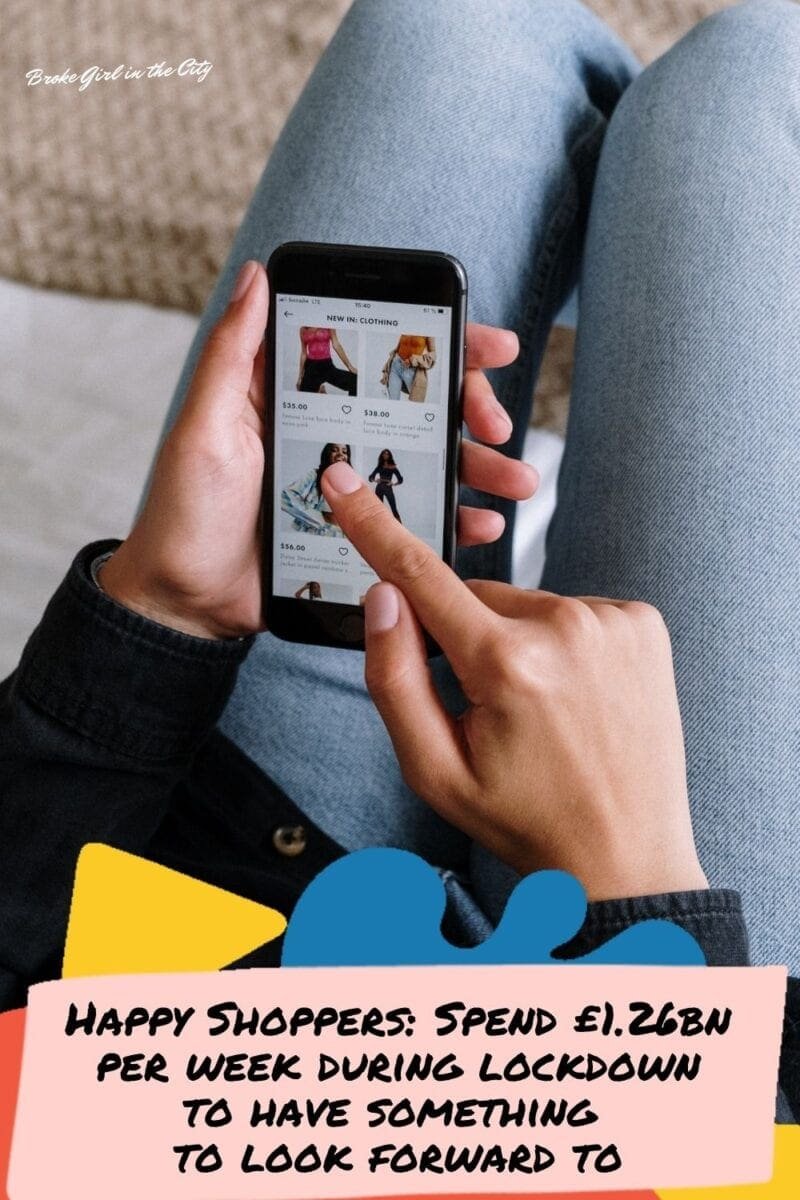 Happy Shoppers: Brits spend £1.26bn per week during lockdown to have something to look forward to
According to a new study from Vouchercodes, UK happy shoppers are spending an average of £49 per week on online orders (excluding supermarket shops)! I think we have all been guilty of buying from Amazon during lockdown. I know that during the three months I was shielding, I started to buy items to have something to look forward to.
Nearly half (47%) say they do so just to have something to look forward to
Total spend in pursuit of happiness equates to £1.26bn
16% think lockdown shopping habits improve their mental health
A third have been encouraged to buy more things they don't need in lockdown (31%)
Millennials are splashing the most cash, spending £256 per month
UK happy shoppers are spending to help boost their mood
The new study from the leading savings site, VoucherCodes.co.uk, highlights that online shopping is giving Brits an escape from the monotony of lockdown, helping to improve their happiness when packages arrive.
Excluding supermarket spend, the average Brit splurges £49 a week online – with almost half (47%) admitting to shopping purely to give themselves something to look forward to and 21% admitting that getting deliveries brings them joy.
Additionally, over two in five (42%) buy things they want rather than need because it makes them feel happy, while 11% say it gives them a rush of adrenaline. Plus, 16% even go as far as saying that they think splashing the cash improves their mental health.
Top ten cities in which residents feel their mental health is improved by treating themselves:
| | | |
| --- | --- | --- |
| Rank | City | % |
| 1. | Leeds | 20% |
| 2. | London | 19% |
| 3. | Newcastle | 19% |
| 4. | Birmingham | 19% |
| 5. | Manchester | 18% |
| 6. | Leicester | 17% |
| 7. | Edinburgh | 15% |
| 8. | Southampton | 14% |
| 9. | Cardiff | 14% |
| 10. | Plymouth | 14% |
Those in Leeds are most likely to report an improvement in their mental wellbeing after a spot of online retail therapy, followed by shoppers in the capital.
Who else has been buying out of boredom this lockdown?
But it's not all about mood-boosting. These so-called happy shoppers are also buying out of boredom. With almost a quarter of UK adults (23%) hitting virtual shop floors to while away some idle lockdown hours. Seeing items on social media (12%) and making the most of the deals by using voucher codes (11%) are two other top reasons Brits are splashing the cash during lockdown.
Are you overspending and feeling guilt/worry?
However, there are also some who feel a sense of guilt from the amount of shopping they do (18%) and over one in ten say it makes them worry about money (11%). Almost a third are also finding themselves more easily influenced into spending by social media during lockdown (30%).
Millennials are revealed as the real big spenders
Almost three-quarters of Brits admit to spending more money online during lockdown than they normally would (73%). Millennials are revealed as the real big spenders, placing over two online orders a week on average, equating to £256 per month. Baby boomers, on the other hand, spend £146 per month, the lowest amount of any age group.
Anita Naik, Lifestyle Editor at  VoucherCodes.co.uk, commented: "Lockdown is, unsurprisingly, taking its toll. While many are struggling financially, others may find that they have more disposable income than normal due to lack of commuter costs, and not being able to go out to shops, restaurants and other attractions.
"So, it's interesting to see from the research that many are turning to shop to give them the happiness hits that are lacking in our daily lives at the moment – and in some cases are even feeling an improvement in mental health.
"Whilst it's clear online shopping can help us feel happier and give us a much-needed boost, it's important not to spend beyond your means. Finding the best deal will help keep your bank balance happy, so if you are shopping online, downloading a free browser extension such as DealFinder from VoucherCodes will help make sure you get the best price. It automatically finds and applies the best discount codes and is a quick and easy way to make sure you get the most out of your money."

MY TOP 3 NO-SPENDING TIPS:
I recently spoke on BBC Radio 5 live with Laura Whitmore about locking down your lockdown finances, advising you to try not to spend right now. It's not easy! I spent so much on Amazon buys last year! Now that I am not working, I am cutting back on any unnecessary expenses.
1. DON'T CHECK OUT FOR 48 HOURS
If you really want something, then put this in the basket for later. I do this for myself on Amazon. If I think I want to buy something I will put it in the online basket for 48 hours, and then decide whether I want to continue to purchase it. This trick really does stop any impulse buying and saves money.
2. DELETE YOUR APPS
One of my goals in January was to eat heartily but also not to spend on takeaways. I deleted all of my fast food apps: Uber Eats, Dominos, all of them had to go! It's a great way not to be tempted by just buying using your phone.
3. SAVE USING MONEY APPS
Monzo posted that the biggest savings pot was called June 21st when lockdown life is due to end in the UK. I also use Plum to save money and this money goes into both investments as well as savings posts. Save up for something you really want, so that you have something to look forward to. If you are an emotional spender, identify the root cause of your spending. If you are bored, try and find ways to do other things more productive. If you are feeling depressed and anxious, speak to someone and a GP if necessary.