Lucia Cifarelli. New Single "GIRLS LIKE ME" Out Now.
The first single from Lucia Cifarelli's forthcoming solo album, 'Girls Like Me' is an ode to female empowerment; the track celebrates the divine mystery that lives within all women. Inspired by the diverse sisterhood Lucia has come to know on tour and through her engagement on social media, the song is a celebration of all that is feminine, dark, joyous and wild.
'This song is a love letter to my sisters all over the world, dedicated to their unique magic, intrinsically connected to who we are' Lucia Cifarelli
Infused with hot electro/house and EDM energy, 'Girls Like Me' was mixed by the internationally acclaimed mix master Veronica Ferraro. Best known for her work on the Grammy-nominated hit 'When Love Takes Over' by David Guetta and Kelly Rowland, written by Lucia, Sascha Konietzko of KMFDM and Dan Connor of Rational Front, and recorded and produced in Hamburg by Lucia and Sascha.
Lucia invited women around the world to send her videos of themselves which she has cut together with her own. Sharing this message of love, solidarity, and women celebrating each other in all their messy, glorious diversity.
Since founding the band Drill, Lucia Cifarelli has proved herself a force to be reckoned with; her dynamic performance style coupled with an incendiary vocal range was unlike anything else in the late 90's alternative scene, but it was with her addition to the lineup of Sascha Konietzko's MDFMK in 2000 that her star power began to truly assert itself.
She is now one of the primary creative forces behind The Ultra-Heavy Beat. Known for her vocals but also for her songwriting skills, moving effortlessly from sweetly sung melody to acerbic' riot grrl' fury to bold political outrage.
Born and raised in Long Island, Lucia developed her love of singing, songwriting and performing as a child; 'Girls Like Me' is the first single from her forthcoming album "I Am Eye'.
LISTEN TO 'GIRLS LIKE ME' ON SOUNDCLOUD

Website | Facebook | Twitter | Instagram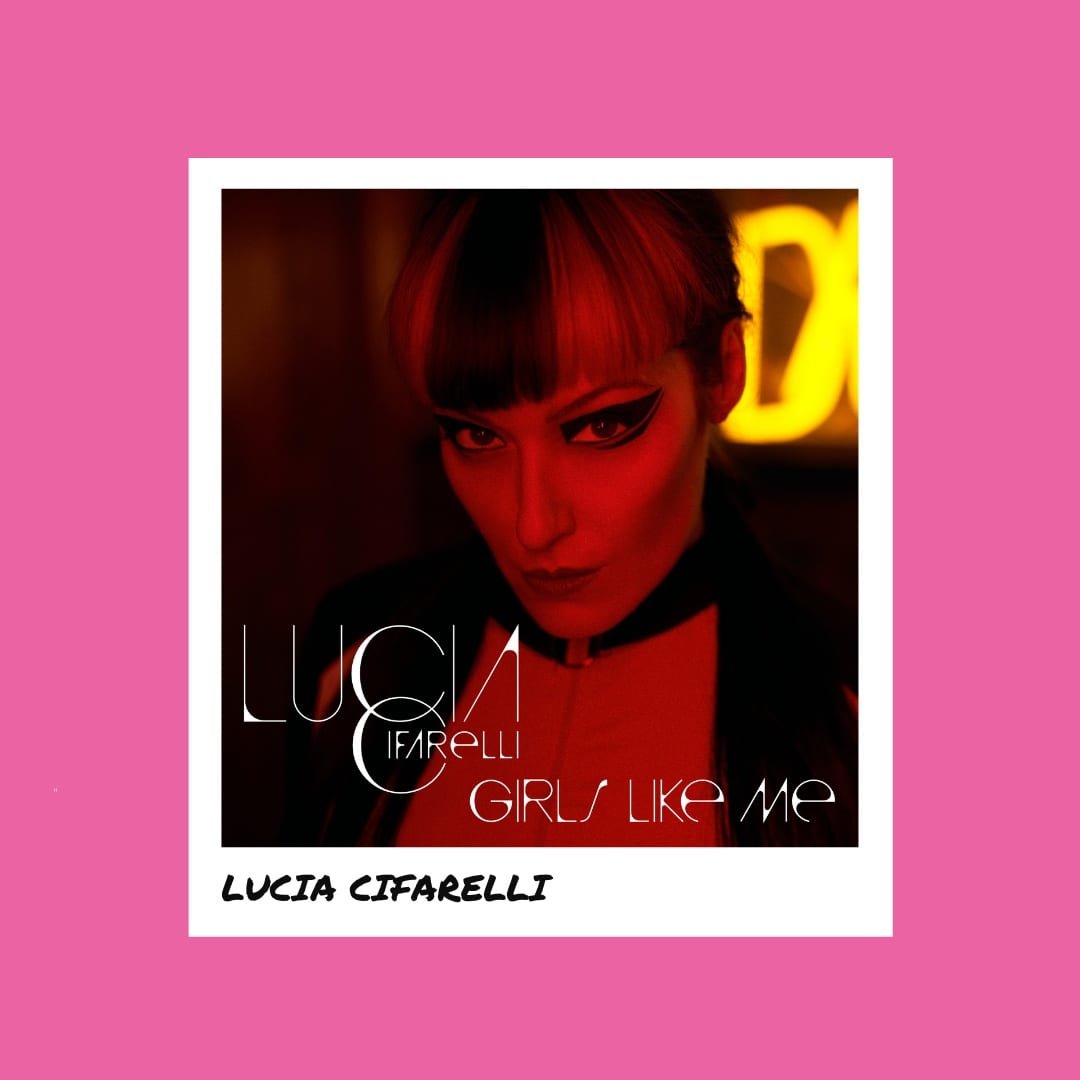 Interview with Lucia Cifarelli
Can you tell me more about your music career?
My humble beginnings in music began a long time ago on the North Shore of Long Island, New York. I've always wanted to be an artist and began honing my skills as a singer and songwriter when I was a teenager in high school. Writing and studying with some of the most notable songwriters and voice teachers of that time.
I interned at recording studios and later worked a day job at a music management company. Until I formed my first band DRILL with guitarist Dan Harnett; an Irishman I found in the classified ads of an NYC paper called The Village Voice. Dan had recently emigrated to America from Ireland, after snaring the winning ticket in a green card lottery. In a strange twist of fate, Dan lived a stone's throw away from where I was living in Astoria Queens. We were two peas in a pod and got to work straight away.
After getting signed to music producer Ric Wake's production company, I was able to focus 100% of my attention on the band, however, it wasn't until my oldest sister Leslie was diagnosed with HIV, that we'd forge the sound that would lead to our first record deal with A&M Records. I became known as somewhat of a scream queen and DRILL rode the industrial wave that saw many talented artists rise up from the underground and storm the charts. Upon delivery of our follow up album a huge industry re-structuring took place, with several of the biggest labels consolidating. We got lost in the shuffle and our sophomore effort never saw the light of day. The band broke up shortly after and I was invited to join MDFMK, an offshoot of KMFDM. I co-wrote several songs for that project and toured across America with Sascha Konietzko, Tim Skold and the fourth member, a giant robot guitarist named Zyclor. Between MDFMK and the reformation of KMFDM, I got signed to Universal Records and moved to London to record my first solo album with music producer Ian Stanley of "Tears For Fears". Because my album wasn't on trend with what was happening on the charts at the time, they declined to release it. I then moved to Seattle to begin writing on KMFDM's return album "Attak" and have been the female lead singer and co-writer on every album since.
Can you describe 'I Am Eye' and tell us what it means to you?
I've described the album as the soundtrack of my life but it's more than that, it's a watershed moment. It's the most important record I've ever made. I swam to the depths of my soul to write it and didn't come up for air until I was sure I'd disclosed every truth I cared to share. I'd also never taken on as much responsibility for an album before. My fingerprints are all over it, from songwriting, musical direction, photography, graphics, album layout, website design, directing/filming music videos, T-shirt design, technical social media aspects. From top to bottom I was deeply involved in every aspect.
What inspired you to make this album?
As I neared a milestone birthday, I metaphorically fell down the rabbit hole of my life and got lost there for a while. During this time I was introduced to a man by the name of James Morgan. An extremely gifted artist and spiritual advisor, who also happens to be a master of the esoteric arts. Naturally, I was skeptical about the likelihood of him helping me come to terms with my issues but he said I was guided and I believed him. He told me to write a letter to divinity, asking for the answer to the question I always wanted to know. He said while I did this he'd paint me a talisman and pray that I'd receive the answers I was seeking. From the moment we began corresponding strange things began happening to me. Supernatural experiences that defy explanation. For instance, one night I spontaneously woke at 3 am, pulled my computer from the nightstand, opened the garage band and began building the skeleton track to what would become the title track of the album, "I Am Eye". For the record, I'd never used garage band before. One song led into the next and then covid happened. With all touring cancelled and not much going on. Sascha Konietzko, my co-conspirator in life and music offered to help produce it. I've said the album was divinely inspired because it was.
You have worked with an impressive list of music artists and producers! What have been some of your favorite moments?
Playing the Fuji Festival in Japan with MDFMK will always be a highlight. Japan is magical! The food, people, and culture were so different from anything I'd experienced before or since. Watching the way the crowd moved as we performed blew my mind. Thousands of people moving in unison, in a bizarre choreography they all seemed to know. While this moment will always strike my heart with beauty, as a fan of the show "Whale Wars". I'm equally horrified by the atrocities the Japanese have committed in regards to the unnecessary poaching of these majestic mammals, in order to place them on sushi menus across Japan. Another highlight was meeting my idol Diamanda Galas backstage at Sinners Day Festival in Belgium. Seeing her perform Plague Mass in NYC back in the '90s, was a life-altering experience for me. I watched that show as my sister was dying from Arc – Aids-related complex, knowing full well that particular show was inspired by her brother dying of AIDS. Having the opportunity to share a private moment with her to tell her how much she and that show meant to me was mind-blowing.
You began songwriting in your teens. Can you give your top tips for others wanting to pursue a career in the music industry right now?
First and foremost I'd say hone your craft, take your time finding your voice and don't overshare material on social media. I have a quality over quantity mindset. It's never been easier to showcase your talents with all the various platforms out there, so take your time. Stay focused and disciplined, while always striving to push the boundaries of your creativity and consciousness. Stay grounded and grateful and remember every new fan is a win. Treat them respectfully.
How has this past year been for you and life under lockdown?
During the first lockdown I was writing my album, so it actually went by pretty fast. By the time the second wave hit I was starting to feel it though. I'm looking forward to travelling, seeing friends and family. I'm definitely feeling a little desperate for a change of scenery, eating out and touring.
You are based in Hamburg – what are your favourite things about living in the city?
Canoeing through the canals of Hamburg, eating a fischbrötchen, while sailing along the Elbe and all the green spaces and forests to wander through.
What is your top tip for living your best life?
I believe we're all born with an inner guidance system, trust it. Your best life is lived by doing what you love and embracing who you are. So don't be afraid or apologize for blazing your own trail.
What are your plans for the future?
First off I'd love for this album to open up more opportunities for me as an artist and songwriter. That would bring me an extraordinary amount of joy because that's been my lifelong dream. I'll of course be writing for the next KMFDM album and I'll begin writing my autobiography, which I'm currently doing at my own pace, in my own time.