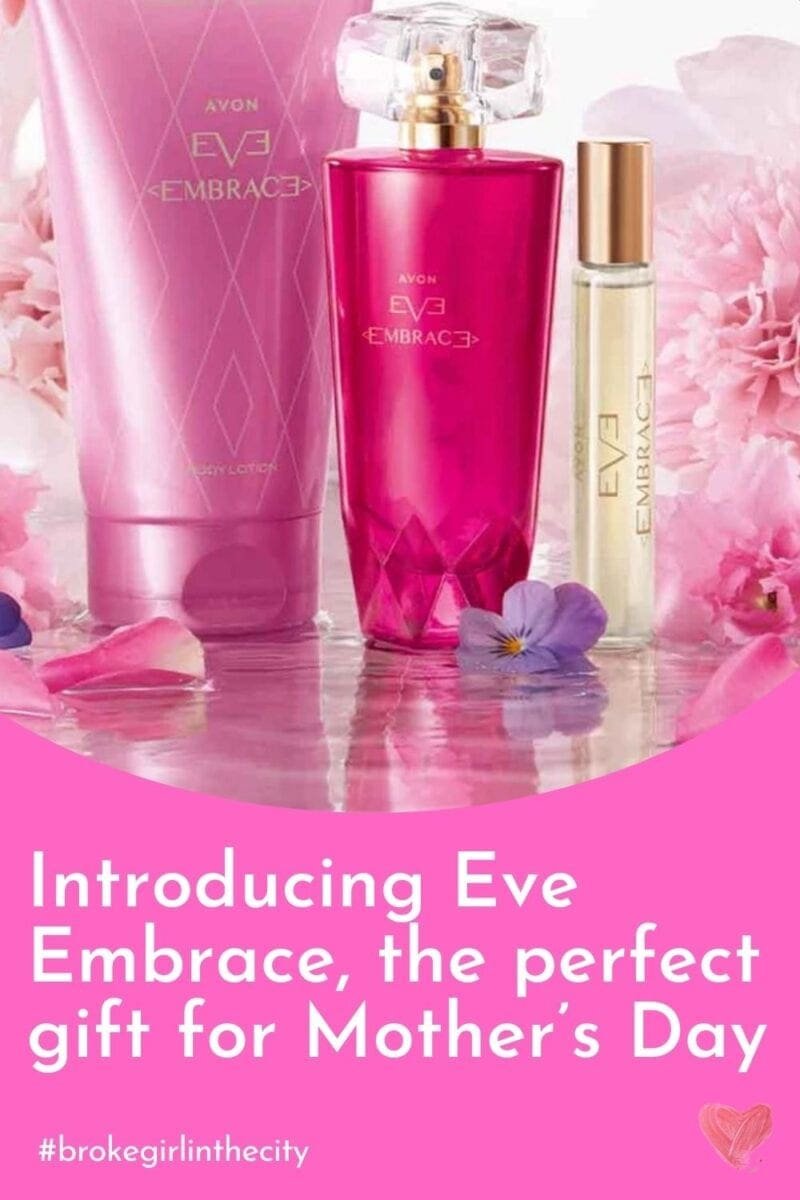 Introducing Eve Embrace, the perfect gift for Mother's Day (special offer £15)
Celebrate Mother's Day with the new fragrance from Avon
Mother's Day this year falls on Sunday 14th March. My mum absolutely loves Avon and has been buying from them for years. So what more amazing present could I give her than this gift set! What's more it's on offer for £15 and you get the lotion and purse spray absolutely free.
Disclosure: This post contains affiliate links. Affiliate links mean that sometimes if you click through to a website and purchase something, I may get a commission from that sale at no extra cost to you. All views are my own.
To truly spoil her this Mother's Day, Avon is offering an exclusive free gift with every purchase of the perfume.
Special Offer: If you purchase Eve Embrace before 31st March you will receive a free indulgent Eve Embrace Body Lotion (150ml) and a handbag-friendly Eve Embrace Purse Spray (10ml).
Every woman is a combination of different dimensions, layers and roles and that is the inspiration for Avon's new fragrance, Eve Embrace. Strong and delicate. Persistent and caring. Hard-working and fun. Independent and loving.
Celebrating all that we are as women. Eve Embrace reflects our current reality: complex, adaptable, ever-changing, courageous and beautiful, each in our own way.
Designed to complement the collection of unforgettable Eve scents, including Eve Truth, which sold 1 every 20 seconds on the day it launched. This new floral woody musk stands out from the crowd with its striking, vibrant layers.
Designed by French master perfumer Harry Frémont, the composition blends Violet Petals, Rose Absolute and White Caramel musk.
"Eve Embrace is so special to me because it comes alive on the skin, constantly revealing a new facet of modernity and sophistication. It has a radiance that moves through the fragrance, illuminating the sparkling beauty, grace and resilience in every woman", reveals Frémont.
"I used the best quality ingredients in my palette to create a structure that is modern and captures the essence of Eve. I used a unique Raspberry Nectar to give a vibrant fruity hook that enhances the fragrance, giving it a bright, dynamic touch. To make the heart blush, I used voluptuous Pink Peony petals and Rose Absolute to add soft texture. Finally, I incorporated irresistible gourmand notes, like White Caramel Musk and sexy Amberwoods to bring out a comforting addiction in a unique way."
The Fragrance:
Top notes: Raspberry Nectar, Mara Strawberry and Violet Petals
Mid-notes: Rose Absolute, Osmanthus and Midnight Iris
Base: Amberwoods, White Caramel Musk and Patchouli
Where to Shop
Eve Embrace EDP (50ml) is available online at avon.uk.com or in Avon's Digital Brochure from 15th February 2021 and in the printed brochure from 1st March 2021.
HOW TO MAKE MOTHER'S DAY SPECIAL IN LOCKDOWN
Mother's Day falls this year on 14th March, which is a Sunday. Unfortunately, many of us can't be with our mothers this year for many reasons. If like me, you are unable to visit due to lockdown. Then take a look at some of the ways in which you can make Mother's Day special. You don't have to spend much money. It truly is the thought that counts.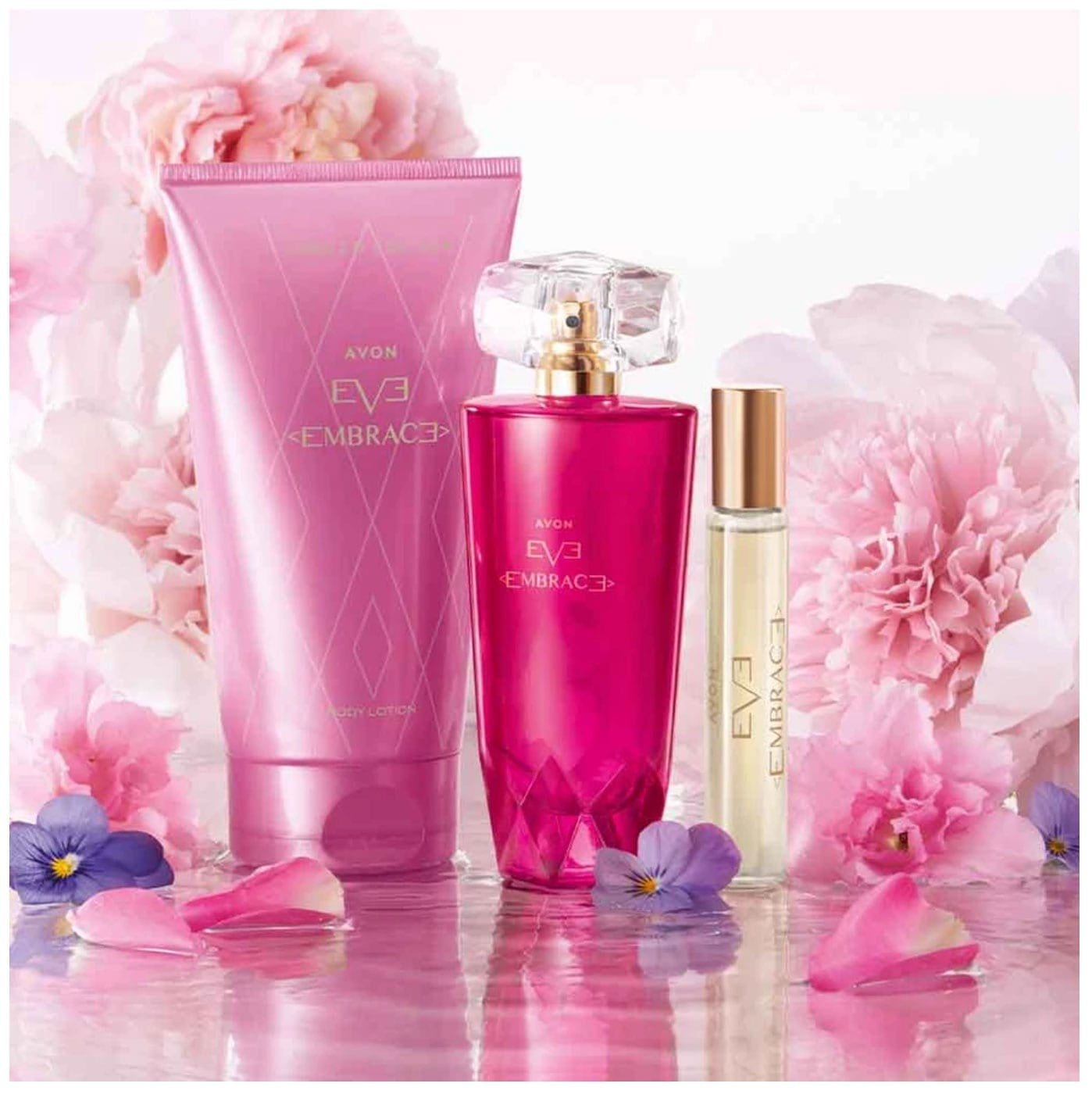 Eve Embrace gift set is amazing!
The perfect gift for Mother's Day (special offer £15)
Avon Cosmetics gifted me a set, which is absolutely lovely. The moisturising lotion feels creamy against the skin, leaving it feeling smooth. The fragrance is lovely.