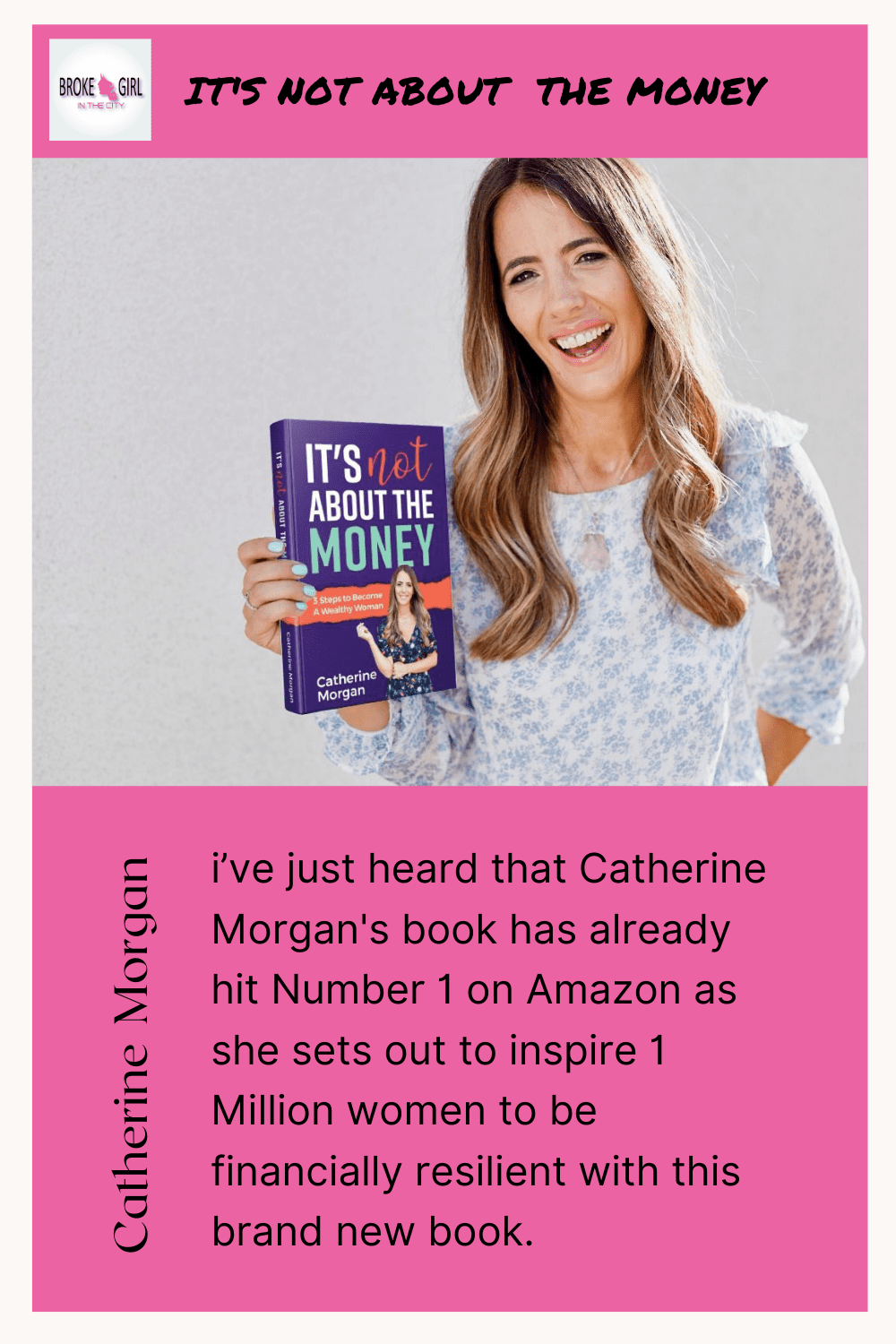 It's not about the money by Catherine Morgan
How long have you been waiting for inspiration when it comes to starting your journey of wealth?
Long enough, I'm sure…
That's why I've just heard that my friend Catherine Morgans book has already hit Number 1 on Amazon as she sets out to inspire 1 Million women to be financially resilient with her brand new book. Catherine kindly sent me a copy and I would love to share this with YOU!

Get your copy of It's Not About The Money and start your wealth journey now!
Do you ever feel conflicted and powerless about money? Catherine explains why.
On one hand, having more money brings so much freedom and opportunity but on the other hand, it can bring up so much emotion. Shame, fear, guilt, responsibility.
Emotions do not fit on a spreadsheet.
We are human and we have an emotional relationship with many things in life. Food, our bodies, sports team, books. How we feel tends to define how we interact with it.
Part of how we feel about money is the sense of security that can come with having it because really the relationship we have with money is a reflection of the relationship we have with ourselves.
We give so much of our power away to the feelings inspired by money and our relationship with it. It's time to redirect that power, to move from feeling disempowered to empowered … from not good enough to more than good enough … from unworthy to deserving.
One of the most important relationships in our lives is the one that we have with money. How much do we earn? How much do we spend? It affects our lives in so many ways, but sadly, most of us aren't having this essential conversation with ourselves.
What's the answer?
Better financial education?
Nope.
More financial education leads to being more informed with how to make more money or manage money better but it does not solve the problem of those money gremlins coming up once we have made more money, struggle to keep hold of it or struggle to give to ourselves and to others.
So what's the answer?
We need to look at money from both sides of the coin. Good financial decisions require more than a spreadsheet. They also require that we understand our money behaviours and our emotional response to money.
The practical and the emotional side of money. Distil the little traumas and the big traumas from our belief systems and change our perception of money to one of empowerment.
If you want to start 2022 with more money than you have ever had before, my good friend Catherine has just launched her first book, 'It's not about the money,' and it's already become a Number #1 Amazon bestseller.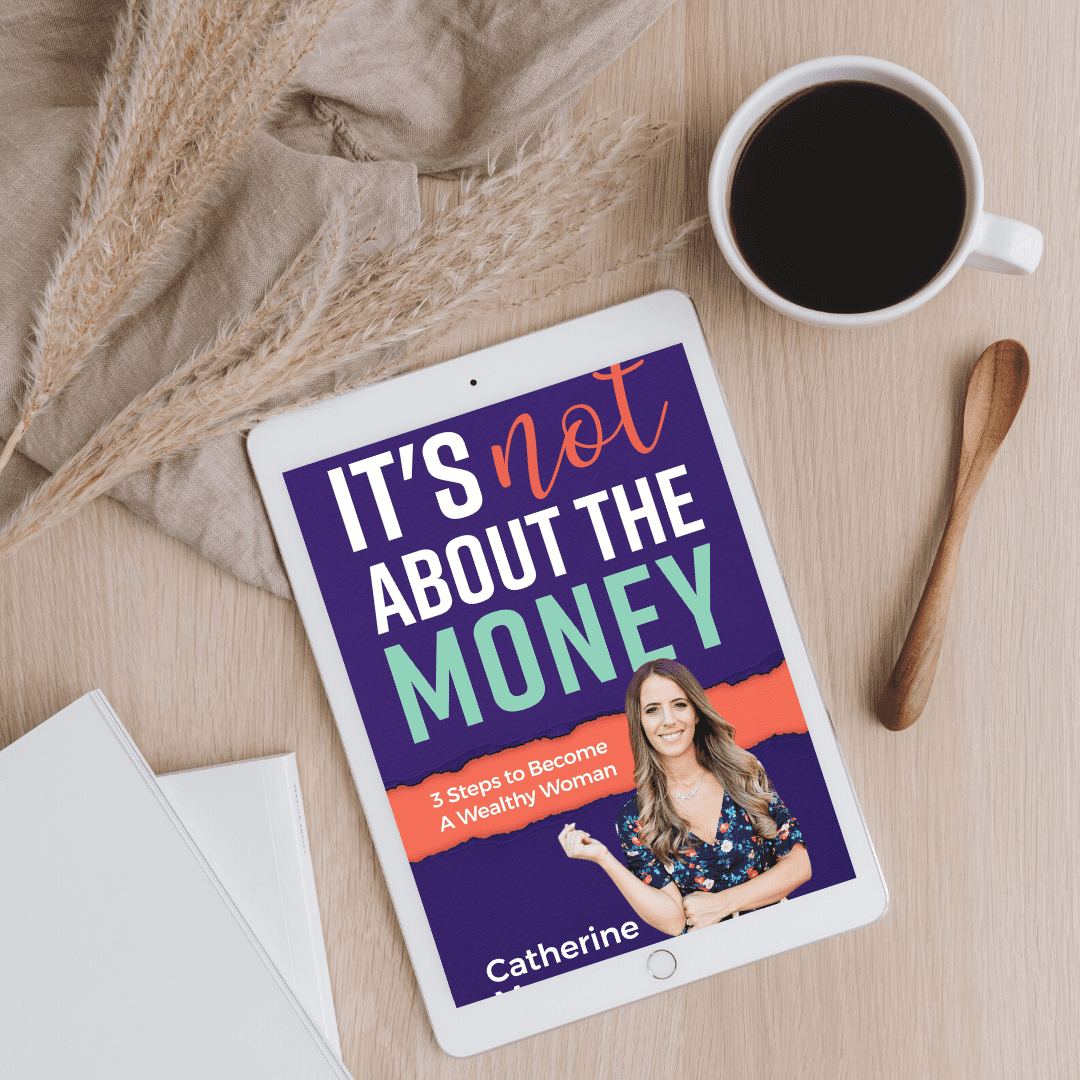 This is no ordinary personal finance book.
A – It is written specifically for women (although a great read for men and teenagers too!)
B – It will help you make massive changes both practical and emotionally
C – It is full of activities to move you from learning to doing
This book will help you break through any excuses you are using to not make more money.
And the best thing is…it's totally free! (Just pay £4.99 postage)
Learn the 3 steps to financial independence.
In Her Financial Shoes Podcast by Catherine Morgan
Catherine Morgan hosts a personal finance podcast – a must-listen-to! 2022 is about building wealth – and learning how to lead a better financial life.
This personal finance podcast is for women, including female entrepreneurs to learn personal finance, money mindset & practical money management tips to be financially confident and build wealth. To get in control of money, to budget, gain financial confidence, learn how to invest, save money & manage money mindset and behaviours. Hosted by a multi-award-winning qualified financial planner and financial coach.