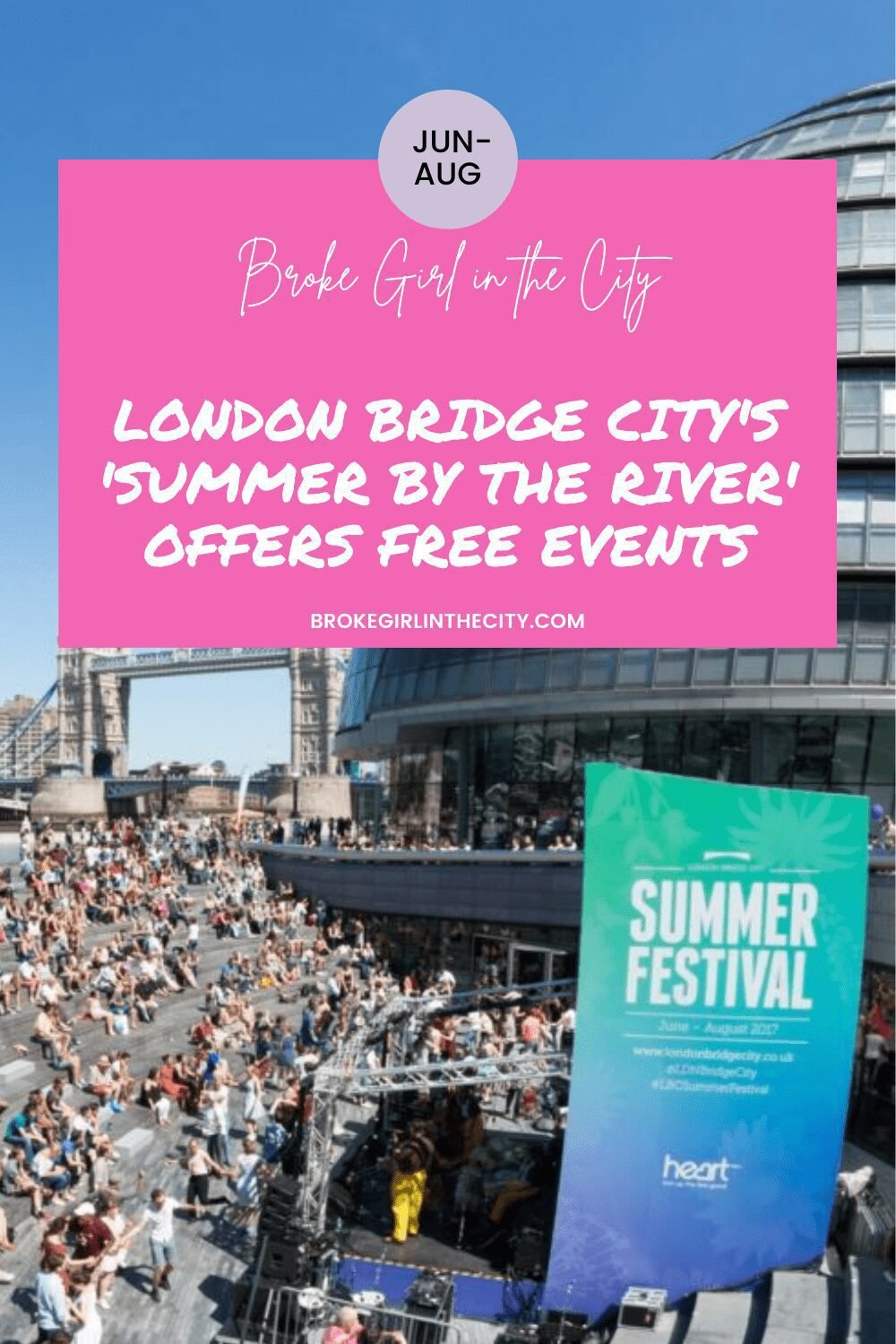 London Bridge City's "Summer By The River" offers free events and festivities
10 June – 30 September, London Bridge
London Bridge City's Summer By The River returns on 10th June for over three months of free events and festivities!
The riverside between London Bridge and Tower Bridge will be home to al-fresco drinking and pop-up eateries. Summer by the River will also offer a full-packed programme of free entertainment, screenings and activities from 21st June.
LONDON Bridge's Summer by the River is one of my favourite summer events. Now the weather is hot, hot, hot,
What's more, it's also one of my favourite areas in London. You can take in the riverside ambience and beautiful city skyline while enjoying your time out in the sunshine!
Piazza by the Pier
At London Bridge City Pier will be Piazza by the Pier, hosted by renowned British chef Jimmy Garcia and the infamous Jimmy's Pop-Up team. After a flavour of Italy in the city, those can head down to Piazza by the Pier. Pizzas are cooked over open fires, and you can also couple them with this summer's must-have cocktail, the spritz. Jimmy's team will even be on hand to guide guests on how to make their own perfect sourdough pizza. You can also finish the pizza yourself in the wood-fired pizza oven. A pre-booked 3-course interactive pizza party dining experience is £39.00 per person. Or you can book ahead in one of the Mediterranean-themed pagodas for a group get-together.
Riverside Terrace
Summer by the River will also feature the Riverside Terrace bar at The Scoop, designed to represent a collage of Mediterranean coastal towns and bring this iconic and picturesque architecture to London Bridge City. Drawing inspiration from the lime-washed towns of Greece. The Riverside Terrace is the perfect setting to enjoy an Ice Cold Pint of Madri Excepcional, a Malfy con Limone Spritz, a Lynchburg Lemonade or a Graham's White Port & Tonic.
Good Times Rolls
To complement the bar service Good Times Rolls will delight adults and children alike in creating delicious ice cream treats. The bar's kitchen will be serving up a mouth-water selection of small plates and tapas dishes to enjoy in the London sunshine.
London Bridge City is bringing back the outdoor cinema.
From 21st June, Summer by the River kicks off a summer-long events programme. For an evening of entertainment under the stars, London Bridge City is bringing back their outdoor cinema, which will host Hollywood classics, family favourites and sing-along movies. With an exciting summer of sports. Summer by the River screen will air Wimbledon and the Olympics from The Scoop.
The Summer by the River schedule also includes Massaoke, Musical Bingo and Barrioke. A special karaoke show with Barry Evans from Eastenders and open-air fitness classes. With live music from up-and-coming London acts in collaboration with BBC Introducing in London. As well as salsa and swing social dances with Havana Londres and Swing Patrol. With both family-friendly events and entertainment across the weekend. There really is something for everybody looking to enjoy this summer in the city.
Events are free
Every event will be free to attend and open for walk-ins on a first-come, first-serve basis.
How to get there
London Bridge is at the epicentre of London's Rail and Underground Network.