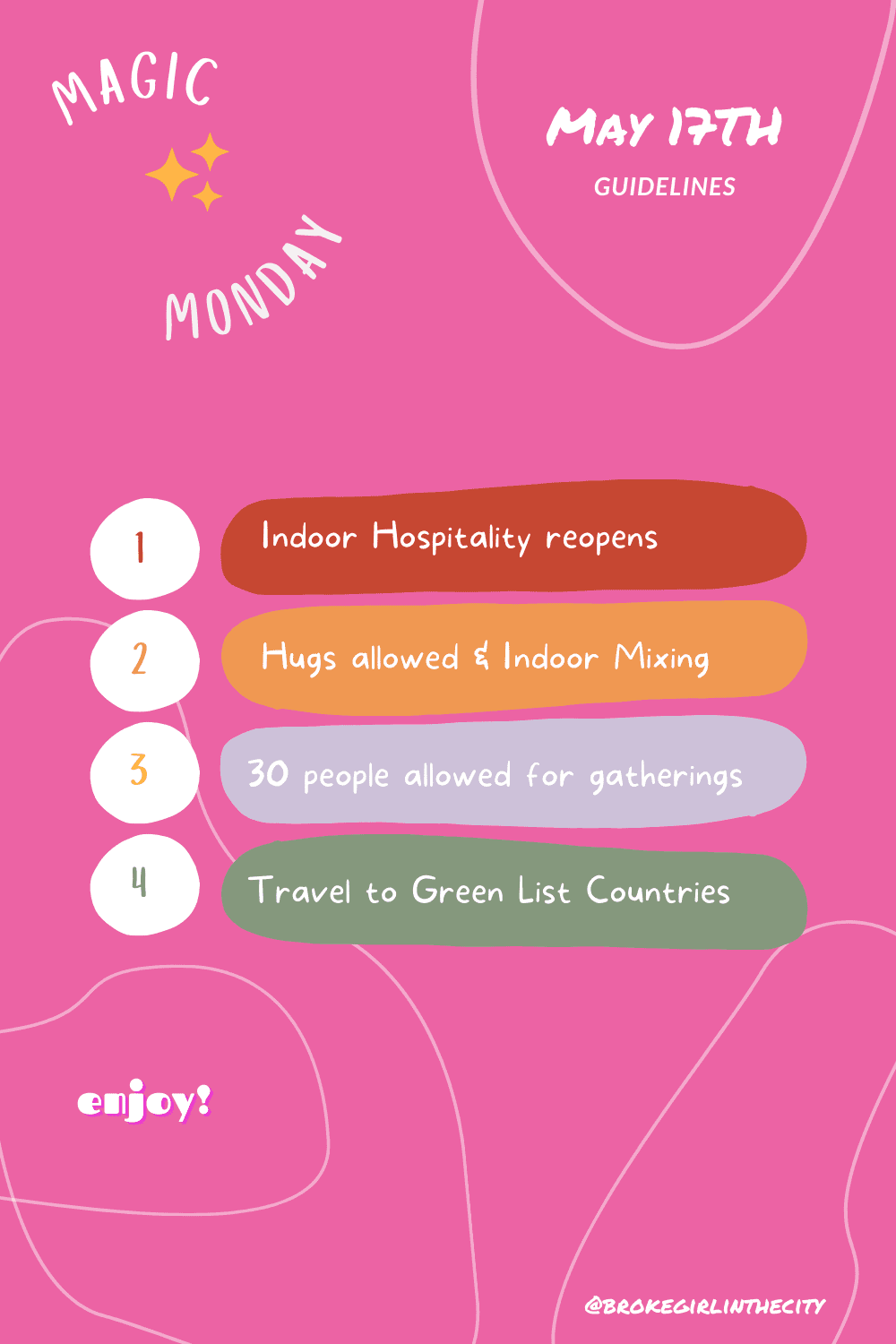 Magic Monday – What you need to know to celebrate
Today is coined 'Magic Monday' further easing of COVID restrictions have been confirmed to go out on Monday 17th May. Not only can we hug again after a very long series of lockdowns (but only if you want to!). We can also now do so many things which haven't been possible for so many months. The Prime Minister has urged everyone to remain cautious despite the lifting of restrictions as part of the Government roadmap, the last phase being April 12th and is due to end 21 June 2021.
Face coverings will no longer be needed in classrooms or for students in communal areas in secondary schools and colleges. Twice weekly home testing will remain to control infection rates.
All remaining university students will be eligible to return to in-person teaching and learning from May 17th and should get tested twice a week upon return.
1. Indoor Hospitality Reopens
Many of us are excited that we can now drink and eat indoors again, so no sitting outside in the freezing cold braving all weathers.! Great news that the UK is hotting up in the next couple of weeks too. Pubs and restaurants will now be able to serve groups of up to 6 people or two households indoors. Table service will be insisted on and you will need to check-in using the Test and Trace app.
Cinemas will now be open again too, as well as theatres and museums, with COVID-secure measures in place. Nightclubs will remain closed.
All holiday accommodation can reopen, including hotels and B&Bs. You can go on a stakeation in the UK of up to six people or two households.
Organised adult sport and exercise classes can resume indoors and saunas and steam rooms may reopen.
The successful vaccination rollout continues, with over 35 million people receiving at least one dose, and nearly 18 million receiving both doses. One quarter of all adults have now received the strongest protection available.
2. Hugs allowed & Indoor mixing
We have spent a year keeping away from people, or social distancing when meeting. Hugs are back! Although be mindful of the fact not everyone has had their vaccines and after a year where we have spent distancing ourselves, many people won't want to be hugged quite yet.
More excitedly. we can now visit our friends and loved ones, and mix indoors. It has been so long since we have been able to visit our families, and for me, this is the most exciting one.
Also for anyone who has been single or dating. Unless you live alone, you won't have been able to have anyone around your house for dates or naughties. Magic Monday might involve a lot of hugging and magic tonight for people all over the UK.
3. Up to 30 people allowed for gatherings
Gatherings up to 30 people will be able to attend weddings, receptions and wakes, as well as funerals. This limit will also apply to other types of significant life events including bar mitzvahs and christenings.
4. Travel to Green List countries allowed
The Stay in the UK restriction has now been lifted and people will be able to travel to green list countries if they permit inbound travel.
Many people will have queued up this morning to go on holiday as the borders have opened up to those countries on the 'Green List' including Portugal, Iceland and Gibraltar. If you are returning home from any of the 12 countries on the list, you will not have to self-isolate when international travel resumes again today on May 17. A traffic-light system will show which countries you are able to travel to.
Strict border control measures will remain in place, including pre-departure tests and a PCR test on or before day two of their arrival back in the UK.

Top Tips for Magic Monday
17th May coined 'Magic Monday' is a great occasion to catch up with family, friends and loved ones. If you are struggling financially, then don't splash the cash this week. If you are not earning, then arrange to meet friends at home or meet indoors but look for deals. If you are off out tonight, just budget for the night. I use Monzo pots for my everyday spending and a spending app to manage all of my daily expenses.