Nelson Mandela: The Official Exhibition opened Friday 9th February, at 26 Leake Street Gallery in London Waterloo.
Mandela's grandson was there to open the exhibition, accompanied by Mandela's PA. Both were incredibly proud of this curation, which serves to continue this legacy. I feel that this exhibition also serves to offer us renewed hope in what are testing times.
A personal journey
The exhibition is absolutely amazing. Mesmerising video footage, memorable quotes from his life, and iconic photos are all intertwined. Evocative of all of the senses, you are taken on a personal journey of Mandela's life. In chronological order, you are taken through The Early Years. What defined him as a young man. Mandela's family. First marriage. Before it starts to open up into the world which Mandela would you are probably more familiar with.
The Struggle is my Life 1941-1964
What is defining about this exhibition is that you are invited to feel and think about how Mandela did. You see the world as he saw it. The struggle as he felt it.
Segregation and racial inequality feature throughout the exhibition. Bringing the world to life. Even the seat where whites-only could sit is not only shown in photos but is displayed within the exhibition. The world inside the photo is sitting right in front of you, which is hard-hitting and seeks to reinforce the reality of the situation. Photographs which sit on the wall, capture such incredibly important moments in time. Feature alongside video footage of those fighters, who bravely fought for equality and humanity.
Prison Years 1964-1990
Mandela was imprisoned for an incredibly long period of his life. Making friends in prison, this period of his life is also brought to life.
London was at the heart of the 'Free Mandela' campaign. Trafalgar Square hosted a demonstration as did St Paul's. Money from campaigners in the UK kept the campaign alive in South Africa.
Britain's love for Mandela
Speaking to one of the curators of this exhibition, she told me how much she had spent looking at how the people in London had helped fund the campaign to keep Mandela alive and ever-present in the news. This was crucial.
In a time where the world seems to be moving more to the right and the country is in turmoil over Brexit. It is inspiring that the country protested against Apartheid and rallied behind Mandela.
A symbol of renewed hope
What this exhibition gives us is renewed hope. A vision in a time of what seems to be gloom and despair. An extraordinary man inspired generations of people to fight against racism, segregation and human rights. Nelson Mandela has done so many things to so many people across the world in the past 50 years. Five years after his passing, he continues to remain a human rights icon and to be seen globally as an advocate for change.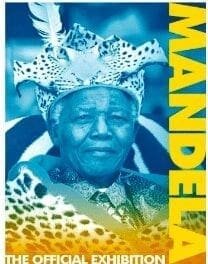 Venue Details:
Leake Street around the corner from London Waterloo Station is where I spent the afternoon jumping around for the VIVA England shoot for MTV.