SFG Club brings the ultimate British pub party to London's favourite rooftop
– Prove you know your Spice Girls from your Backstreet Boys at 90s Musical Bingo on Thursdays, or test your trivia at the classic Hops on Top pub quiz on Wednesdays.
– If you like your beverages crafted, the drinks menu at the Hops on Top tent has been given a transformation to include a selection of over 50 craft beers from around the world.
– Whiskey and gin tastings can now be experienced on a Saturday afternoon along with beer tastings from renowned beer sommelier Melissa Cole.
– Enjoy classic pub snacks, pork scratchings and scampi fries, while thrashing your mates on one of the five new retro arcade games joining the SFG Club line-up.
SFG Club at Roof East presents the ultimate East End knees-up
This Autumn, SFG Club is bringing you everything you love about your local 'boozer' to its London sky-high gaming venue.
The party isn't restricted to the weekends and entertainment kicks off every Wednesday with London's highest pub quiz.
Fancy a singalong? On Thursdays, it's eyes down with musical bingo taking over the tent. Vogue along to your favourite 90s classics and get in the mood for Halloween with a spooky special whilst bagging yourself some great prizes.
The Hops on Top tent will boast a menu of 50 beers from microbreweries around the world, including Pirate Life from New Zealand, smooth Mexican Negra Madelo and Australian Kaiju Crush Tropical Pale Ale. If beer is your thing, then be sure to sign up for one of the free beer tasting sessions with Melissa Cole (9th and 16th October). Respected female beer sommelier, writer, taster and educator who will be helping you sip your way around the continents. Other Saturday Tasting sessions include whiskey, gin, tequila and mezcal — just sign up in the Hops on Top tent when you arrive.
On Friday and Saturdays, live music is the focus. The Piano Animal is amongst the musical line up returning to take your requests and lead you in a raucous sing-a-long. For the first time ever, SFG Club will also be offering favourite British pub snacks. Grab a pint and enjoy the view while tucking into scampi fries, pork scratchings, worcester sauce crisps (my favourite) and pickled eggs.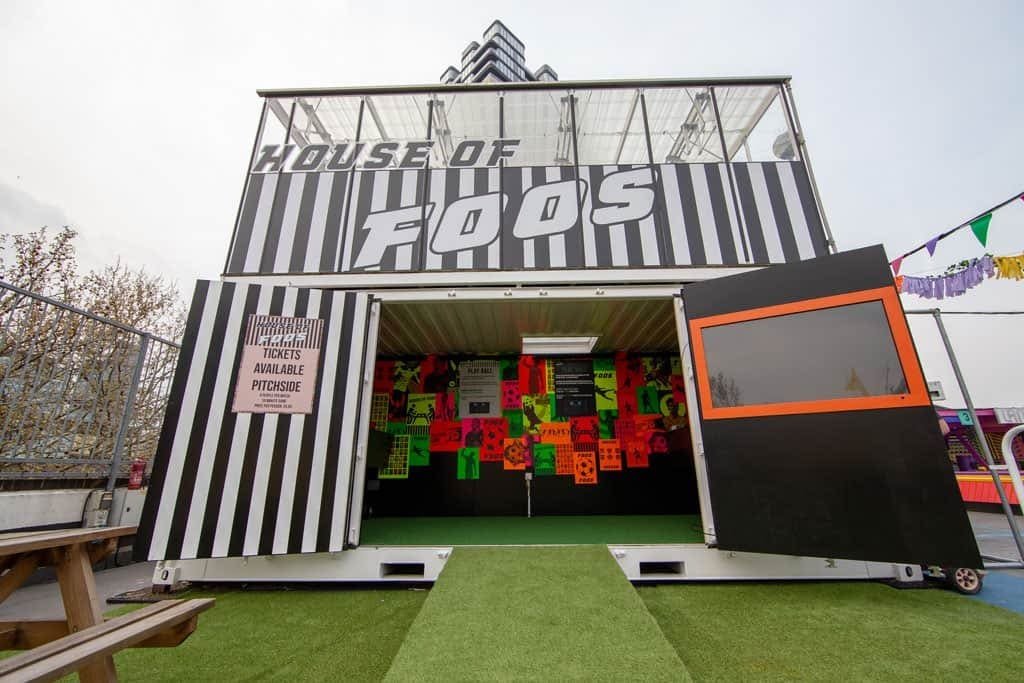 Immerse yourself in House of Foos
The old favourites are still open for business – curling, shuffleboard, bowling and crazy golf. You can also challenge your mates to an old school video gaming tournament with SFG Club's brand new '90s arcade games – Pac-Man, Street Fighter II and Space Invaders. If that doesn't take your fancy, immerse yourself in House of Foos – virtual reality table foosball or throw yourself into our free games of standard table foosball or tabletop skittles. And it wouldn't be a boozer without the pool table.
To experience this East End knees-up for yourself, head to the Hops on Top tent at SFG Club and get in on the action this October. For more information, visit www.sfgclub.com
Opening Times:
Roof East is open until Saturday 21st December 2019. Open Wednesday-Saturday (closed Sunday to Tuesday).
Timings:
Weds – Fri: 5pm – 11pm
Sat: 12pm – 11pm
All children must be accompanied by an adult and leave the roof by 5pm.

Roof Eats – Dining Options:
Jimmy's
Kolkati
Eat Chay

SFG Club Pricing:
Lane Games – Sliders Curling, De La Bowl, Puck Buddies
Up to 8 people per lane.
Age requirements: 14+
Recommended number of people per session:
20 mins: 2 people
40/60 mins: 3-6 people
60 mins: 7-8 people
Price per lane (20-minute game)
£15 ALL DAY
Birdies
Up to 8 people per game.
Price per Person
£8.00 ALL DAY
Kids: £3.50 (Tickets available Saturdays 12pm-4pm)
House of Foos
Price per session consisting of 3 games.
Up to 4 people per game.
Tickets are £5 per person, available for purchase online.