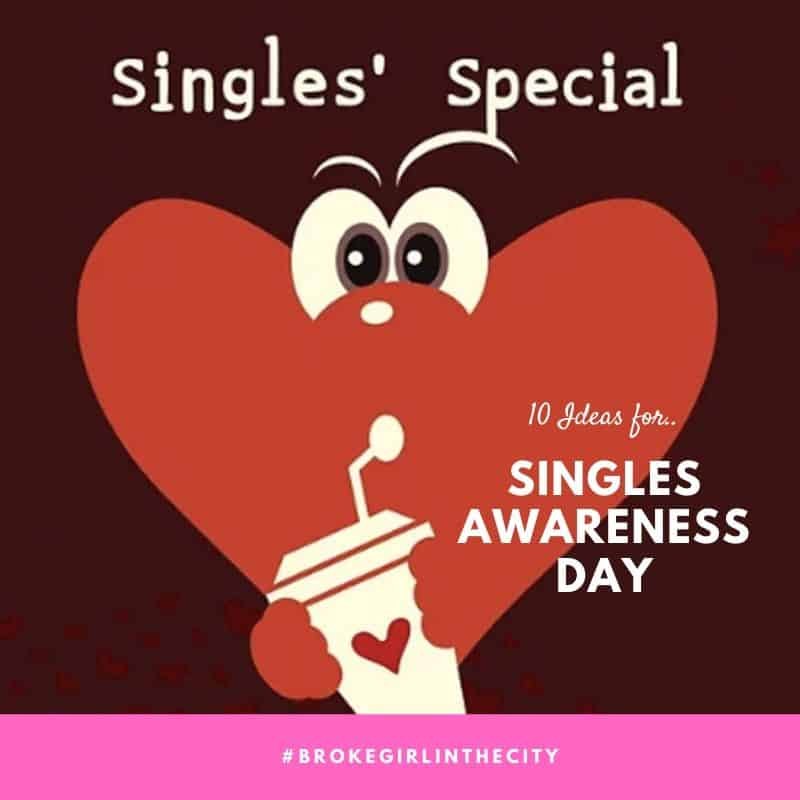 Calling all singles everywhere. It's time to celebrate!
Singles Awareness Day is celebrated this Saturday, 15th February 2020
Be single and proud this Saturday. Self-partnering coined by Emma Watson means to say that you don't need a significant other to complete you. I love being single. No-one to take up the bed. Or keep you awake snoring. You can do what you want when you want. Your money is your own. It's the perfect time to focus on you!
10 ideas for Single's Awareness Day:
Whether you want to celebrate Single's Awareness Day by staying in or going out. Here are 10 ideas to show how you can best celebrate the day! Let me know in the comments section below what you are planning to do this Singles Day.
This post may contain affiliate links. Affiliate links means that sometimes if you click through to a website and purchase something, I may get a commission from that sale at no extra cost to you.
1. Treat yourself with flowers
Just because you're single does not mean you shouldn't receive flowers! My friend posted an amazing photo today of flowers she sent herself to arrive before Valentines. Just think, there will be a surplus of unsold flowers to choose from on Saturday. 2020 is all about showing yourself some love!
2. Book a class
Get out there and meet new like-minded people by signing up to a class. It can be photography, painting, fitness or a dance class. Treat yourself and sign up to a class to make sure you have fun, not just this weekend, but every weekend!
"Go to the Portrait Gallery or a local art gallery with a pad and pencil and spend an hour sketching a famous portrait. It's great self-therapy. Plus it can be a good way of striking up a conversation with a stranger".

Top tip from Will Pointing from Great Deals Made Easy
3. Single Awareness Day appreciation party
Why not invite your friends round for a singles party! It's on a Saturday this year, so you can have fun and not get up for work the next day. It doesn't matter whether you want to go out or stay in. It's time to celebrate.
Why not host your own singles party? Bubbles, party food, face packs, giggles and gossip are key ingredients to celebrate the evening. Why not all bring a nail varnish each and have an evening where you paint your nails together? Buy each other a gift similar to Secret Santa at Christmas so everyone gets a gift this Single Awareness Day.
Food: Sainsburys Profiteroles £7.00 (10 people) |Iceland £1 Value Items | Aldi Perroni Pizza £1.59 | Tesco Mozzarella & Pepperoni bites £2.00 | Groupon for Dominos deals
Bubbles: Tesco Brut Cava £5.75 | Nicholas De Montbart Champagne £9.99 | Tesco Louis Delaunay Champagne £17.00 | Sainsbury's Conegliano Prosecco £8.00 | Aldi Organic Sparkling Rosé £7.99
Beauty: Superdrug Face Masks |
4. Dine out with your single friends
Invite your single friends for a meal this weekend. You don't need a significant other to dine out. Avoid Valentines Day on Friday and book a table on Saturday. Having an evening night out with friends doesn't have to be expensive. I have recently bought a Tastecard+ for £1 which gives me discounts across restaurants and cinemas nationwide. Most restaurants will have a promotion, so have a look around.
Want a cheeky drink beforehand? Check out Dusk.
Currently, Dusk operates in London, Manchester, Brighton and Liverpool. It' an app which shows you where you can claim a free drink that day.
"Dusk allows you one free drink per day in any given bar and discounts for further sales. I'm a regular at London's Exmouth Market Grind for an espresso martini when l fancy just one drink after work with colleagues."

Top Tip from Little Miss Frugal
It couldn't be easier to get free drinks:
Head over to the iTunes app store or Google Play store and download the app and register for an account
On your app, hit 'Got a code?'
Enter code MELLIS28
Search for bar and enjoy!
5. Traffic Light Party
My wonderful friend Amber Angell will be hosting and DJing at a #Fiesta traffic light party this Saturday in Maidstone. A traffic light party is so much fun. You dress up according to your relationship status: Green means you're available and ready to mingle| Amber means you are a maybe | Whilst Red means that you are not up for meeting someone else and are taken. It's definitely the year to go green! There are so many traffic light parties happening on the 14th & 15th February. Just take a look at some I have picked out below.
Chicken 'N' Beer Traffic Light Party BOXPARK Shoreditch FREE | Valentines Traffic Light Party! The Lock Tavern Camden FREE | Charity Traffic Light Party, Soho Donations for charity | Valentine's Traffic Light Party! Revolution Bournemouth FREE | FARFETCHED Valentines Traffic Light Party, Bristol | Traffic Light Party! Club Revenge Brighton |
6. Book yourself a massage
The first thing I did when I left my job in September was to book myself a massage on Groupon. You can get amazing discounts to receive a fully relaxing or revitalising massage by a trained professional. This is your time and your body to look after. I love massages! I handpicked a couple of options for you from Groupon below.
Beauty and Melody Spa £39 | London Massage 4U, Harley Street | London and Health Wellbeing, off Liverpool Street | Opulence Spa at Opulence Hotel £37.95
7. Cinema date with friends
For many years, Liz (one of my best friends) and I used to take each other on a date for Valentine's Day. We would always buy each other a glass of champagne or prosecco. Most often, we would plan a date going to the cinema together. I would usually buy a bottle of bubbles and take in some plastic cups to accompany the film.
Birds of Prey is amazing. A film about female empowerment and how to rock after a break-up. A real kick-ass film which shows that ladies, we are better looking after one another than being by ourselves.
Emma also launches in-cinema in time for Valentine's weekend. Get your friends to watch Jane Austen's beloved classic with you this Single's Awareness Day. Emma is Queen Bee who is so busy meddling in other people's love lives. She forgets to think of her own.
Top tip: You can get cheap tickets through Tastecard+ 40% off VUE, Picturehouse, ODEON and Showcase. Check out my Guide to Cinema Loyalty Schemes too for more info.
8. Plan a date with friends
Whether you like cocktails, theatre, films, museums, photography or clubbing. There is something for everyone. Wherever you live, plan a date night with your friends this weekend. I have handpicked a couple of options below, but am sure you can think of plenty too.
Pretty Woman: The Musical Piccadilly Theatre Tickets available from £15 | The Chocolate Cocktail Club Farringdon Tickets from £9.00 | Mary Quant Exhibition Tickets £12-14.50 |
9. Reconnect with old friends
Reconnect with an old friend. You don't even need to stick around in London. A change of scenery might be good for you! It will be fun to reminisce, chat to an old friend and celebrate being single. When we get into a relationship, often we don't see our friends enough. So make friends a priority again. Buy some bubbles and nibbles and let the giggles begin!
10. Do whatever you want!
Yes, that's right. Being single means you can do whatever you want! Treat yourself to a new outfit. Lingerie. Shoes. It's your money! You spend it on yourself this day. If you have had a stressful week. You don't even have to do anything. The best bit about single is being able to do whatever you want. You don't need to check in with anyone. You can please yourself. Run yourself a bubble bath. Watch one of your favourite films and buy yourself treats, knowing you don't have to share!
Enjoy your single life!
It's better to be single than unhappy and lonely in a relationship with someone. A toxic relationship has the power to destroy your life. So enjoy your single life! You can do anything and everything you want. Make 2020 all about YOU.