Stand For Humanity
Last year my friend told me about an event called Stand For Humanity. I'm a stand up comedian from London who in the last year has started doing poetry too. I cover homelessness, mental health and my own personal life experiences in my pieces so my friend thought I should check out this event.
My whole mindset changed that night. I got introduced to a woman called Yazzie Min who put on the event.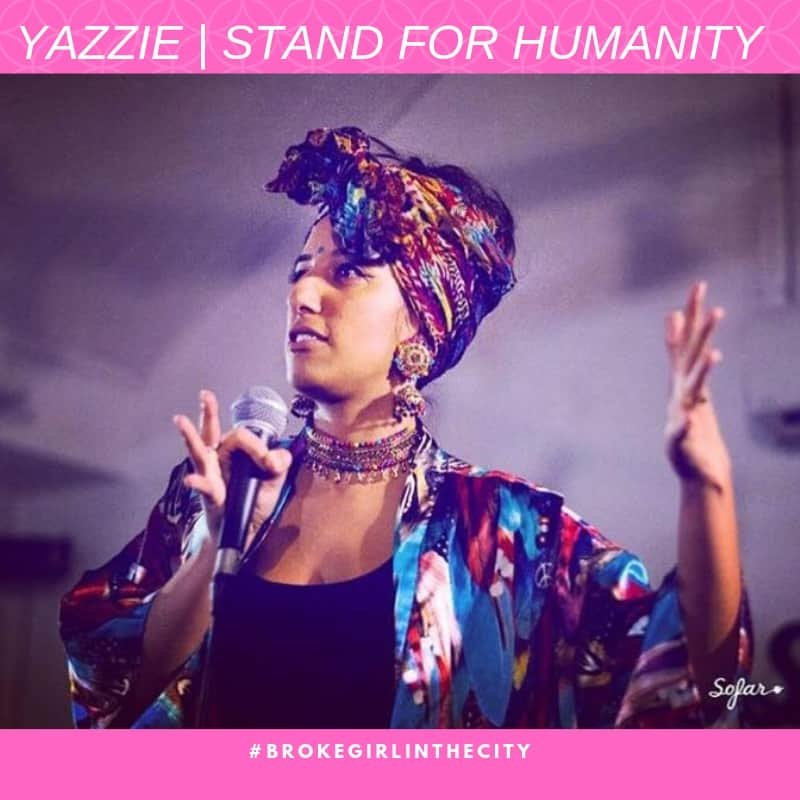 My whole mindset changed that night
It started off with her explaining what the night was about and telling us a few experiences she's had in the last few months, it opened my eyes to the crisis we currently have in this country and the refugee camps around the world. Then it was an open mic where performers could come and share something or just talk about a subject they feel needs discussing.
It was incredible to witness someone so full of love and compassion for people, her fight to make the world a better place really made me realise how powerful we can all be if we attack hate with love and keep pushing forward for change.
And that's just one event amongst loads in London that have a positive message. Hip hop events, jam sessions, poetry nights all have amazingly talented people attend and cover subjects from race, gender, sexuality, class, mental health, addiction to homelessness and overcoming everyday battles. It makes you feel less alone and self-empowered which gives you the strength to help and encourage others.
Little people aren't being over looked anymore. There is an underground society constantly working to promote change within communities and around the world and their voices are getting louder. I feel like I'm witnessing history being made when I attend these nights and their hard work doesn't stop there. Yazzie Min regularly goes to Calais to help at the refugee camps, bringing over supplies and giving emotional support. We need to get over this 'what can one person do' mentality. One person can do a lot! If you can directly effect another human being in a positive way, you have succeeded.
We can all be part of the change
And we ALL can – whether that is through comedy, poetry, music or the sort of nights that Yazzie puts on to raise money and spread awareness, we can all be part of the change.
I'll leave you with this quote from Tupac Shakur – "We wouldn't ask why a rose that grew from concrete for having damaged petals, in turn, we would all celebrate its tenacity, we would all love it's will to reach the sun. Well, we are the roses. This is the concrete and these are my damaged petals. Don't ask me why, thank God, and ask me how."

Sarah Callaghan – Numbers | Sofar London
Sarah is a stand-up comedian who is truly amazing on stage. You may have seen her tour THE PIGEON DYING UNDER THE BUSH or THE BALLAD OF SARAH CALLAGHAN
"The instant she steps on stage you know you're in the presence of someone new and special" ★★★★★The Mirror