Urgent: One Week left to claim PPI
An urgent shout out to anyone who has had a credit card, loan, store card or overdraft over the years. This is to say, you only have one week left to submit a claim. The deadline for making a claim is 11.59pm on August 29.
The deadline to submit any claims is 29th August. After this date, you will no longer be able to make a claim.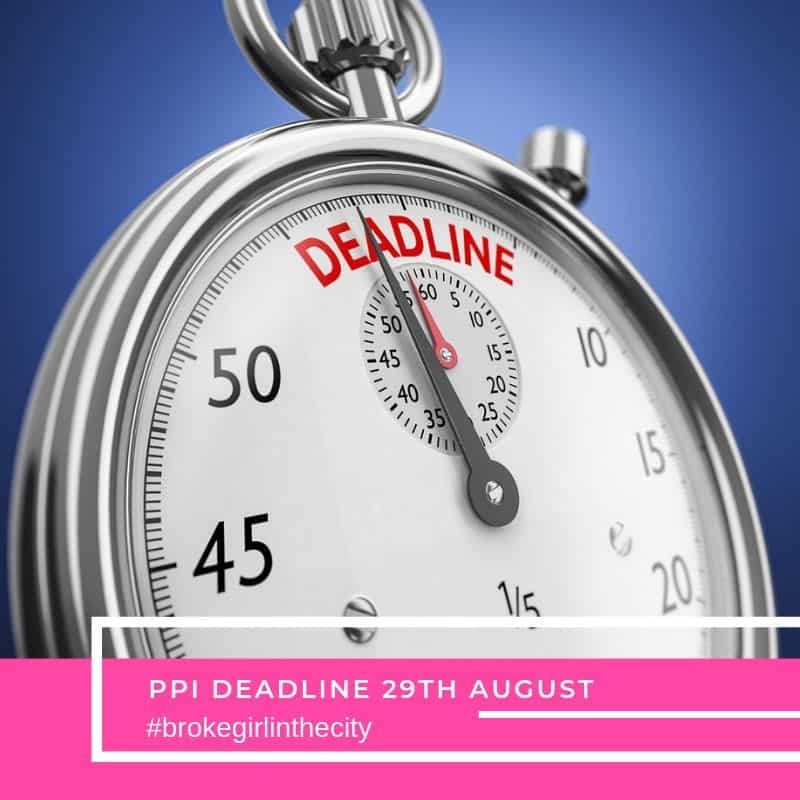 Q. What is PPI Insurance?
A. PPI stands for payment protection insurance
Payment protection insurance was often taken out as part of a loan agreement, to cover repayments in the event of an accident, sickness or, sometimes, unemployment.
Around 64 million policies were sold, mainly between 1990 and 2010. Many people have been mis-sold this insurance. You are able to make a final claim for compensation if you feel that you had taken it out without your knowledge or if you feel it was mis-sold to you.
Q. How do I know if I was mis-sold PPI?
A. You can check using a FREE PPI Checker tool or by contacting your loan and credit card providers direct
Step 1: Dig out your old paperwork
I have kept most of my old loan forms and credit card agreements. It is worth trying to find these and checking to see if you had PPI Insurance on these agreements.
If you've thrown away your paperwork or do not have access to your original agreements, you can still find out by asking your lenders directly.
It is useful to write down your addresses for the dates that you wish to make a claim. Many websites will ask for your address and postcode. If you have forgotten the postcode, check for it free online.
Step 2: Ask your lender if you had PPI
Most lenders have online forms to enquire about PPI insurance before making a complaint. If they do not have a service to check for PPI Insurance then you can ask for all original paperwork and T&Cs through a subject access request. However, with time running out, you need to make sure all claims are submitted by 29th, so make sure you don't waste any time as the run-up to the deadline is already incredibly busy.
Within 8 weeks of your provider receiving your complaint, you should either receive a final response or a communication outlining when you can expect a final response.
Less then 6 years: If your loan has been active in the last six years then the bank will still have everything on file under the 'statute of limitations'
More than 6 years: Many financial institutions may not have kept data over 6 years old, but the Financial Conduct Authority has instructed banks and lenders to assist with any PPI enquiries so don't be put off. Most will be able to tell you whether you had taken out PPI Insurance.
3. How to claim?
The Financial Conduct Authority has written up guidelines to show you how you can file a complaint before the deadline on 29th August.
Options below:
Online: most financial providers and lenders will have PPI claim forms on their website e.g. Barclaycard
Post: allow enough time for the complaint to reach your provider before the 29 August deadline. You can use the Financial Ombudsman Service's free PPI complaint form
Telephone: call the customer service line for details
In branch: ask for details about applying at your local branch
Third-party agency: you can ask a company to do it for you, but they will make a commission off the final amount you are given back
Information required:
According to the FCA (Financial Conduct Authority), your PPI complaint should include the following information:
your full name
your date of birth
your phone number
your current address
You should also include the following if you know it:
your previous addresses
your PPI policy number
when you bought your PPI policy
when you took out the loan or credit product
your circumstances at the time you bought PPI, such as employment status and the company or organisation you worked for.
Free PPI reclaim tool by MoneySaving Expert
MoneySaving Expert offers a free online tool using complaints firm Resolver technology to help with the complaint process. You can draft a letter (which you can alter before sending), send it, and keep track of your complaint, escalating it to the ombudsman if necessary.
Check your credit report for free at the MSE Credit Club.
Egg Loans or Credit Cards
Not every lender is still operating. In the case of Egg Cards/ Loans, many were taken over by Barclaycard. However, these were only existing accounts. If you want to make a claim, you will need to go through Citibank who is looking after these PPI Claims. Not sure how successful you will be since many are dated around 2004-2006, but it's still worth a try!
Q. What is Plevin?
A. If more than 50% of your PPI's cost went as commission, which wasn't clarified when taking out the loan, you are due this money back
In 2014 a court ruled that Susan Plevin had been treated unfairly because she wasn't told that a large amount of commission (71.8%) was taken from her PPI payment.
The Plevin rule means if more than 50% of your PPI's cost went as commission to the lender (or the lender and the broker/adviser together), and that wasn't explained to you, you are due back the extra amount.
This applies even if you've had previous PPI claims rejected. However, if you're claiming under the Plevin rule, often your policy has to have been active since April 2008.
Q. When is the absolute deadline?
A. Do not leave this until the 29th of August to make your claim! Submit ASAP.
Do not leave your claim until the end of 29th August, when there will be a risk of websites going down with the surge of traffic and post not being received on time. Dig out your bank letters and old statements to start making a claim today.
Reclaim tax on your original PPI payout
I have had a PPI Payout from Lloyds but according to Money Saving Expert, I am still eligible for a tax refund on my original payout.
If you've been successful and your PPI payout came on or after 6 April 2016, you can reclaim the tax paid on your payout.
Q. How far does this go back?
A. The FSA has been fining lenders since 2006
Financial Services Authority (FSA), which became the Financial Conduct Authority, has fined PPI companies for "not treating customers fairly" since 2006.
August 2010: the FSA set rules providers must follow to compensate consumers who were mis-sold a policy.
October 2010: the British Bankers' Association decided to take legal action against these plans and unfairly placed most cases on hold.
April 2011: the High Court ruled in favour of mis-sold consumers, and the banks eventually accepted the verdict, gradually lifting the hold on complaints.