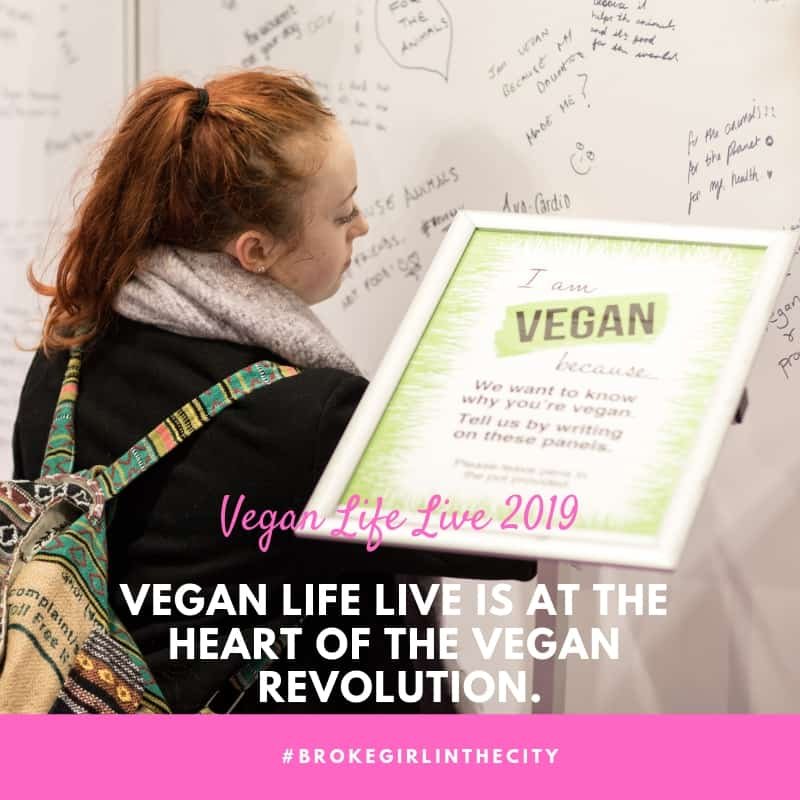 Vegan Life Life 2019
Alexandra Palace, London, N22 7AY – 9th & 10th March
Over the past few years, veganism has sky rocketed. More and more people have made the conscious decision to go vegan, and for good reason!
Veganuary grew by 183 per cent last year, with 168,542 people pledging to go vegan. Numbers skyrocketed to an estimated all new high of 3.5 million people in the UK alone choosing to follow a vegan diet.
Veganism can improve our lives in so many ways. Eating a plant-based diet can cut our greenhouse gas emissions, reduce pollution and water usage, as well as saving wild animals from extinction. Going vegan can help save the planet!
Vegan Life Live is at the heart of the vegan revolution.
We know that veganism is not just about the food we eat but the choices we make every day. It is a lifestyle encompassing everything from our fashion choices to our cleaning products, and excluding anything that has been involved in the exploitation and unnecessary suffering of animals.
Vegan Life Live is a celebration of the vegan journey, whether you are a veteran or just starting out, there's something for everyone!
We will be showcasing over 200 exhibitors, providing everything from vegan cheese, burgers and brownies, to handbags, supplements and spices. There will be cooking demonstrations from leading vegan chefs and bloggers, inspiring visitors to take new ideas home to their own kitchens.
New this year is the EcoLiving zone. As a society, we are gradually waking up to the damage that the human race has wreaked on the planet and are keen to make changes. The EcoLiving zone brings over 40 exhibitors focusing on how to live an environmentally-friendly lifestyle.
Veganism isn't just a diet, it's a lifestyle
There are so many personal reasons as to why an individual may decide to choose a vegan life. When considering transitioning to veganism it's key to review and consider reasons as to why this lifestyle appeals to you. A major lifestyle change is much easier to stick to if you are passionate and believe in it with your whole heart.
If you are just starting out on your vegan journey, you might be wondering where and how to start with creating delicious and nutritious meals. At Vegan Life Live our kitchen areas will be filled all weekend with vegan chefs who will show you how to cook easy meals and treats that will nourish both your body and your soul. You'll be inspired to start cooking as soon as you get home.

We have a line-up of renowned vegan presenters, each offering talks on a vast spectrum of topics from activism to plant-based health. Veganism isn't just a diet, it's a lifestyle, and our vegan experts will help you realise how easily it can be encompassed into your life.

At Vegan Life Live, you will find a new community of like-minded people, meet up with old friends, or make new ones; and feel incredibly uplifted, knowing that together, you are all creating a difference and making a better world together.

Vegan Life Live will return to the beautiful venue of Alexandra Palace on 9th & 10th March 2019.
Vegan Life Live:

9th & 10th March
Alexandra Palace, London, N22 7AY
Opening Times
Saturday 10am – 6pm | Sunday 10am – 5pm
Admission Costs
Online: Adults £12 | Concessions £10
On the door: Adults £15 | Concessions £12
Two day tickets are also available
Free show guide
Register for your free show guide