What is the Secret Teacher?
Channel 4 is running a four-part TV series – The Secret Teacher – where multi-million business entrepreneurs go back to school undercover. Each of the entrepreneurs did not do well at school, yet went on to set up and run multi-million-pound businesses. In this series, they are searching for pupils who they would like to mentor and who they feel has untapped potential they could help with.
The Secret Teacher is very emotive. School cuts mean a growing pressure on teachers. Larger classes are more difficult to manage, with some pupils remaining unmanageable.
This week, Thursday at 9 pm C4, Steven Bartlett decided to go undercover to a school in Liverpool. Stephen is CEO & Founder of the social media agency Social Chain, which under his guidance has had tremendous success. Expelled from school for a lack of attendance, you can tell stepping through the school gates with much trepidation, this is not an experience he has entered into lightly.
You'll be working with the year 11 students
Using his middle name 'Cliff' as his alias for this placement at school. We see a rather anxious-looking Stephen sitting at the back of a class, which is being disrupted for the duration of the lesson. The pupils are on their phones, disrupting the class for each other, not paying attention and being unruly. You wonder how the teachers have the energy or strength of will to get through the day.
"Are you from JLS?"
Cliff tells everyone he is considering becoming a school support worker. It is impossible to feature all of the kids in the school. So C4 condenses his six-week stay by first showing footage of Stephen in school with all of the students. Before focussing on a couple of students who he has taken a shining to. We follow them all on their journey until the big reveal.
Eloise hates school yet longs to be a hairdresser
During his six weeks at Litherland, a cash-strapped school in Liverpool. Steven meets Eloise, whose casual attitude to school hides a difficult past, and Ste, who dreams of becoming a millionaire.
Stephen meets Eloise who is constantly late to school – she does not shy away from telling him that she hates it. Even when the school help her find a work placement as she longs to be a hairdresser, she fails to turn up. Eloise has great confidence but her blase attitude covers up a rather painful family loss. Stephen relays back to both her and Ste that your circumstances do not define you. You are able to create your own path and be whoever it is you choose to be.
"You have the potential to be anything you can be"
Ste dreams of being a millionaire
Ste, on the other hand, dreams of being a millionaire. Despite the fact that no-one shares his self-belief, he tells his classmates that he has dreams and plans to make them come true.
Recognising his former self, Steven asks him to meet him at his HQ in Manchester before his reveal. Steven then offers Ste a six-week work placement, also inviting him and his family to New York where he lives to train him how to manage a business.
Watching Ste first cut his hair, then look spellbound in these offices before crying, saying nothing good happens to me, only bad things, you have to handle it to Stephen for offering a life-changing start to his working life.
If you don't cry at this series, you're dead inside.
Head of Happiness
Year 11 students are under great pressure as they only have one exam at the end of the year to pass. Teachers are also under mounting pressure with bigger classes and unruly pupils. What comes across in the Secret Teacher series is how much teachers do outside their actual teaching remit to support their students.
"If we can make life for any number of students then we will take it" Headmaster
What is interesting about Steven is that he relates to everyone and seems genuine in his interactions. Steven was expelled from school because he never turned up. Yet he has proven that not all kids thrive under the current education system and offers an alternative route to success.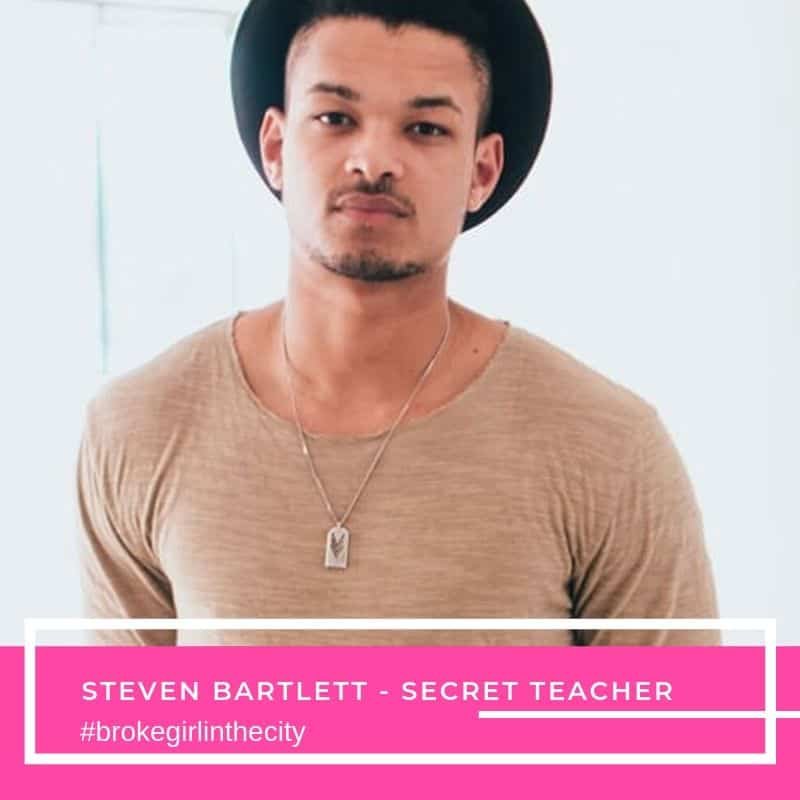 Steven Bartlett
Steven Bartlett is CEO and Founder of the biggest social media agency Social Chain. I have been following his progress ever since he hit the trade press headlines starting his social media agency a few years ago. Within 4-5 years, Social Chain is now a global entity with offices in London, Manchester, New York, Munich, Berlin and Sydney.
"I hope I don't disregard how much £1 meant when I had nothing"

Steven Bartlett
I recently went to see Steven give a talk at Vue Cinemas. A very charming, humble and charismatic guy. Steven has proven that despite the odds stacked against him. It is still possible to grow a multi-pound business.
Stephen does not hold back when sharing intimate details of his personal life. I made friends with a group of Instagrammers, who whilst all in their late teens, were making films, vlogging and also very much into photography. Steven is an inspiration to them all. It's great that The Secret Teacher shone a torch on this very impressive character for other people to see.
Steven in his own words:
Steven Bartlett to appear as the youngest dragon on Dragon's Den.