Coronavirus update 17th March 2020
To all our supporters,

For over 120 years we have been welcoming people to our galleries to enjoy great art from around the world. However, the welfare of our visitors and staff must always come first.

That's why we are closing Tate Modern, Tate Britain, Tate Liverpool and Tate St Ives from this evening, Tuesday 17 March until 1 May 2020. We will be reviewing this and keep you updated.

We believe that access to art for everyone is a universal human right. Now more than ever, art can lift our spirits, brighten our days and support our mental health. So whilst our galleries are shut, we'll be sharing some ideas for how you can still enjoy the best of Tate online.

If you have a ticket for an upcoming event or exhibition, we'll be in touch as soon as possible.

Thank you for your support – we don't know yet when galleries will reopen, but we look forward to welcoming you back when they do.

Until then, stay safe and take care.
Message from Tate today.
Andy Warhol – the icon
Andy Warhol (1928–87) is one of the most iconic artists of the late 20th century. If you ever look at one of his works of art, they are instantly recognisable. Both Andy Warhol's life and works continue to fascinate. I was so excited to see this exhibition and it really is amazing. Never did I think that I would ever see his works of art in my lifetime.
Andy Warhol exhibition at Tate Modern
Art is what you can get away with.

Andy Warhol
This major new exhibition at Tate Modern is the first at the gallery for almost 20 years. Offering visitors a rare personal insight into how Warhol and his work marked a period of cultural transformation. Drawing upon recent scholarship, it provides a new lens through which to view this American icon. Andy was a shy gay man from a religious, migrant, low-income household. Yet he forged his own distinct path to emerge as the epitome of the pop art movement.
Event Details:
12 March – 6 September 2020
TATE MODERN
The Eyal Ofer Galleries, Level 3, Natalie Bell Building
Bankside, London SE1 9TG
EXHIBITION OPEN
12 March – 6 September 2020 | Open daily 10.00 – 18.00 | Until 22.00 on Friday and Saturday
TICKET PRICES
£22 per ticket | Free for members| Concession £20 | 16-25 Get £5 tickets with Tate Collective
Major new exhibition at Tate
This major new exhibition at Tate Modern – the first at the gallery for almost 20 years – offers a rare personal insight into how Warhol and his work marked a period of cultural transformation. As well as his renowned pop images of Marilyn Monroe, Coca-Cola and Campbell's soup cans, the exhibition features work never seen before in the UK, including the largest grouping of Warhol's Ladies and Gentlemen series. Drawing upon recent scholarship, it will provide a new lens through which to view this American icon, emphasising recurring themes around desire, identity and belief that emerge from his biography.
Featuring over 100 works from across his remarkable career. The show sheds light on how Warhol's experiences shaped his unique take on 20th-century culture. Positioning him within the shifting creative and political landscape in which he worked.
Everyone will be famous for 15 minutes.

Andy Warhol
While Andy is best known for his iconic paintings of Coca-Cola bottles and Marilyn Monroe that held up a mirror to American culture. This exhibition emphasises recurring themes around desire, identity and belief that emerge from his biography. It shows how this innovative artist reimagined what art could be in an age of immense social, political and technological change.
Andrew Warhola
Born Andrew Warhola, he grew up in Pittsburgh to Carpatho-Rusyn parents who emigrated from a small village in the former Czechoslovak Republic. The Warhola family were devout followers of the Byzantine Ruthenian Catholic Church. The impact of the strong religious conviction of Julia Warhola, Andy's mother with whom he lived for most of his life, is considered as a significant context to his work. Warhol's sexuality is also an important theme in the exhibition. Beginning with a selection of his evocative early line drawings of men from the 1950s. These works form an intimate pairing with the film Sleep 1963 – which documents Warhol's lover, the poet John Giorno.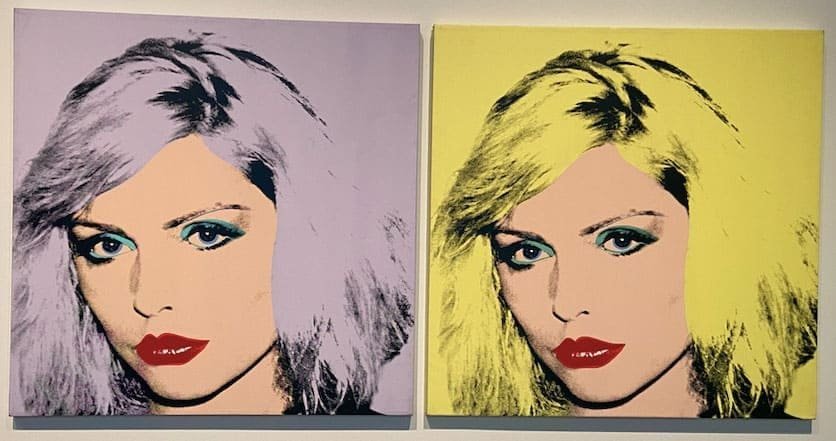 Elvis, Debbie Harry, Pink Race Riot
Key works from the pop period, such as Marilyn Diptych 1962, Elvis I and II 1963/1964 and Pink Race Riot 1964, are examined in relation to contemporary issues around American culture and politics.
Exploding Plastic Inevitable
Warhol's drive and limitless ambition to push the traditional boundaries of media are represented via his famous Screen Tests 1964-6. Also recreated is a psychedelic multimedia environment of Exploding Plastic Inevitable 1966, originally produced for the Velvet Underground rock shows. I absolutely loved this. You felt immediately transported into a club, with the likes of Nico and Lou Reed,
Silver Clouds 1966
In 1965, Andy Warhol announced his retirement from painting in favour of film making. Warhol's floating Silver Clouds 1966 farewell installation was originally in New York Gallery. One room consisted of nothing but a fluorescent pink cow. In the other, metallic silver balloons filled with helium floated through the gallery space. As you can see by the lovely Kitty who was also at the media viewing this week. You can interact with the installation. Silver clouds made with engineer Billy as 'paintings that float', continue Warhol's association with silver; in his silver factory, his paintings and his silver-grey wig.
Good business is the best art
Andy famously stated that 'good business is the best art'. The exhibition looks at how Warhol's forays into publishing and TV, as well as his interest in club culture, can be viewed as an attempt to bring the stars of the underground into the mainstream.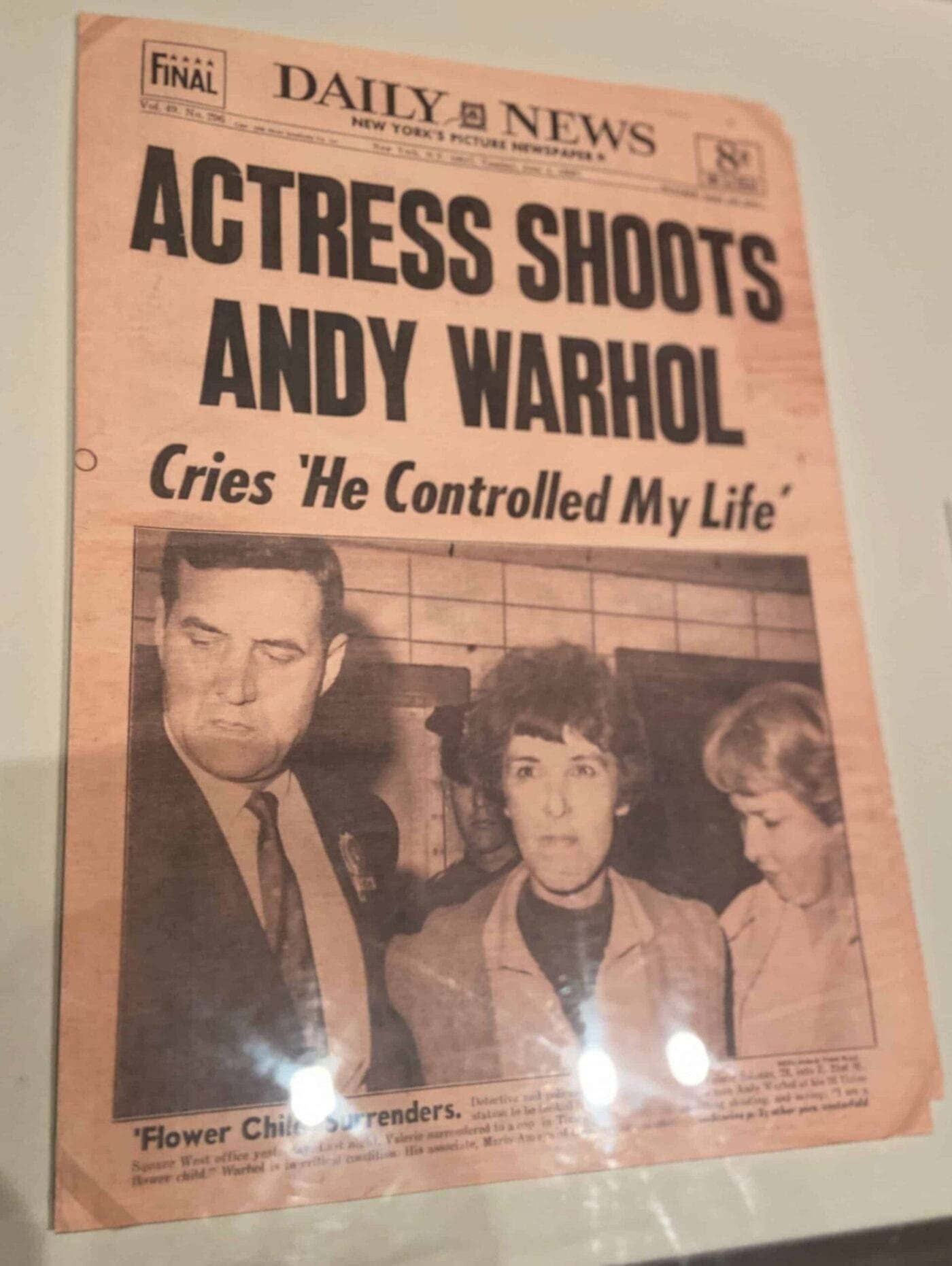 The Shooting
Valerie Solanas wrote Scum Manifesto, a radical feminist manifesto which argues that men have ruined the world and that it's up to women to fix it. Valerie shot Warhol, but he survived.
1975 Ladies and Gentlemen
Following his shooting by Valerie Solanas in 1968, Warhol returned to large-scale painting projects. The exhibition emphasises his skill as a painter and colourist with a room dedicated to the largest grouping of his 1975 Ladies and Gentlemen series ever shown in the UK. These striking portraits depict anonymous Black and Latinx drag queens and trans women from New York. Including iconic performer and activist, Marsha 'Pay it no mind' Johnson – a prominent figure in the Stonewall uprising of 1969.
Warhol's final works of the 80s, such as the poignant Sixty Last Suppers 1986 on view at Tate Modern for the first time in this country, is considered in relation to the artist's untimely death. As well as the unfolding HIV/AIDS epidemic, which ultimately went on to impact the lives of many in his close circle.
Andy Warhol Exhibition Details
Andy Warhol is organised by Tate Modern and Museum Ludwig, Cologne. In collaboration with the Art Gallery of Ontario, Toronto and Denver Art Museum. It is curated by Gregor Muir, Director of Collection, International Art, and Fiontán Moran, Assistant Curator, Tate Modern; and Yilmaz Dziewior, Director, and Stephan Diederich, Curator, Collection of Twentieth-Century Art, Museum Ludwig Cologne.
Related Events:
ON WARHOL: BLAKE GOPNIK AND OLIVIA LAING
12 March 2020, 18.30 – 20.00, £12 / £8 concessions
This discussion, in association with Penguin Random House, marks the publication of art critic Blake Gopnik's major biography Warhol: A Life as Art. Drawing on hundreds of interviews and years of archival research. Gopnik is joined in conversation by writer and critic Olivia Laing. The event is chaired by writer and journalist Charlie Porter, both of whom have contributed to Tate Modern's exhibition catalogue.
ANDY WARHOL CLOSE UP: BOB COLACELLO
22 April 2020, 18.30 – 20.00, £10 / £7 concessions
Writer, editor and photographer Bob Colacello worked closely with Andy Warhol from the early 1970s until the artist's death in 1987. This is a unique chance to hear personal insights into Warhol's life and work. Colacello will be in conversation with Gregor Muir, curator of the exhibition and Director of Collection, International Art, Tate Modern.
ANDY WARHOL MUSIC CLUB
27 April 2020, 18.30 – 20.45, £12 talk only / £31 talk and private view
Andy Warhol had a long engagement with music. From managing The Velvet Underground to designing album covers for The Rolling Stones and Aretha Franklin. This event celebrates Warhol's love of music and his continued influence on stars today. With The Guardian's arts editor Alex Needham and critic Gilda Williams listening to a curated playlist of tracks and discussing the relationship between music and his artwork.
UNIQLO TATE LATES: ANDY WARHOL
28 August 2020, 18.00 – 22.00, admission free
August's Uniqlo Tate Late celebrates Warhol's work and legacy with live screen tests and a participatory fame factory. Enjoy a fleeting moment of fame as you strut the red carpet. Hosted by Pecs Drag Kings, while art psychotherapists get London's emerging creatives to discuss their relationship to Warhol. Visitors will also experience thought-provoking film screenings, digital displays, music by NTS Radio and much more.
FILM PROGRAMME: ANDY WARHOL: MISFITTING TOGETHER
15 / 16 / 17 May; £10 each, concessions and group bookings available