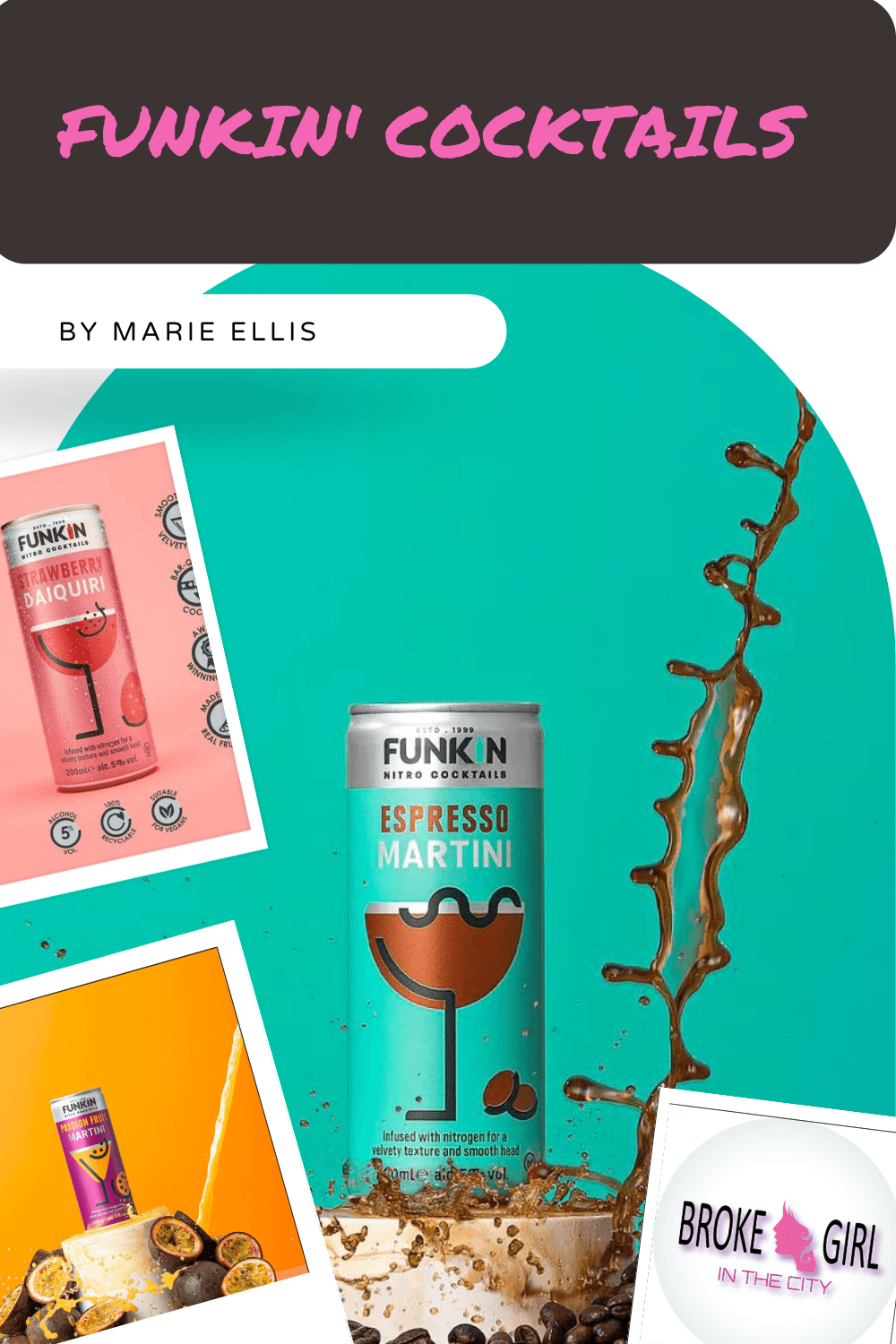 Funkin' Cocktails for Funkin' Fun Times
It's Easter Weekend, and what better way to enjoy the weekend than to get the ready to drink cocktails in! Even better. You can now buy Funkin' Cocktails cocktails and deliver them to your door.
'Cocktails are meant to be fun and not take all night. So get stuck in and then sit back and relax, or party-on.'

Funkin' Cocktails
Funkin' Cocktails – Review
I love cocktails, but it can be expensive sometimes to buy lots of bottles to be able to prepare a range of cocktails at home. I love this pack of pre-mixed cocktails in a can, which is absolutely delicious.
Strawberry Daiquiri
Review: I really loved this cocktail. It was very fruity and refreshing, and you have to admit it. This cocktail looks great too! I could have drank quite a few of these, and I definitely recommend them!
Funkin Cocktails Description: Quench your thirst quicker with Funkin's ready-to-drink, pre-mixed Strawberry Daiquiri. We've bottled up all the best ingredients you'd expect from a bar-quality cocktail. No chopping, mixing or straining. Just pour your cocktail at home, garnish with a strawberry, and enjoy.
Pina Colada
Review: I really loved this cocktail! Always a refreshing choice of cocktail. You can see the froth in the glass, and it made me feel like I was on holiday. Each can will fill a cocktail glass and is a great way to treat yourself! One for parties or to treat yourself at the end of a long week.
Funkin Cocktails Description: Unbottle your favourite pineapple and coconut cocktail with Funkin pre-mixed Pina Colada. Expect the same tropical taste and velvety texture you'd expect at the bar – in your fridge. Just pour straight into a glass, garnish with a pineapple wedge, and experience endless enjoyment.
Espresso Martini
Review: This is one of my favourite cocktails. It doesn't come out with the smooth texture you might expect in a bar, but it didn't taste too bad, given my high expectations.
Funkin Cocktails Description: Pre-made and ready to drink, Funkin Espresso Martini Nitro Cans contain a barista blend of the finest cold brew coffee, a hint of vanilla, and a kick of premium vodka. Expect the silky-smooth consistency of a bar-quality Espresso Martini – without a drop of effort.Serving suggestion: Store cool and dry. Serve chilled in a Martini glass and garnish with three coffee beans.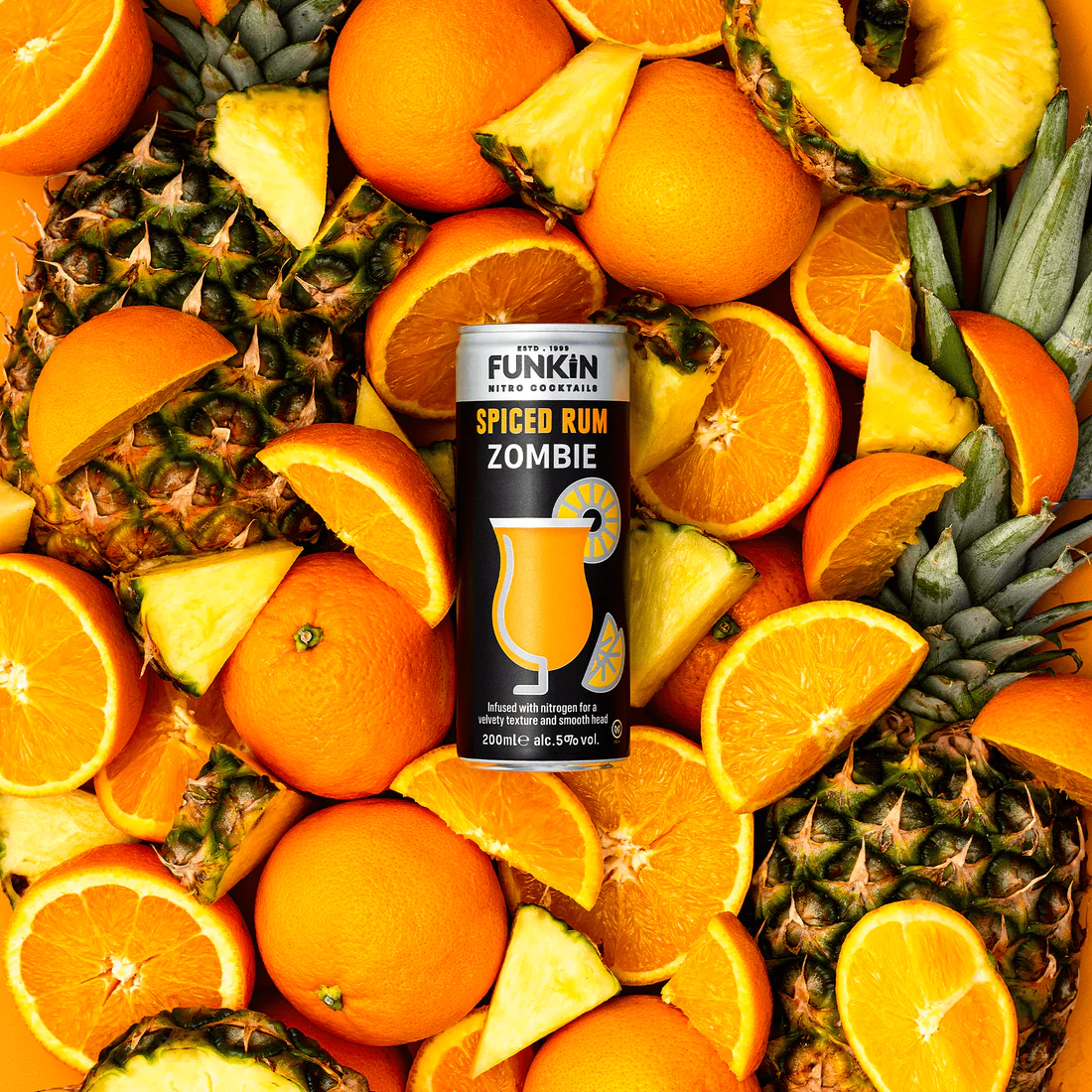 Spiced Rum Zombie
Review: Despite the fact that this was a little spice for me. It was a really enjoyable cocktail. I quite like rum, and this was definitely a cocktail of choice. However, I would definitely drink this again.
Funkin Cocktails Description: Ready to drink at a moment's notice, Funkin Zombie Nitro Cans give you all the taste with none of the toil. Packed with a blend of citric flavours and a dash of spiced rum, it's got more kick than a kangaroo. Enjoy straight from the can or in a glass. Best served chilled.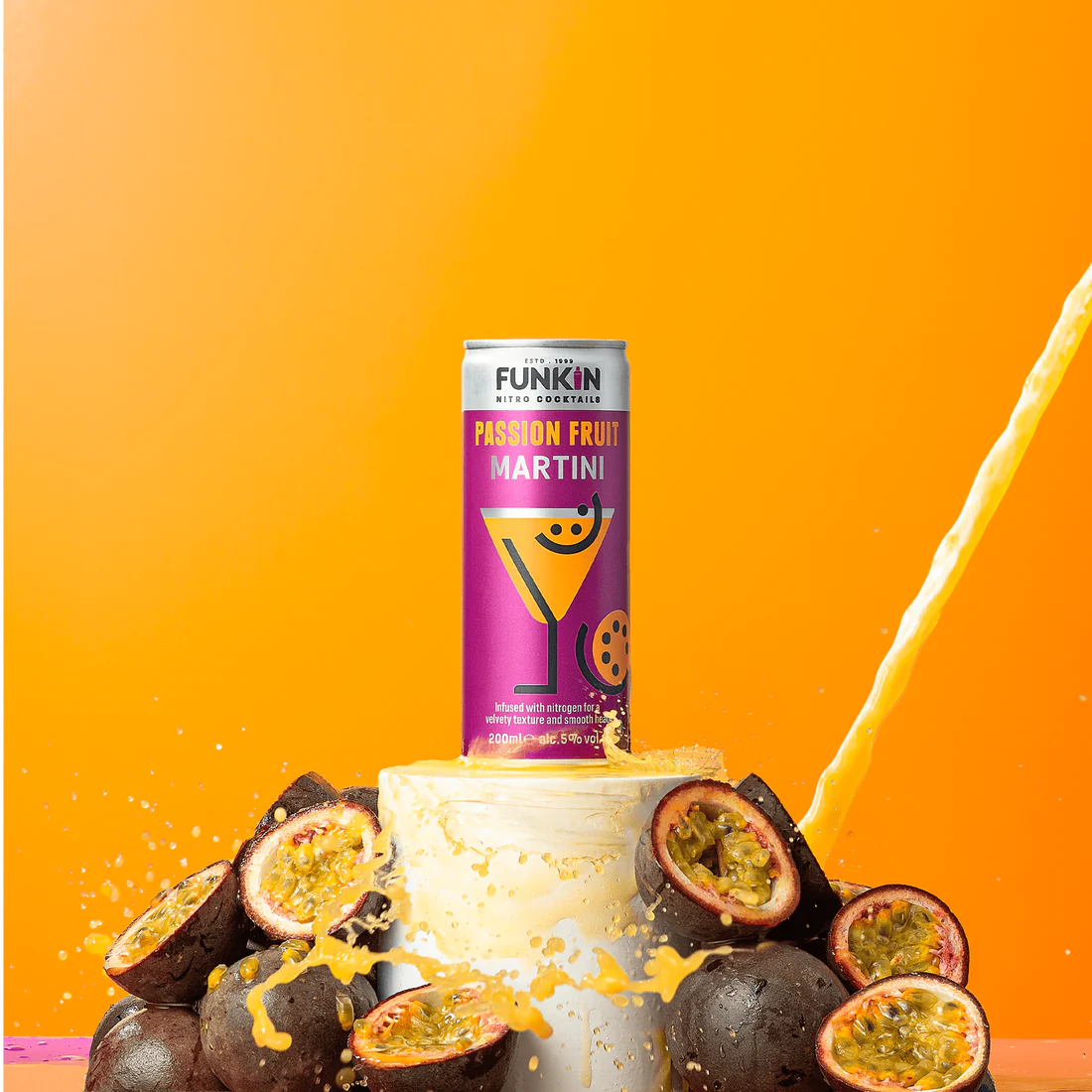 Passion Fruit Martini
Review: You can't go wrong with a passion fruit martini – refreshing and delicious! You can drink these all night. Or mix and match the different cocktails available out of the collection above. I would wholeheartedly recommend this cocktail for this Easter Bank holiday weekend – for drinks with friends or family.
Funkin Cocktails Description: Say hello to Funkin Passion fruit Martini nitro cocktail cans – a fusion of exotic flavours with a splash of vodka. It's the same quality, consistency, and taste you'd expect from a bar-quality pornstar martini – but served in a can. Take our nitro cocktail cans anywhere and start the party at a moment's notice. Passion fruit martinis are best served chilled.
Get your Funkin' Cocktails for the Bank Holiday Weekend with 15% off – Use code: EASTER15
How much for a Nitro multipack?
So you can buy each of these cans separately or in a multipack, and the costs vary. Having looked at the website, a multipack will set you back £13.00, which, to be honest, is the price of one cocktail in London!
This pack contains:
2 x Peach on the Beach
2 x Passion Fruit Martini
2 x Strawberry Daiquiri
2 x Espresso Martini
How much for a single pack of a Funkin' Nitro Cocktail?
If you would like to buy a 12-pack of these cocktails, then this will cost £23, which again is a bargain if you compare this to a night out! You might be able to get 4 cocktails on happy hour for £20, but a cocktail in London would normally set you back just two of these. Not bad if you are looking to have a party and know your cocktail of the night!
Funkin' Cocktails
It's Funkin Time, Since 1999
Trusted by top bartenders, we've been mixing great-tasting cocktails since 1999 – now it's your turn. Ultimately, our mission is to make consistently great-tasting cocktails available to all. We started with purees and mixers for our bartender friends, which got us thinking, why let them have all of the fun?
Disclaimer: I was gifted this set of Funkin' Cocktails to sample them for the purpose of this blog, but I have not been paid for this article, and I receive no commission for any of these links.